Aster
Basic Facts:
A huge and diverse group of plants and members of the Asteraceae family. The well known Michaelmas Daisies flower in Autumn. There are also spring-flowering types.
For related plants see Boltonia and Kalimeris
Garden Use:
Great flower power and the autumn types are unsurpassed. These look good with grasses such as Miscanthus and Molinia
Find out about using autumn flowering Asters in the garden in our garden diary entry for October 2010.
Wildlife Interest:
Very valuable for late flying bees and butterflies.
Goldfinches will enjoy the seed heads in winter
Cut Flower Use:
Asters make good cut flowers.
Cultivation:
We mostly think of them as sun lovers and many need a fairly sunny spot but there are some for shade, even dry shade.
Autumn flowering types benefit from division every 1-3 years. They can be divided in autumn or spring, but expect losses if dividing in autumn.
Dead heading prolongs flowering.
Liming the soil if acid will be beneficial.
Taller types may require staking in exposed positions.
Propagation
Many spread by ground level rooting stems which makes propagation easy. Others require more careful division of new plantlets from the parent. As with most late flowering plants, autumn Asters are best divided in early spring.
Pests and Diseases:
Some types of Aster can host powdery mildew. We grow varieties that are mildew-free or only slightly affected. Regular division and an airy, open aspect will help prevent problems.
Find out more about mildew-free Asters in our Garden Diary for September 2009
History:
Native to many parts of the world. Many of the garden types come from North America.
The naming of plants changes regularly; in 2014 some Asters were moved to genii Eurybia and Symphyotrichum. These changes are listed below.
Watch how much hoverflies love Asters in our garden
Watch: Aster Connie is a Butterfly magnet
Aster x. frikartii Mönch
One of the best Asters in the garden. Large lavender flowers from July onwards into autumn that attract bees and butterflies. About 2ft 6in - 3ft tall. Completely mildew free.
Read our Garden Diary entry for August 2009 with planting ideas for this lovely plant.
For really large flowers plant in moist soil. It really performs well in dry soils but the flowers are 2in across instead of 3in.
This is one of our most popular plants and stocks do go quickly.
RHS Award of Garden Merit
SOLD OUT - If you've ordered this variety we have reserved stock for you.
Aster Mönch looking good with Helenium Wesergold in September.
Perfect partners: Aster Mônch is perfectly at home in an October border with Heleniums, Dahlias and Achilleas.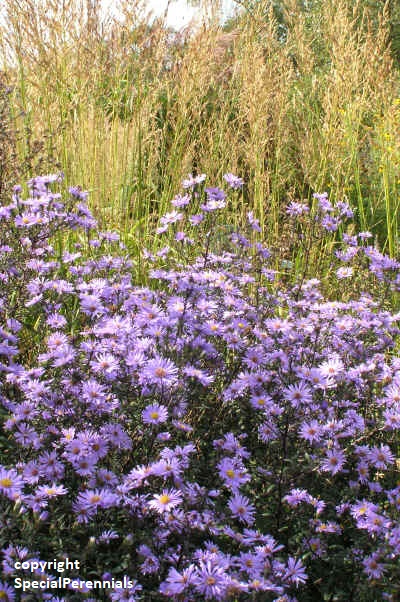 (now called Symphyotrichum laeve Calliope)
One of the glories of the late summer / autumn border. Sparkling in the low sun, it also shines out brilliantly in dull weather. Tall plants (up to 120-150cm) with striking black stems and red-tinged leaves. The lavender purple flowers open in October and last into November (may flower slightly earlier some years). Mildew free in the ground. Does spread but not rapidly. Pretty well self-supporting.
The epithet laevis means "smooth" referring probably to the leaves and stems - most Asters have hairy leaves.
SOLD OUT - If you've ordered this variety we have reserved stock for you.
Aster novi-angliae Connie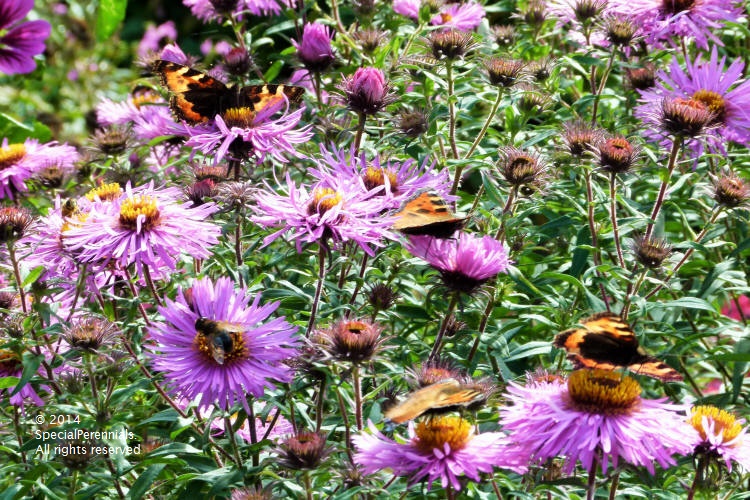 (now called Symphyotrichum novi-angliae Connie)
Spectacular in September and October not just for the large purple-pink flowers but also for the parade of butterflies drawn irresistibly to the feast of nectar.
4ft tall and mildew free in our garden.
SOLD OUT - If you've ordered this variety we have reserved stock for you.
Aster schreberi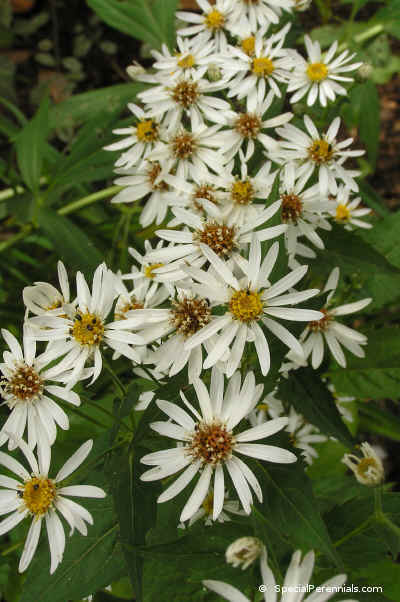 (now called Eurybia schreberi)
Another great Aster for (quite dense) shade and dry soil. White flowers from early August. 1ft 6in tall.
SOLD OUT - If you've ordered this variety we have reserved stock for you.
Aster Vasterival
(now called Symphyotrichum Vasterival)
Tall airy Aster with lilac-pink flowers from late September onwards into autumn. Dark stems and narrow leaves. Mildew-free in our garden.
Le Vasterival is a botanic garden in France.
Price £5.00 (9cm pot)