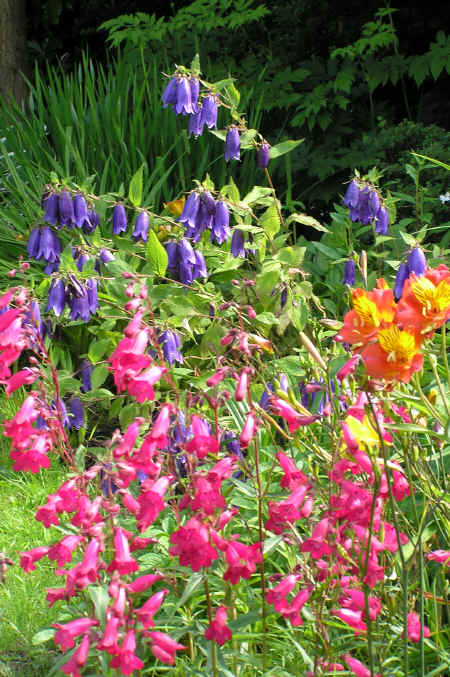 Campanula
Common name: Bellflower.
A very large and varied group of plants from ground hugging alpines to tall imposing border plants. We avoid the very invasive species, but some will self seed and some spread by underground stems. They are not fussy about soil type but most need some moisture in summer. Best in a lightly shaded spot but will grow well in sun or heavier shade.
Very valuable for bumblebees.
A member of the Campanulaceae family.
For further reading please see the Hardy Plant Society booklet "Campanulas in the Garden" by Peter Lewis.
Perfect Partners: The purple bells of Campanula Sarastro adds elegance to this planting including Penstemon Garnet and Alstroemeria Orange Beauty in our garden in July.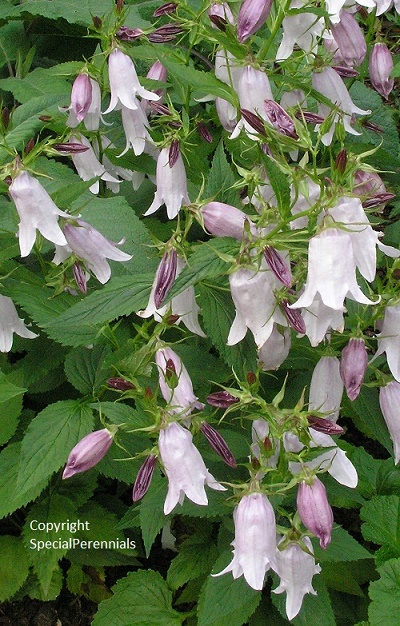 Campanula Crystal
Lovely pale amethyst bells giving an effect like Lalique glass. About 1-2ft / 30-60cm tall. Slowly spreading. We grow her in light shade
Price £5.00 (9cm pot) Available to order for late spring (May) delivery
Campanula latiloba Hidcote Amethyst
Spires of large, open bells on 1ft / 30cm stems Sun or light shade. We find she needs reasonable drainage in winter
Price £4.50 (9cm pot) Available to order for late spring delivery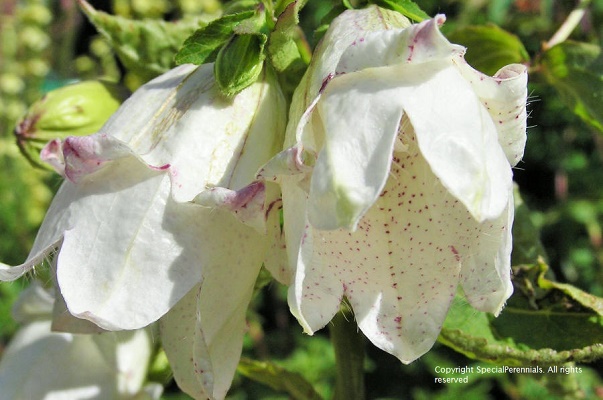 Campanula punctata Wedding Bells
Another lovely hose-in-hose double, this time with short, creamy white bells with just a hint of pink.
Price £4.50 (9cm pot)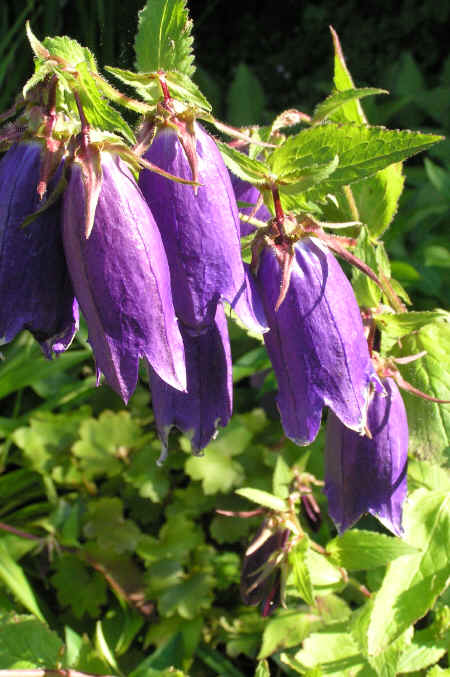 Campanula Sarastro
Lovely waxy blue bells. The purple buds have an almost crayon-like surface. The flowers are held in good sized clusters on 60-75cm stems. Tolerates hot sun but performs better in light shade. A good replacement for C. Kent Belle.
Price £4.50 (9cm pot)