Veronica
Common name: Speedwell
Plants with lovely spires of blue or white flowers early in summer. Not fussy about soil type but on the whole prefer soil that isn't bone dry. They grow in sun or partial shade.
Propagation is by division and we find this is most successful in early spring.
Good for bees and butterflies.
They make long lasting cut flowers.
A member of the Plantaginaceae family.
Brilliant Bee plant.
Perfect Partners: Veronica longifolia contrasts perfectly with the orange tones of Hemerocallis Linda in our July garden.
Veronica gentianoides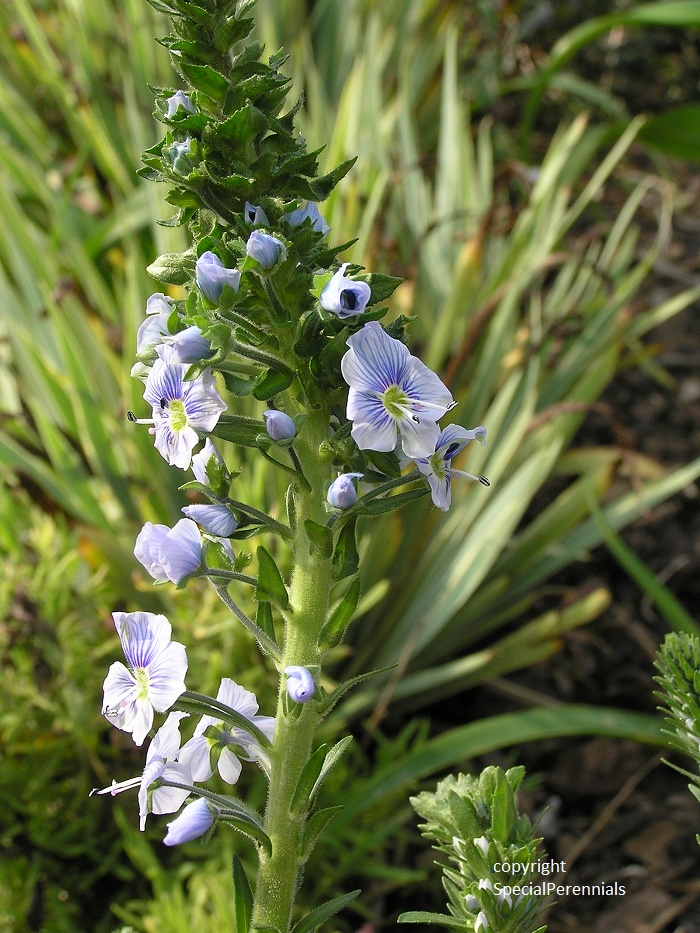 Pale blue flowers in spires 1-1ft 6in / 30-45cm tall. Glossy evergreen leaves forming ground hugging rosettes, the clump slowly expanding to 2ft / 60cm wide. Flowers May - June.
Price £4.50 (9cm pot)
Veronica gentianoides Tissington White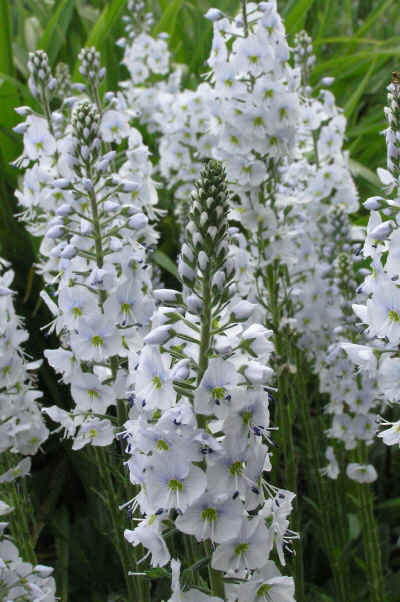 The (nearly) pure white form of this lovely plant that arose in the Derbyshire village of Tissington. We met the Granddaughter of the man who discovered the plant. She told us her Grandfather always intended that the plant should be called "Tissington Spire" but the nursery he gave it to ignored him and named it Tissington White. Height and flowering times are the same as the basic species.
Flowers are white with blue veins.
Price: £5.00 (9cm pot)
Veronica gentianoides Variegata
Variegated cream and green leaves and slower growing plants, best in moist shade. The flowers are the same pale blue as the basic species
Price: £4.50 (9cm pot)
Veronica longifolia
Intense blue flowers in spikes atop 2ft - 3ft stems with whorls of long, pointed leaves spaced along them. May need staking if grown in rich soils. Will self seed but only gently!
This species will cope with very dry soils very well.
Price £4.50 (9cm pot)
Veronica Pink Damask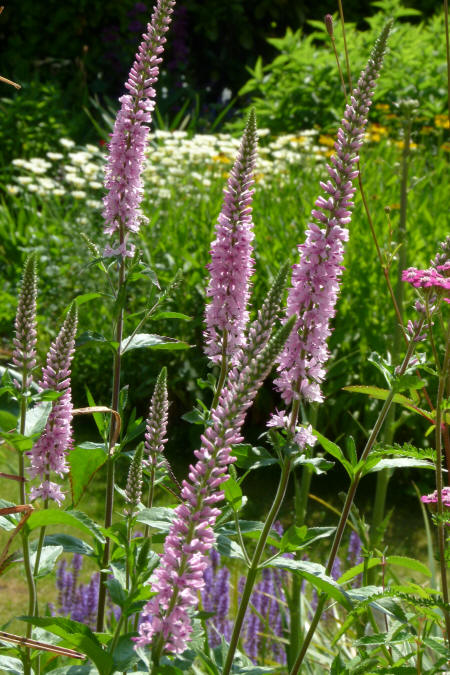 About 2ft tall with pale pink flowers with deeper coloured centres. Needs a soil with some moisture to do best.
Price £4.50 (9cm pot)