Agapanthus
Basic Facts:
Common names: African lily
Garden Use:
Architectural plants with great structure and form.
Agapanthus Headbourne Hybrids give deep blue contrast to a warm planting of Kniphofia Tawny King, Verbena bonariensis, Achillea Moonshine, the unopened heads of Sedum Autumn Joy and Digitalis ferruginea at Abbeywood Gardens in August
Wildlife Interest:
Good for bees
Cut Flower Use:
Not tried
Cultivation:
Not for the coldest areas of the country. Rich soil in warm spot in sun with winter drainage and moisture retention in summer. Said to flower best if roots restricted but do well in the open border.
Propagation:
Divide clumps in spring.
Pests and Diseases:
None really. Slugs may cause very minor damage in early spring.
History:
The name Agapanthus comes from "Agape" - Love and "anthus" - flower = Love Flower!
Agapanthus Headbourne Hybrids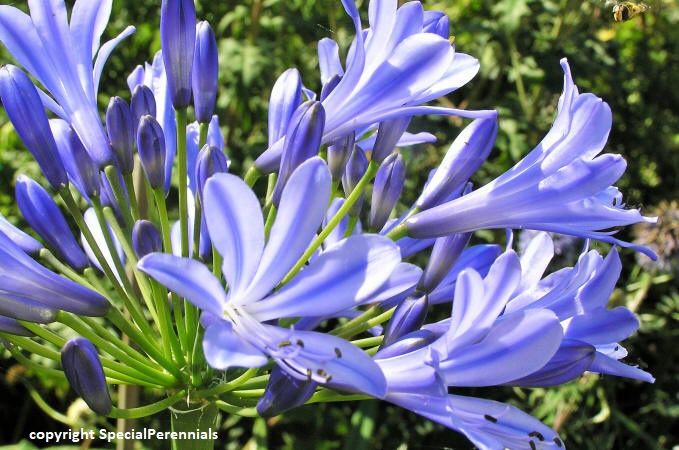 One of the best strains for the British climate doing well where others might die. 1ft / 30cm leaves with flower heads to 2ft - 2ft 6in / 60-75cm.
Price £4.50 (9cm pot) JUST A FEW LEFT