Sun / light shade, well-drained soil, flowers June - Sept.

Dramatic late bloomers for dappled shade and moist soils.
Exotic looking plants with large heads of flower and sword-shaped leaves.

Aromatic plants with spires of flower for dry soils in sun or light shade.

Late flowering plants including Michaelmas Daisies.

Lovely flowers for the cottage or natural garden.

Late bloomers with fragrant flowers for sun and well-drained soil

Bellflowers in a wide variety of shapes and sizes for sun or shade.

Long flowering for sandy soils in full sun. Read More...

Lovely perennial cornflowers. Great for bees and butterflies

Tall relatives of Scabious with lovely pincushion flowers.

old name for Actaea

Lovely thistles for moist soils in sun or part shade.

Easy to grow, brightly coloured flowers over a long period in summer.

Well-known , growing from corms with sword-shaped leaves for sun / light shade.

Border pinks are very fragrant, long flowering and tolerate very dry soils.

Coneflowers with stiff upright stems and large flowers for a sunny spot.

Globe Thistles with electric blue flowers in late summer.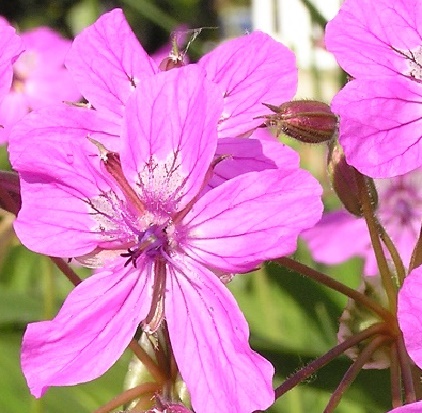 Storksbills love dry soils and sun

Sea hollies with spiny leaves and dramatic, spiky flowers.

Tall, late bloomers with large heads of flower for most soil conditions including boggy.
see Aster for plants now officially called Eurybia

Great range of size and colours for a wide range of situations and soil types.

Lovely early bloomers for sun or light shade. Tolerant of boggy soils.

We have a large collection of these brightly coloured flowers

Perennial sunflowers with large flowers late in the season.

Long flowering, stout, upright plants for sun or light shade.

We have a large collection of Day Lilies in a great range of sizes and colours

Late, late bloomers for a sunny spot.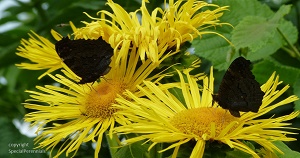 Inula are wonderful bee and butterfly flowers

Well-known as "Red Hot Pokers" but not all are red and many are in softer colours.

Shasta Daisies with large, showy flowers through the summer.

Known as "Gayfeather" and great for butterflies Read More...

Late summer flowerer with bright flowers on tall stems.

Spires of bee-attracting flowers in late summer. For moist soils.

Tough grasses with an upright habit and great autumn colours.

Bergamot or bee balm - aromatic foliage, wonderful flowers

Spiny leaves and spires of whorl flowers in summer.

Drought tolerant plants with masses of flower throughout the summer

Russian Sage for dry soils in sun.

Also known as Polygonum. Long blooming plants with spires or drumsticks of flower

Jerusalem Sage with attractive leaves, flowers and seed heads for well-drained soils in sun. Read More...

Classic cottage garden plants with beautiful fragrant flowers. We have a very large range.

Low growing plants with strawberry-like leaves and brightly coloured flowers in sun.

Well-know early season flowers great for early flying bees.

Bright, late bloomers for sun or light shade.

Varied groups of plants with masses of hook-shaped flowers over a long season.

Massed drumstick flowers in summer and autumn.


Spires flower on tough hardy plants.

Well known hardy succulents for dry soils.
Stately umbels with masses of flower late in the summer.

Sword-shaped leaves and spikes of satiny flowers throughout the summer. Easy to grow.

Well-known Golden Rod is a great late bloomer.

Close relatives of Centaurea with large pink thistle-flowers from very attractive buds.

Attractive leaves and whorls of flower on short spikes throughout summer

Oat grasses with dramatic flower heads.

Masses of small pom-poms flowers on wiry stems.
Plants recently renamed as Symphyotrichum are listed under Aster.

Meadow Rue

Fragrant flowers, stately plants to add height to a border.

Long flowering plants in a range of heights. Good for a sunny spot.

Ornamental speedwells with spires of softly coloured flowers.

Tallish plants with branched spires of flower in summer.