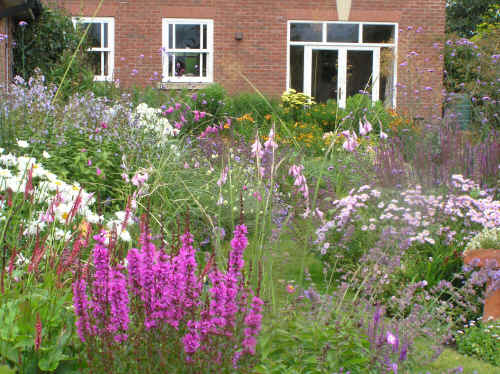 Lythrum
Common name: Purple Loosestrife. Lovely flowering plants common at the waterside in the UK with tall spires of pink, rose or purple-pink flowers. They are best in sun and in any soil that does not dry out in summer. They are brilliant in boggy ground or in the margins of a pond. Having said that, they do pretty well in our dry sandy soil. Propagate by division - it can be hard to divide - you need a sharp serrated knife or saw!
There is some doubt as to which species each variety belongs to - we are using the current RHS plant finder names.
Lythrum salicaria Feuerkerze in our garden on 18th July holding centre stage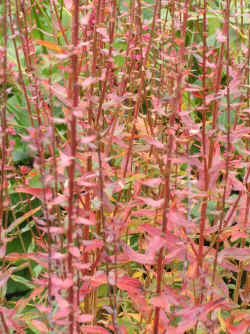 Lythrum virgatum Dropmore Purple
Purple-red flowers. About 2ft 3in - 3ft tall. Flowers July to September after which the leaves taken on really good autumn colour during October. Less stiff and more "airy" than the other varieties. Our favourite.
SOLD OUT