Osteospermum
South African daisies that are well known as summer bedding. We grow several hardy varieties that can be left out all year. They flower from May through to the first heavy frost (we have several in flower in January 2007!) and can be reinvigorated by cutting back hard at any time. Any soil, including poor and dry, but not waterlogged. Not affected by pests, slugs, rabbits etc.
Propagation is by cuttings, which root easily. The hardy variety we grow tends to produce roots along the base of the stems, which root in a few days in warm weather.
A member of Asteraceae family.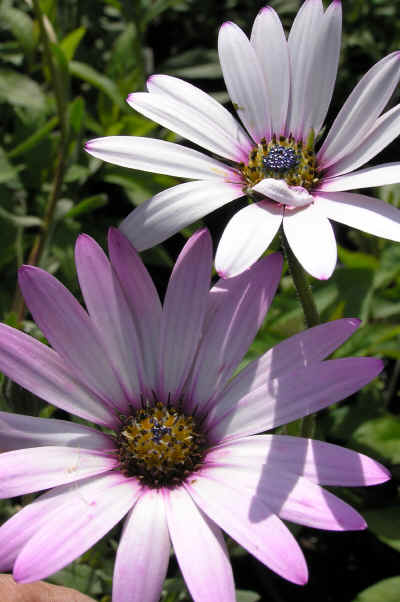 Osteospermum Lady Leitrim
An old variety that is bone hardy. We got it from Martin's mum and she got it from her Gran's garden. Flowers open chalky white and gain a pink flush as they age. The pink is more pronounced in cool weather. Sprawling plants reaching only 8-12in tall but spreading up to 2ft 6in across. Excellent in poor, dry soil. Flowers May onwards. In a mild winter will still be in flower after Christmas.
RHS Award of Garden Merit.
Price £4.50 (9cm pot)