Sedum
Basic Facts:
Common Name: Ice Plant
Succulent, hardy plants that are great for dry soils in sun.
Garden Use:
This is a large and varied genus with plants for rock gardens and for the border. All need good drainage and a fairly sunny spot.
Wildlife Interest:
The flowers are loved by bees and butterflies and are especial favourites of Small Tortoiseshell butterflies
Cut Flower Use:
Not tried.
Cultivation:
Some types are sprawling and can be trimmed back as necessary. Others have upright stems. Cutting back can reduce these ones ability to produce large heads of flower.
Propagation:
Propagation is by division or seed for some species.
Pests and Diseases:
The only likely pest is vine weevil - try the "tug-test" in late winter. If present the brown headed, white grubs will have eaten the roots and the plants will pull out of the soil. Destroy all the grubs and replant. Sedums root again quite quickly.
History:
A member of the Crassulaceae family.
Watch: tree bumblebees on Sedum Autumn Joy in our garden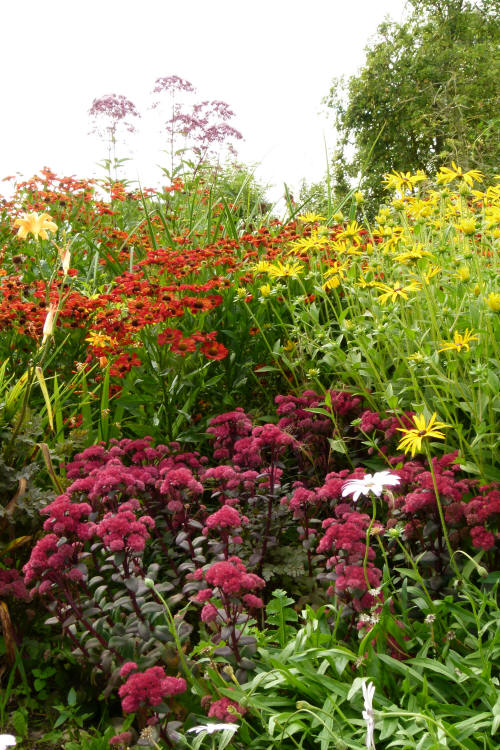 Sedum Red Cauli
Aptly named for its cauliflower-like heads of crimson red flowers. Dark stems and purplish leaves. 1ft high in flower. Greatly admired by visitors to our garden and greatly visited by bees and butterflies!
Price £4.50 (9cm pot)
Perfect Partners: Sedum Red Cauli adds a glowing, velvetiness to this planting with Helenium Sophie and Rudbeckia Deamii in our hot border in August.