August 2019
If you want to join in the conversation or ask questions please join us on Facebook or Twitter
August 30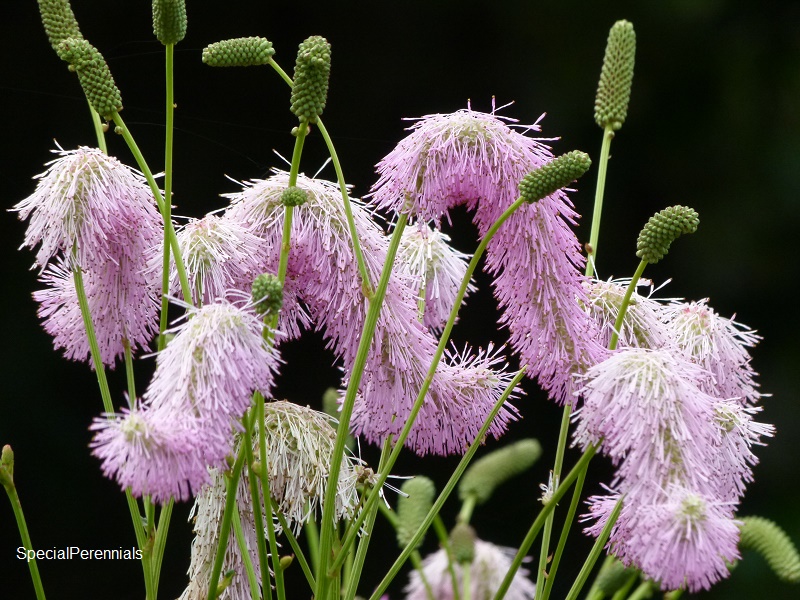 Sanguisorba hakusanensis is the star plant today. The flowers like wiggly pink caterpillars adorn the plant. She is 4ft / 120cm tall and really self-supporting. Later to flower than the similar, but brighter Lilac Squirrel, whose flowers dangle down more.
August 29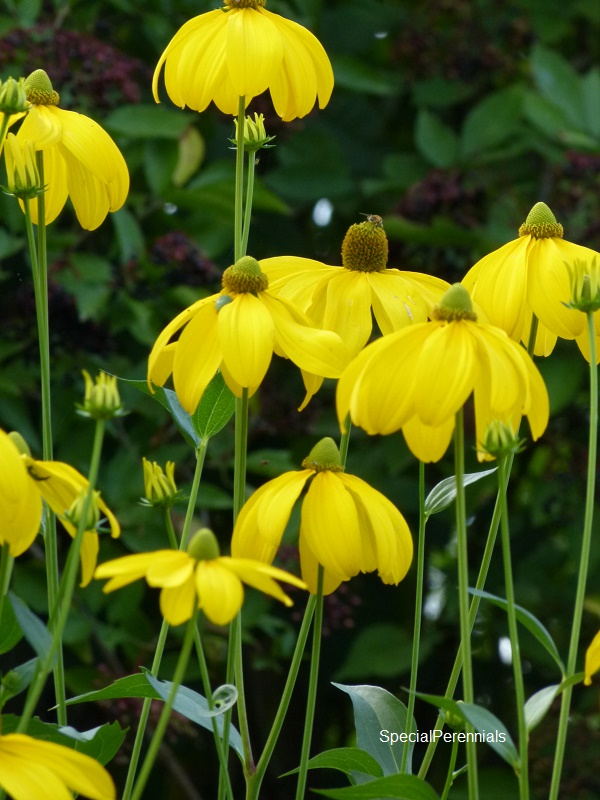 If you don't like tall plants then Rudbeckia Herbstsonne (Autumn Sun) is not for you. This year he's 7 perhaps 8 ft tall (210-240cm) and growing well near a north-facing fence. I've not staked him yet and he is standing up to the wind well.
August 28
Aster Twilight shimmers in the late summer sunlight. She also does really well in semi shade as she is a woodlander by nature.
August 27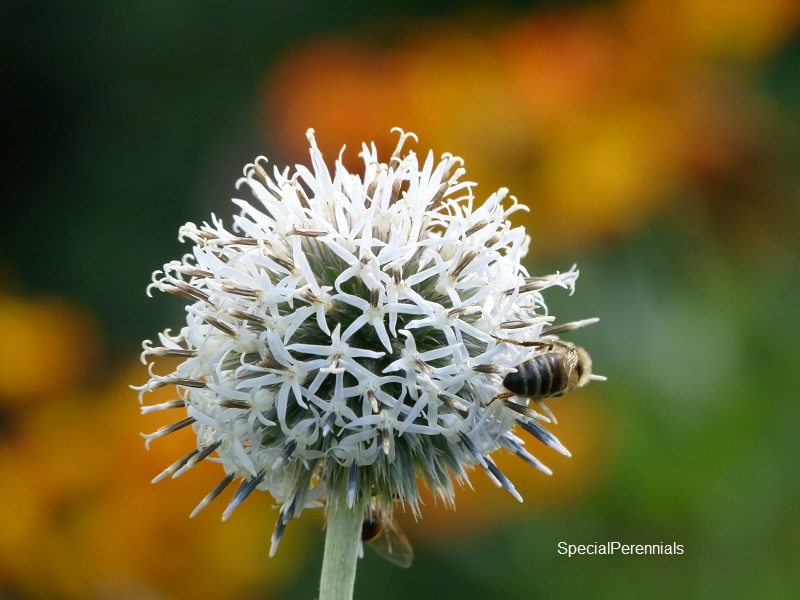 Echinops Snowking looks like his flowers are going to be blue like the more common Echinops ritro and then all of a sudden they're white!
August 26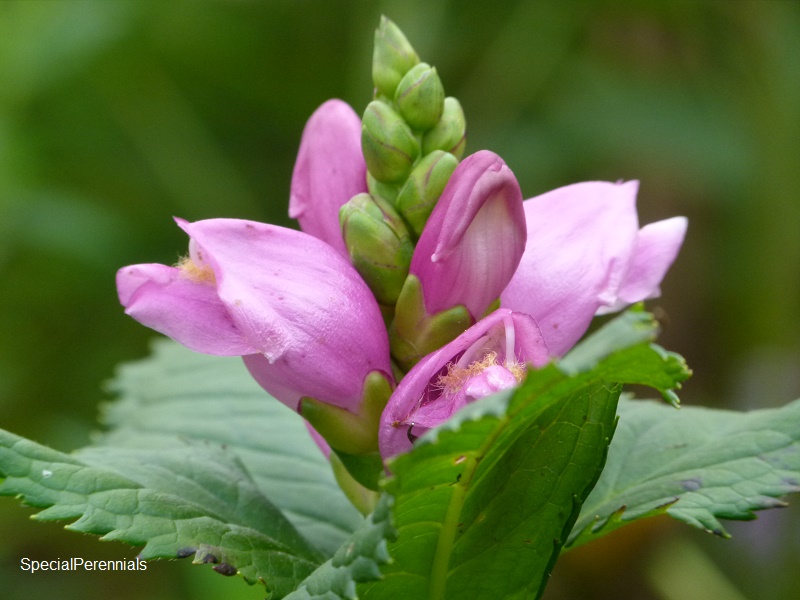 We've been growing Chelone obliqua this year for the first time. The name "Turtlehead" refers to the shape of the flowers and is quite apt. He seems easy to grow and tough and not suffering any slug damage so far.
August 25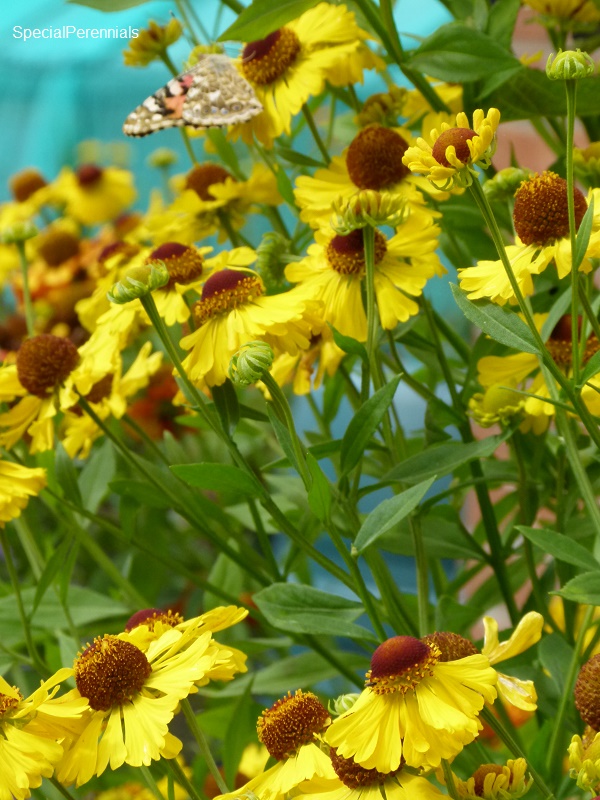 It's really helenium time in our garden now. I often get asked for the latest garden centre varieties at plant fairs. We don't always grow these as they have Plant Varietal Rights , meaning we can't propagate them ourselves. Also many of these so-called new varieties are not new or no better than old varieties. We do seek out new varieties of merit though and "Flamenco" here is a real beauty from Holland with very large flowers.
August 24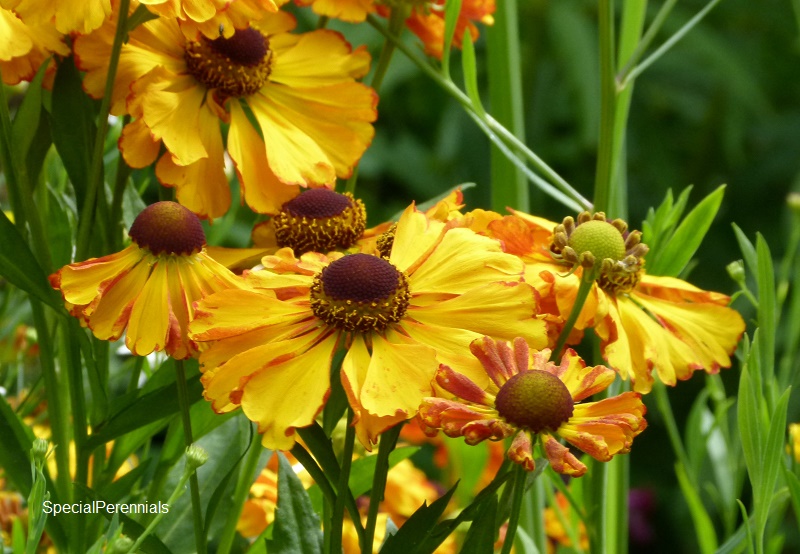 It's really helenium time in our garden now. I often get asked for the latest garden centre varieties at plant fairs. We don't always grow these as they have Plant Varietal Rights , meaning we can't propagate them ourselves. Also many of these so-called new varieties are not new or no better than old varieties. We do seek out new varieties of merit though and "Flamenco" here is a real beauty from Holland with very large flowers.
August 23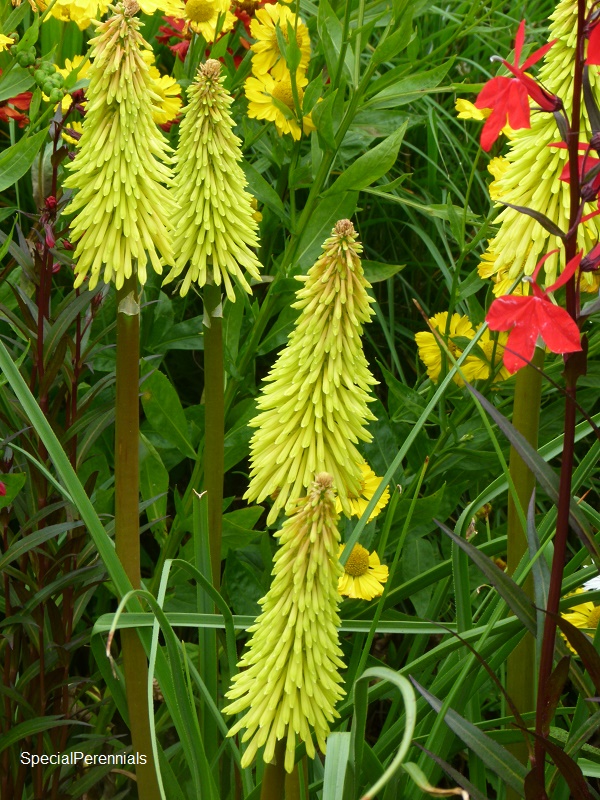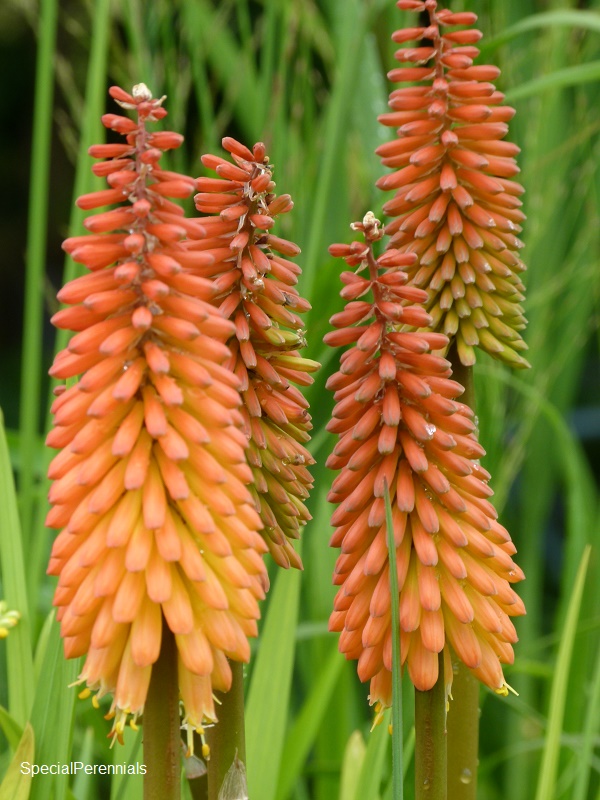 We've always loved Kniphofias or Red Hot Pokers as they are lovingly called. Different varieties flowers at different times but they look so good in the warm summer sunshine.
August 22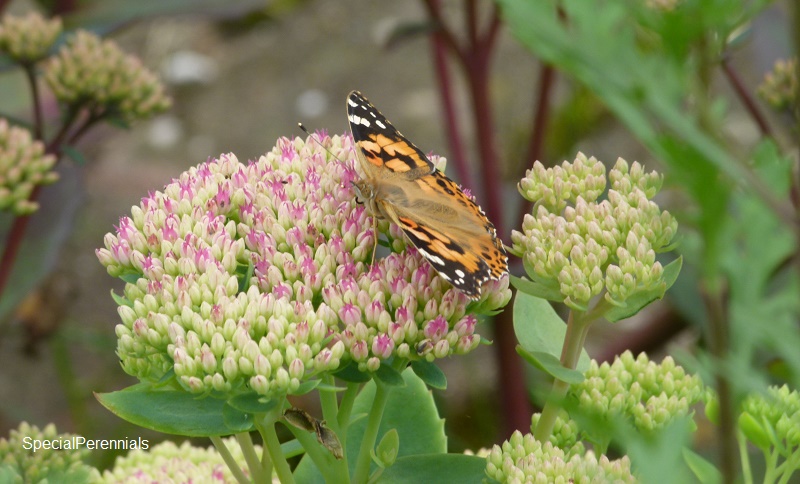 The taller Sedums are on the brink of flowering now - some are open ("Red Cauli", "Abbeydore" for example), others are still in bud ("Autumn Joy", "Matrona" for example) but already the butterflies are ready for them. These succulent plants are great in dry soils and do need reasonable drainage in winter. We propagate by division in spring.
August 21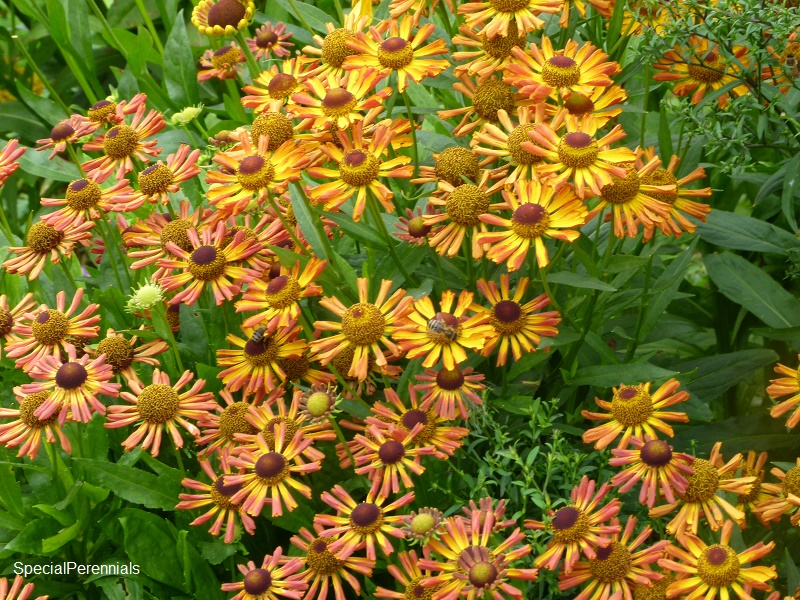 It's definitely Helenium time in our garden with the taller ones now in full bloom as well as the earlier shorter ones. "Betty" is a mid-height one with partially rolled-up petals and a good upright, bushy habit. At the moment I'm deadheading all Heleniums to encourage more flowers but as we move into September I find it's only worth deadheading the shorter ones that will keep flowering through October.
August 20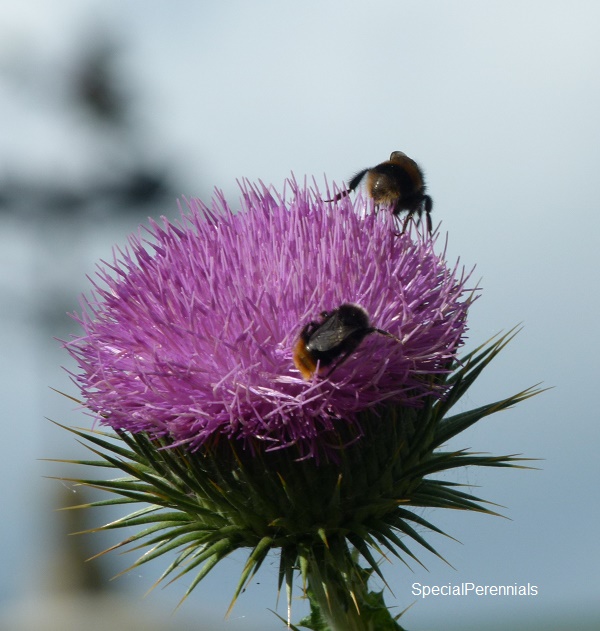 That prickly Onopordum acanthium (see July) is now flowering and drawing in the bees. He is now about 5ft tall; not as tall as he might have got in proper soil as he is growing in a path. Looking forward to collecting some seed for the nursery. By the way this is not Scotch Thistle as it is often misnamed (even on Wikipedia), which is perennial and invasive. The common names are Cotton Thistle and Argentine Thistle!
August 19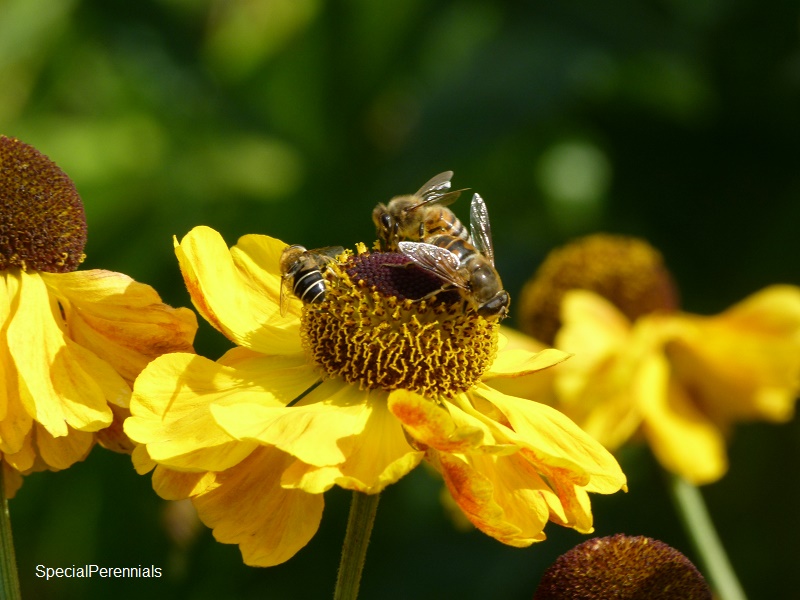 There's no secret to attracting insects to your garden - just lots of flowers that allow access to the nectaries and pollen. We of course love Heleniums as do our insects! Here are 2 Hoverflies and a Honey Bee sharing a "ripe" flower of Helenium El Dorado this sunny afternoon.
August 18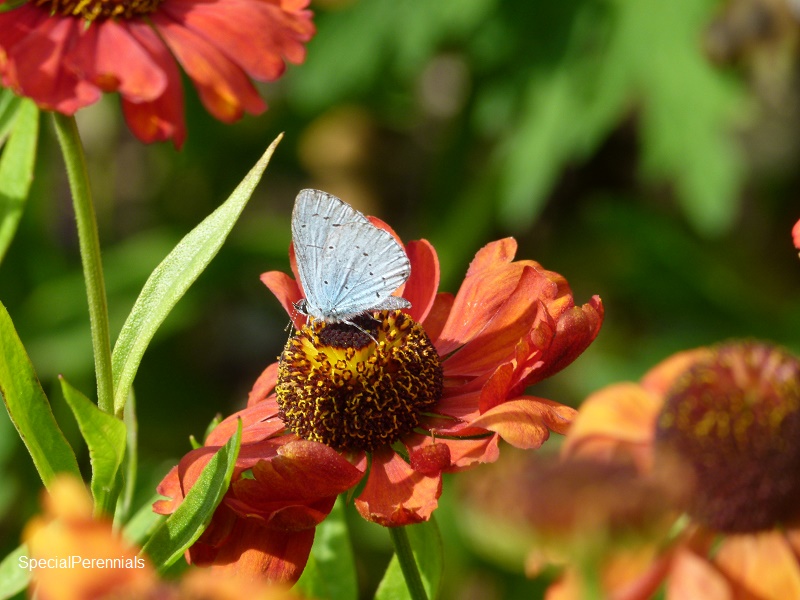 Seems to have been a good year for Holly Blue butterflies and butterflies in general with far more Small Tortoiseshells, Peacocks and Red Admirals this year as well. Numbers have also been bolstered by an explosion on Painted Lady butterflies across the UK.
August 17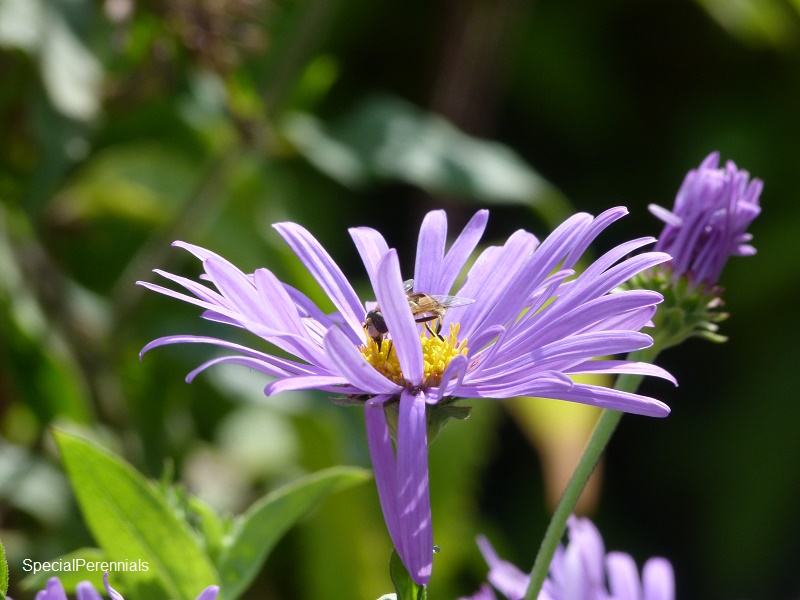 Aster x.frikartii Mönch is an early flowering type and always mildew-free. He is a little tricky to propagate and losses of division in spring are always higher than average, cuttings also take a while to make a decent plant. Once established though he is pretty bulletproof.
August 16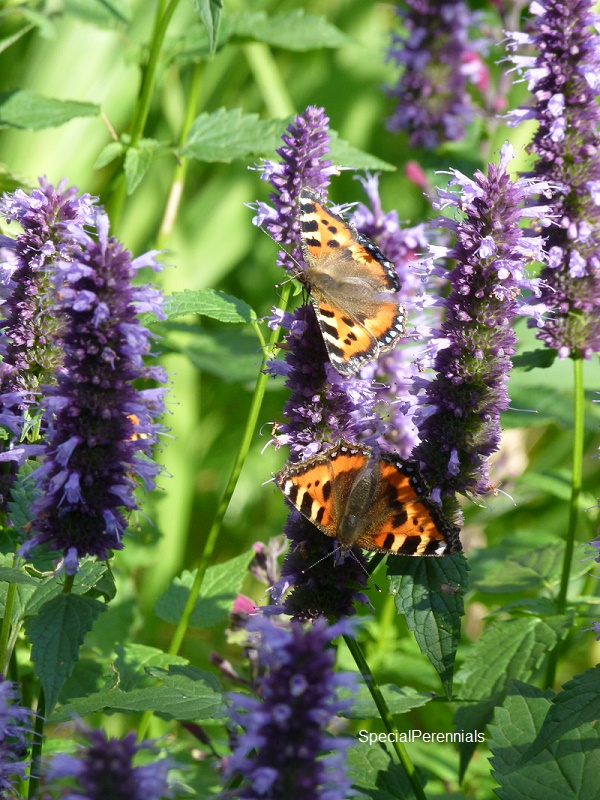 Small Tortoiseshell butterflies flock to Nepeta Blackadder on a sunny afternoon - I counted 6 on the clump at once. In the evening as shade takes over the butterflies are replaced by bumblebees.
August 15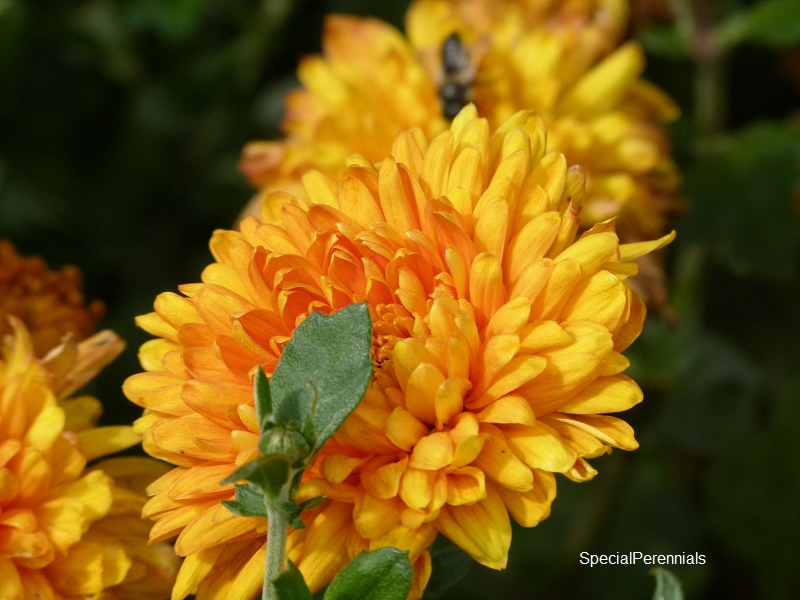 We have only recently got into hardy Chrysanthemums. They are great bloomers and sturdy plants that bulk up brilliantly. This is Dixter Orange.
They produce lots of cutting material and rooted basal material. Some like Purple Dome spread quite a loy and flower late in the season. The pink Clara Curtis flowers mid summer and is getting ready for a second flush now.
August 14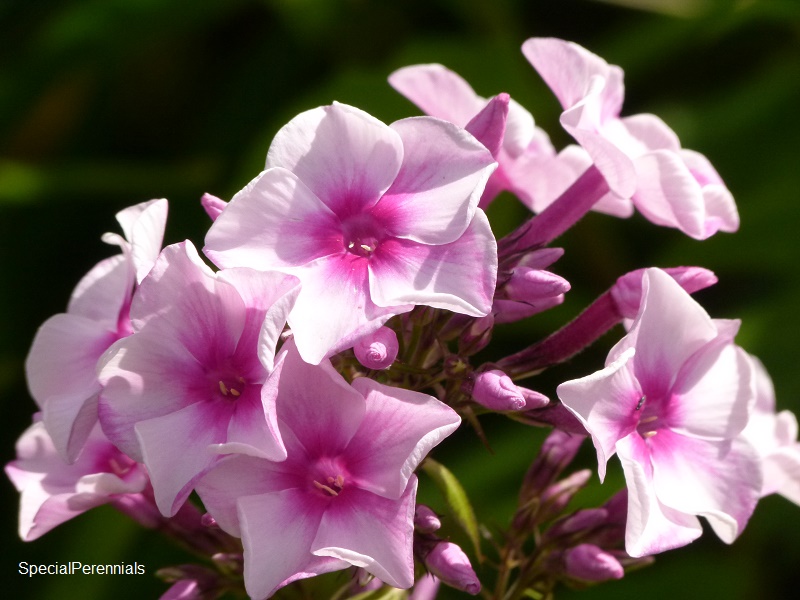 It's always exciting when a seedling from a chance cross flowers in the garden and in our gardens it's lovely to keep the "good" ones. But as a nursery, it's hard to know whether the seedling is worth introducing to the wider world. In a clinical, plant breeding scenario you'd look for new colours, disease resistance, constitution, etc. However I find a lot of new commercial introductions seem to be a catchy name and nothing much else new. For a small garden nursery like ours the choice is easier: has it performed well over a few years and do we love it enough to bulk it up.
This is a seedling from Phlox Kirmesländler and I like the shape of the flowers with their folded up edges and the way the eye colour bleeds to the edge of the petals. No name as yet, she's got a few years yet to prove herself!
August 13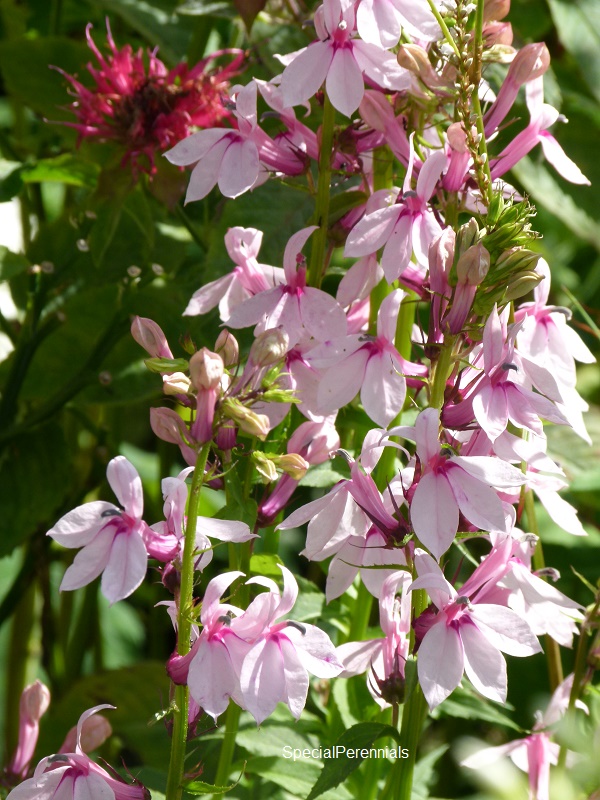 Perennial lobelias are putting on their show now. They seem to thrive better in fairly dry soils rather than the waterside positions recommended. This might be something to do with the conditions in winter, with the plants preferring dryness at this time.
August 12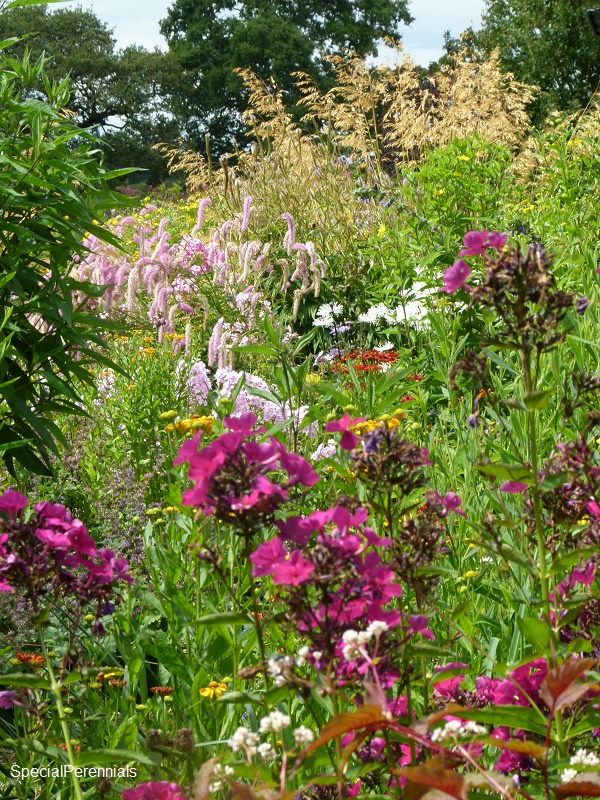 A view down the garden today with Phlox Othello in the foreground and Sanguisorba Lilac Squirrel still flowering her heart out.
August 11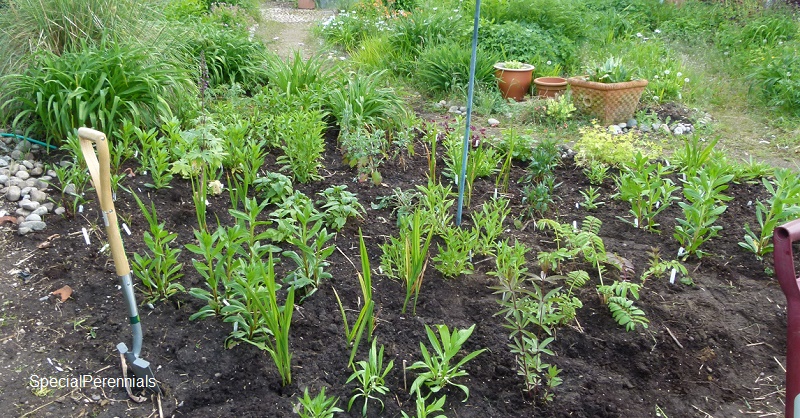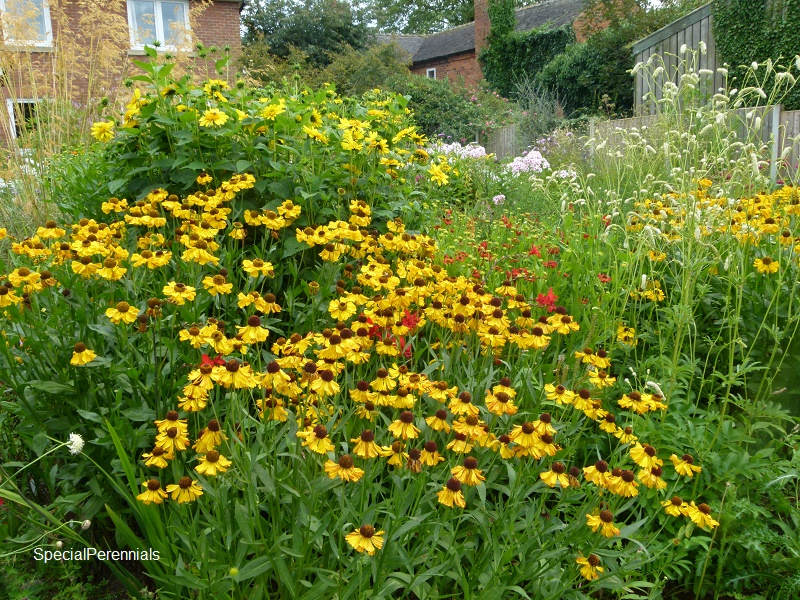 What a difference a day, well 88 days, makes! An area replanted on 16 May is looking pretty good.
left (f-b) Helenium Fata Morgana, Crocosmia Hellfire, Helenium El Dorado, Helianthus Capenoch Star, Stipa gigantea. Right (f-b) Sanguisorba dodecandra, Heleniums Sophie and El Dorado,
August 10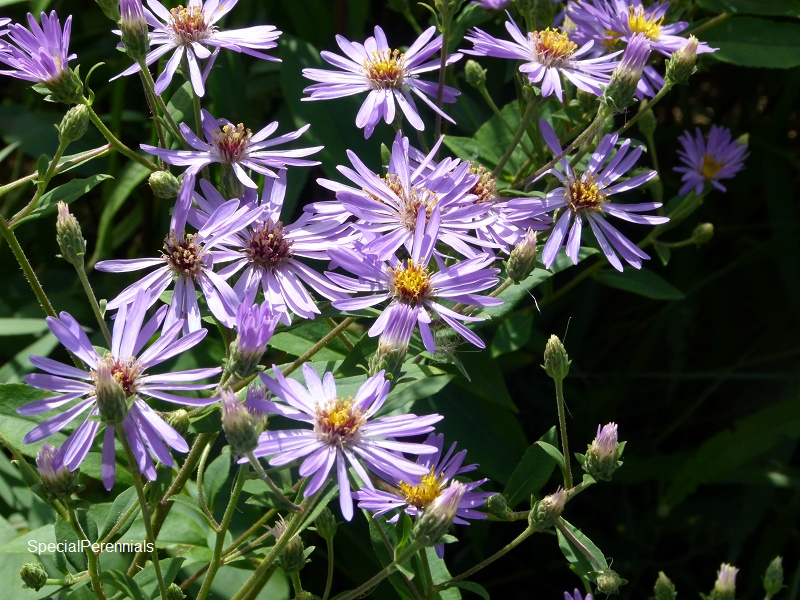 Late colour in shade is always at a premium and some of the best plants for dry or moist soils in the shade of trees of north-facing fences are the woodland Asters like "Twilight" pictured here. These all creep and spread, which for me is a bonus as they fill a difficult to plant area. Equally good are the white flowered Aster schreberi and Aster divericatus. We grow the former as it is a lot shorter and less floppy. All are mildew-free in our experience.
Asters have been renamed by the powers-that-be and now these flowers find themselves named Eurybia and the lovely Aster Twilight is saddled with the name Aster x.herveyi. I'll stick to Twilight if you don't mind.
August 9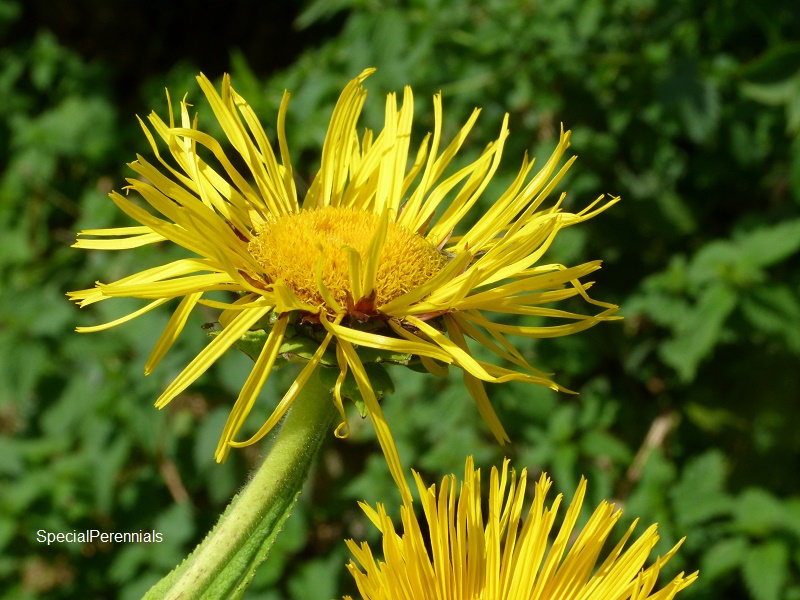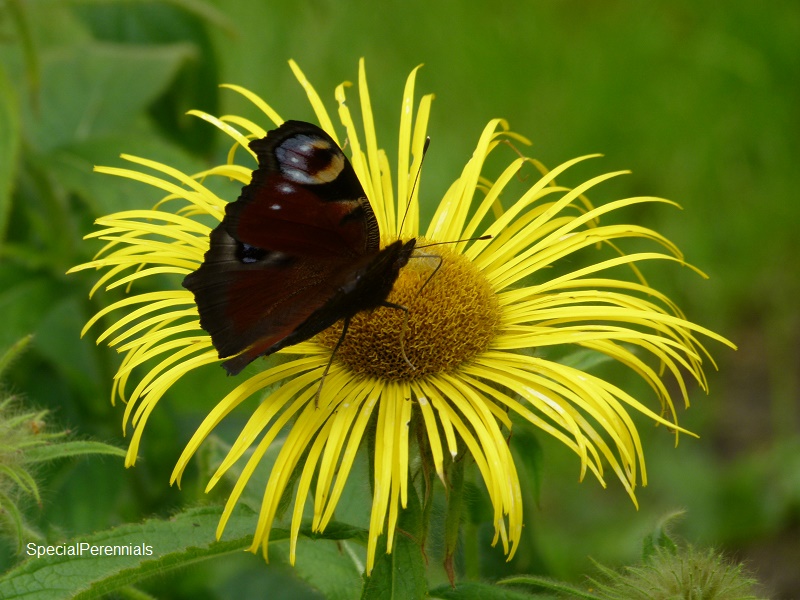 Inulas are looking brilliant at the moment and are such a magnet for butterflies. We grow the short hookeri and the very tall magnifica really well in very dry soils. Some books insist they need a waterside position but fortunately plants don't read books.
August 8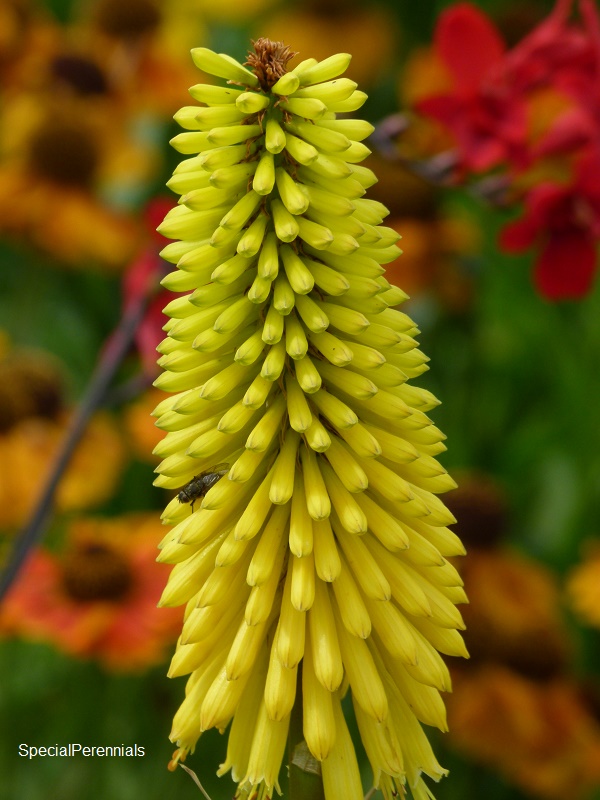 We have always loved red hot pokers (kniphofia)! We got this one - "Bees' Gold" - over 15 years ago and he is now quite rare with his brother "Bees' Lemon" preferred by nurseries. We love gold because he's tall and bold and in your face. By the way my apostrophe in Bees' is I think correct: it has nothing to do with the insect but is from Arthur Bulley's North Wales nursery known as Bees Nursery.
August 7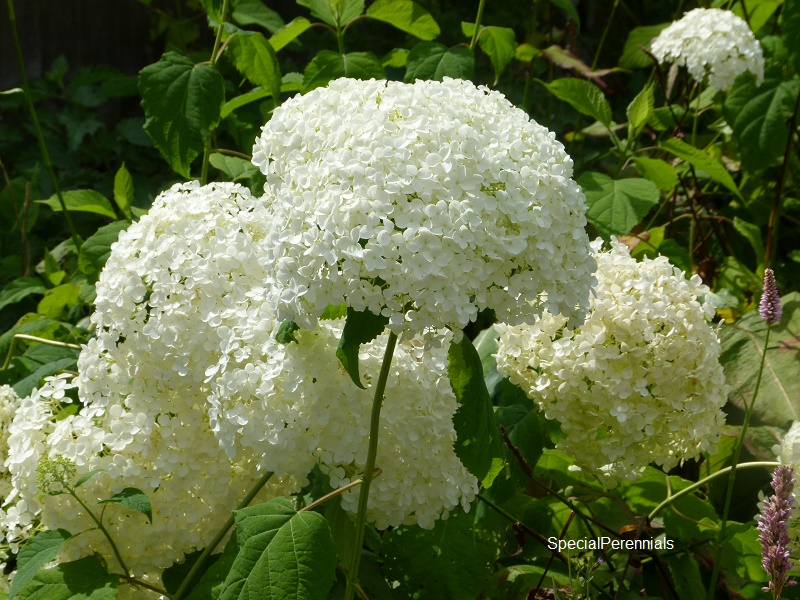 Hydrangea Annabelle is looking lovely with very big heads of long-lasting flowers. She can be a bit floppy if pruned too hard so I leave a framework of branches about 2ft / 60cm after late winter pruning.
August 6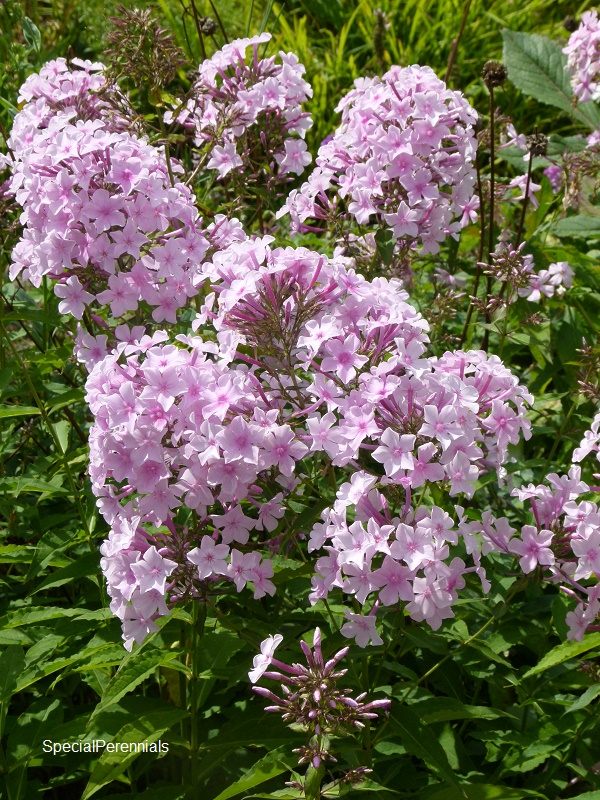 A phlox that came up in our garden as a seedling. One parent is definitely "Discovery" and other is either "Kirchenfurst" or "Oljenka". We've named her "Late Discovery" as she always looks good as Discovery slows down.
August 5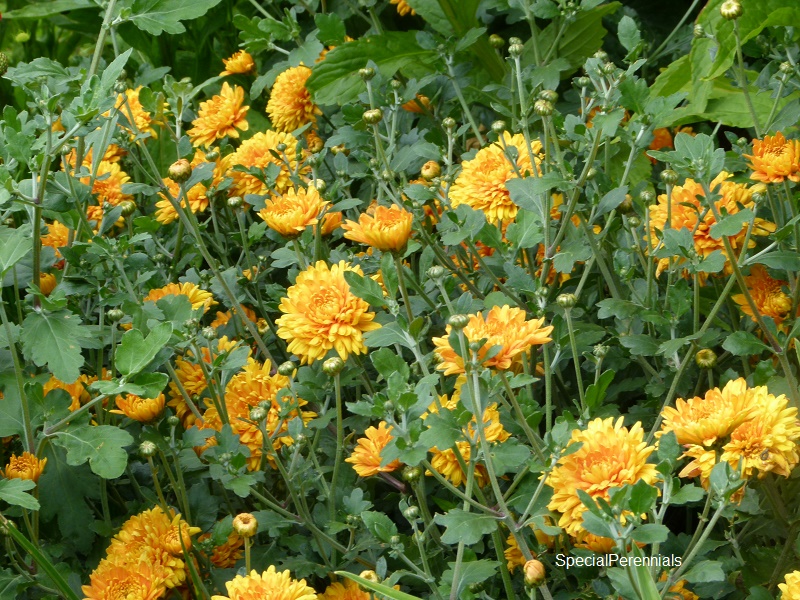 We are just getting into hardy chrysanthemums and we were really pleased to get a large number of plants from a friend this spring. Dixter Orange is a bit shorter than I expected so he is planted a little too far back in the border. make a note for the autumn or spring to move him.
August 4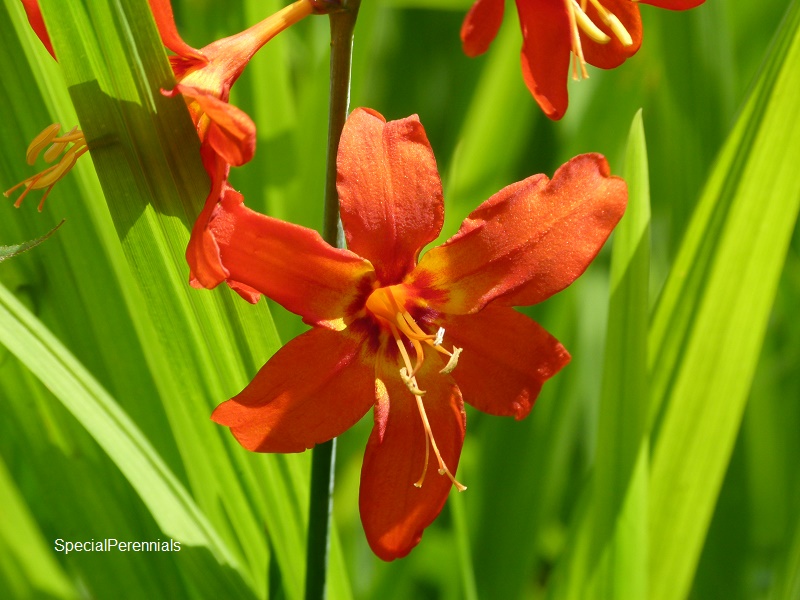 Mephistopheles has enormous flowers for a crocosmia and unlike a lot of large-flowered types he is completely hardy. At 2ft / 60cm tall he's a good height too.
August 3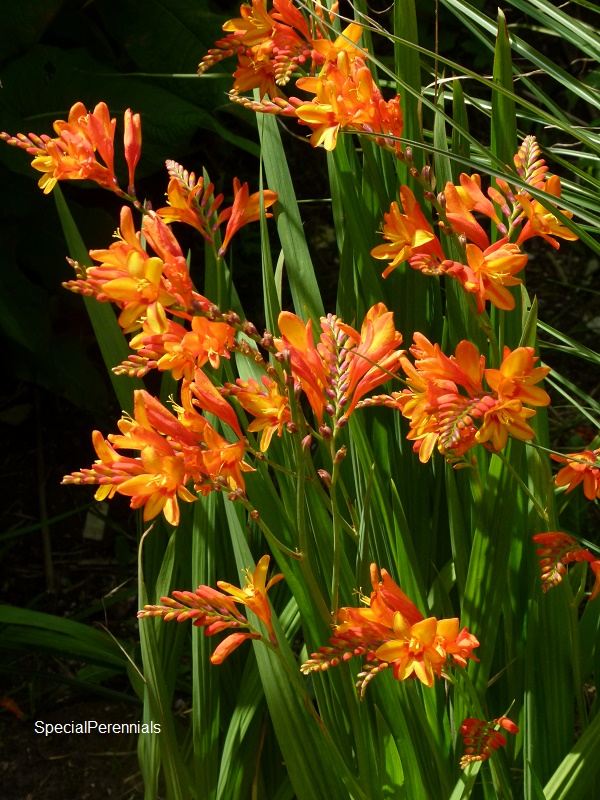 Crocosmia are on fire at the moment! They add a blast of red, orange and yellow the borders and there are tall ones for back and short ones for the front. Firejumper, here, is a short one. They do spread and sometimes a lot and some old varieties can be shy of flowering. Pick a good cultivar and beware the neighbour bearing bucket loads of plants because "they've got thousands". They do need feeding and they do like a bit of moisture in summer.
August 2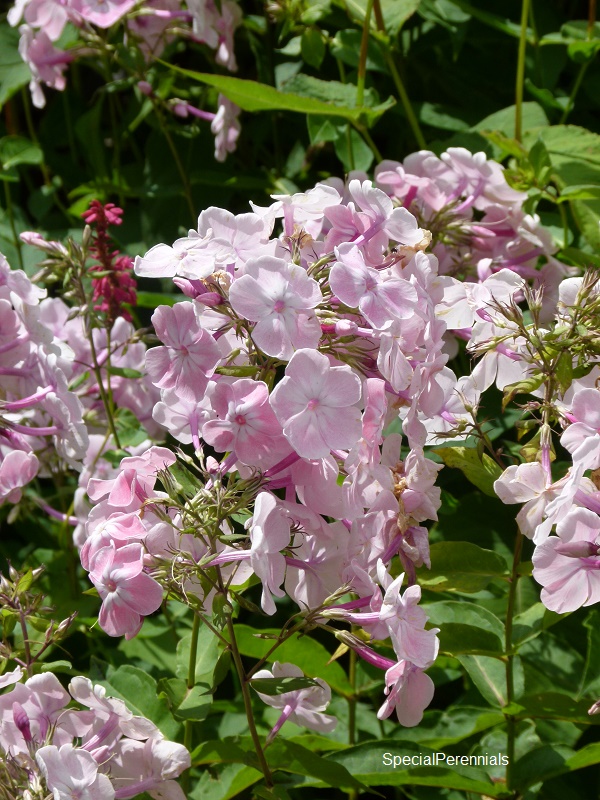 Our border phlox paniculata have been good this year - plenty of sun, enough rain and good dose of fertiliser in April. We love collecting them and have over 50 varieties in the garden. This is Maude Stella Dagley. We found her on a stall by Worcestershire Plant Heritage some years ago and she was raised by Tony Dagley and named, I believe, after his Mother. She is a wonderful phlox: not too tall, healthy, fragrant and long flowering.
All of our phlox have been late to flower this year, possibly due the weather and but also, I suspect, due to the unwanted attentions of wood pigeons in February and March. They tear at the leaves and the peck out the tips of uncovered plants so a covering of rabbit wire is in order until the plants are above beak height. I have asked around and no one else seems to have this problem and it only started in our garden last year. Perhaps its a particular bird with a taste for phlox or possibly because we grow so many in the ground and in pots?
August 1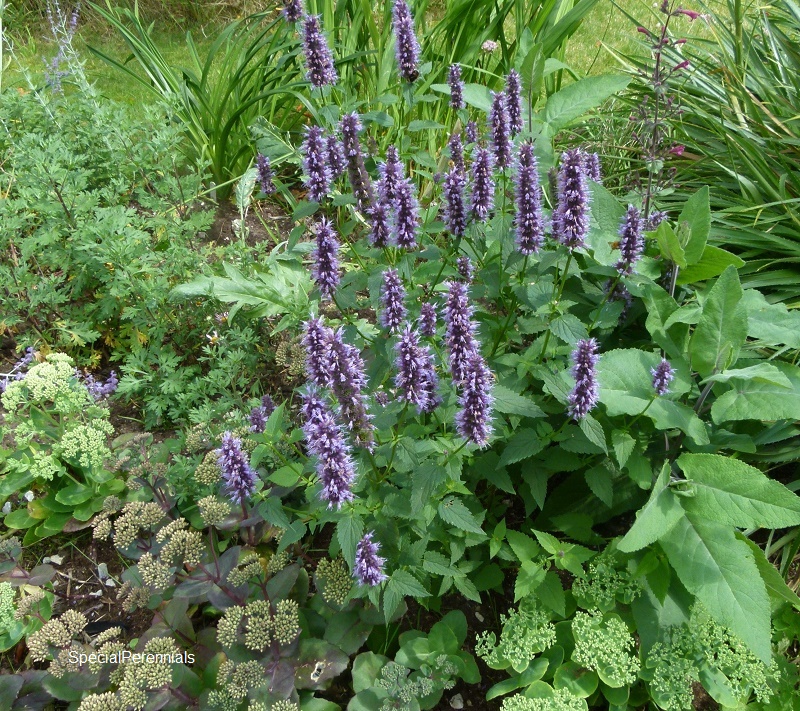 A big favourite with bees and particularly large white butterflies is Agastache Blackadder but as luck would have it they were all having a snooze when I took this pic. These plants were "Chelsea chopped" in May making them shorter and bushier. Chelsea chopping is the practice of cutting off about 1/3 to 1/2 of the growth in late May (around the time of Chelsea Flower Show). A lot of gardeners tell me they lose Agastache over winter. I don't lose them so it's hard to say why. They don't like soggy soil and they need a feed in spring to get them going. Agastaches are generally short-lived perennials in any case. Start new plants from seed or cuttings.
The agastaches are surrounded by Sedums and flanked to the right by the tenderish perennial Lepechinia hastata, all of which love the very free drainage in the bed that follows one side of our drive.