June 2020
If you want to join in the conversation or ask questions please join us on Facebook or Twitter
June 28: Spectacular Sea Hollies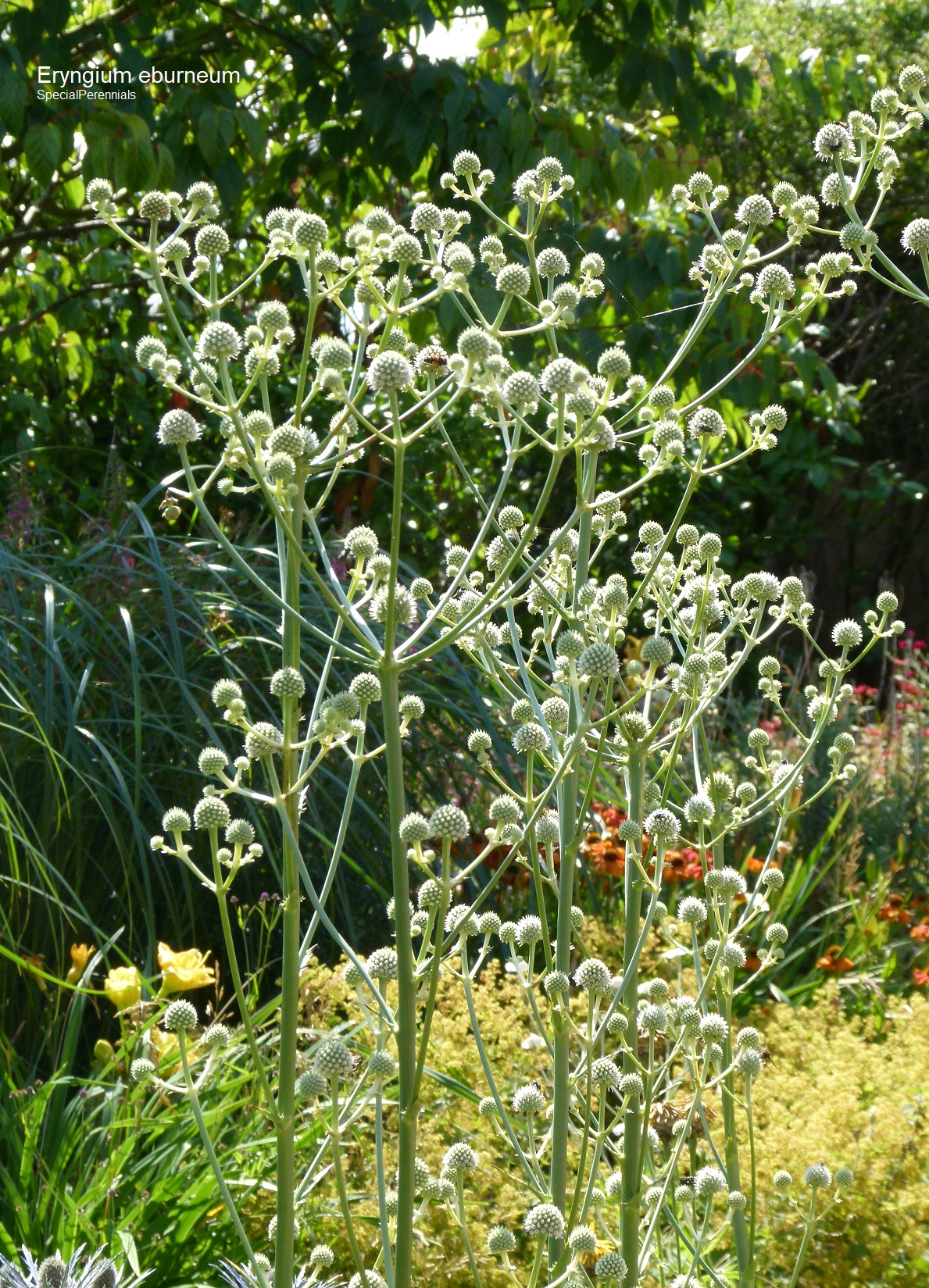 June and July is the time Eryngiums (Sea Hollies) are coming into bloom but they've been looking good all spring with their dramatic, exotic looking leaves and will continue to inspire into the autumn as architectural seed heads replace the flowers.
The largest specimen in our garden is Eryngium eburneum (the ivory white sea holly), now over 4ft / 120cm across and sending up multiple branching stems topped with whitish thimble flowers to a height of 4-5ft / 120/150cm.
Like a lot of ornamental sea hollies this plant originates from South America, but we've found it to be completely hardy in our free draining soil. It is usually evergreen and holds its seed heads through the winter. Like many species the leaves are tooth-edged with added spines requiring stout gloves when removing head leaves and old flower stems at the end of winter. In the cold winter of 2010/11, the top growth was killed by -18C but the plant recovered from deeper roots but failed to flower that year.
It is possible to divide the plant and to take root cuttings, but seed is the preferred method. Seedlings come up regularly in the cracks in our paved drive, but these are difficult to get up without losing their roots. We found that seed heads are best left on the plant and then collected in February and sown in early March and placed outdoors. Germination takes 8 weeks or so. This method of seed sowing applies to all types although germination takes a lot longer with some species – up to 2 years for Miss Wilmott's Ghost (E. giganteum) so don't give up on them!
Eryngium agavifolium is in a similar vein to this plant but with wider, tooth-edged leaves and greenish flowers. Looking like a desert agave, it is completely hardy and appreciates a deep, rich but draining soil. In the wild it grows in bogs but wouldn't take the winter wet here.
Eryngium zabelii Jewel, an old variety with intensely blue flower stems and flowers – most of the flower colour comes from the stiff, spikey bracts that surround the flowers. This one is deciduous leaving just brown flower stems behind when the leaves die in winter. Like all eryngiums it will survive drought, but this type shows its suffering with browning leaves that are best removed. Jewel is about 2ft 6in / 75cm tall.
Slightly taller, with equally blue stems but less dramatic bracts is Eryngium planum, which now graces our blue and yellow border but isn't quite in flower yet.
There are lots of new varieties of these two species coming into garden centres, all much of a muchness, and often a triumph of marketing over advances in breeding.
Smaller is Eryngium bourgatii with the whole plant giving a bluish silver effect from the silver lines on the leaves to the silver-blue flowers. A good choice for the front of the border, rockery or gravel garden.
We also tried a couple of borderline hardy species and lost them to cold, wet winters: the large flowered E. proteiflorum and the gigantic E. pandanifolium.
A quick word about Miss Wilmott's Ghost – E. giganteum. This is biennial so if you lose it after flowering that's what's meant to be! Its name comes from the habit of the eponymous lady to sprinkle a little of its seed in gardens she visited when she felt they needed brightening up.
June 27: Dreaming Spires: Veronicastrums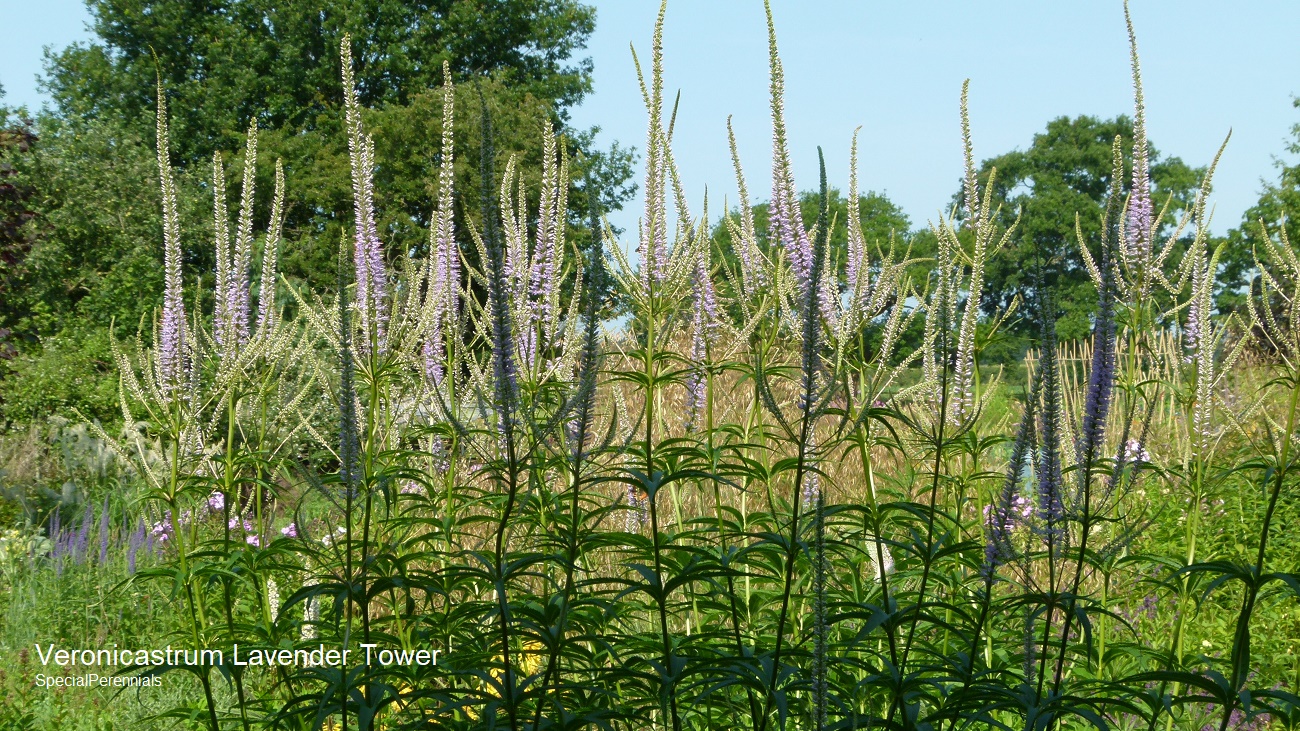 Veronicastrums (common name: Culvers Root, culver is an old English word for dove or pigeon) are starting to display their tall, charming, airy beauty in our garden now. All are tough, hardy plants and easy to grow if given enough space.
All are tall plants ranging from 4ft / 120cm to 6ft / 180cm.
I like to see them move in the breeze so staking, although necessary, is kept to a minimum with a corral of string around them as low as possible to stop them falling over but not stopping them waving to and fro.
My favourite is the tallest, "Lavender Tower", so elegant and a beautiful soft colour. The flowers are candelabra-like with the central candle opening first, surrounded by smaller satellite blooms that open as the first fades. Plant so that you can enjoy the sunlight streaming through making the buds and flowers glow with a gentle light.
Shorter still are the varieties "Pink Glow", "Erica" and "Album". These have less branched flower stems and don't usually require staking in our garden.
We've also tried the newer variety "Red Arrows" – don't be fooled by the name, the flowers aren't red; we suppose the name comes from the slightly reddish stems in spring. We've found this one to be slow to establish and bulk up.
All would prefer a moist soil and we do have to water in dry, hot spells in summer to prevent flagging.
June 26: Summertime blues
Our newly end to our long curving border has developed quickly since April.
The colour scheme is blue, orange and yellow shades, with a touch of purple and this view is predominately blue with Nepeta blue Dragon, Salvia Caradonna stealing the show now. As the Salvia fades and is cut back the electric blue of Eryngium planum will come to the fore.
The gold of Heleniums El Dorado and Fata Morgana are just opening taking the place of the orange Geum Totally Tangerine.
The border is in full sun and on dry soil. It terminates with an impressively large Giant Spanish Oat grass (Stipa gigantea) whose straw-coloured flower spikes and husks will catch the evening sun right through to the new year.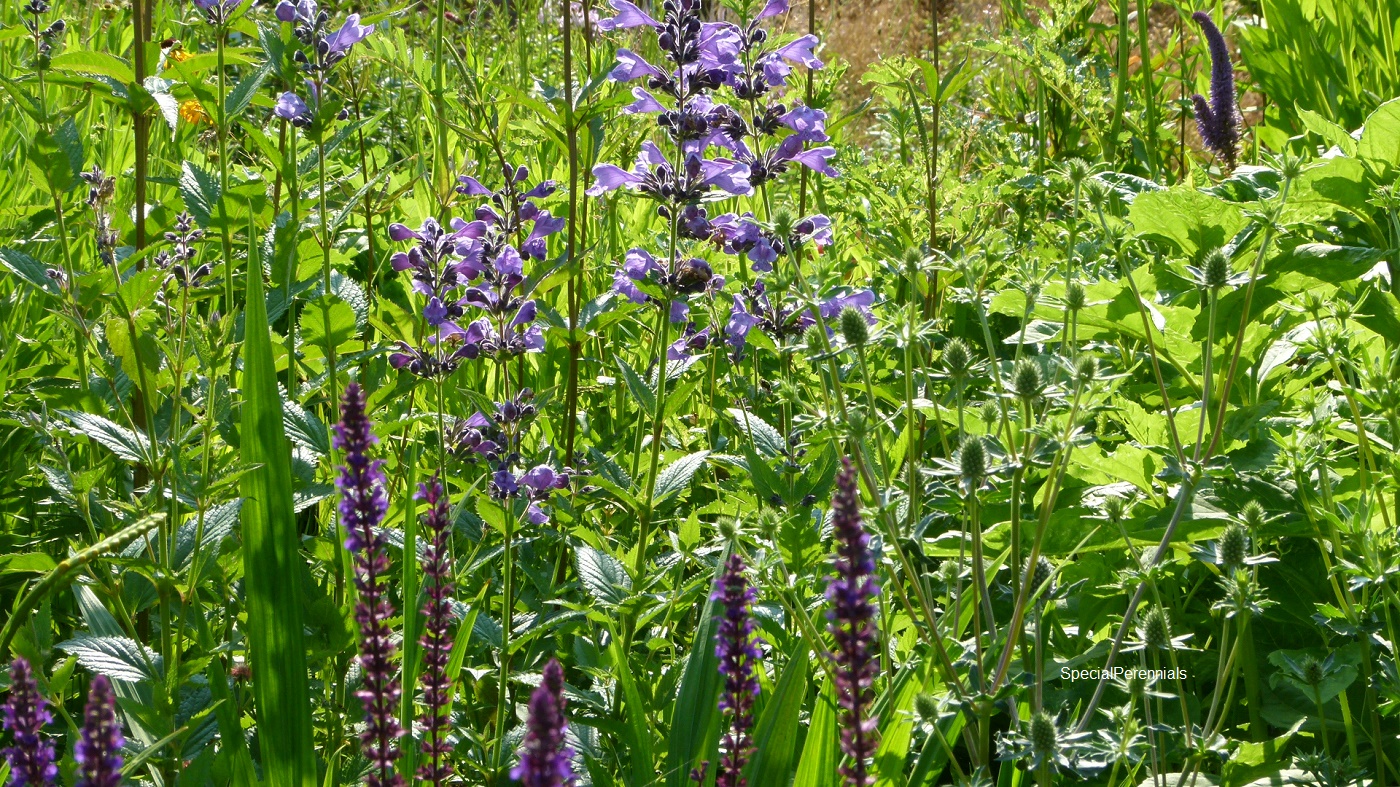 June 24: Valeriana sambucifolia - never what it seems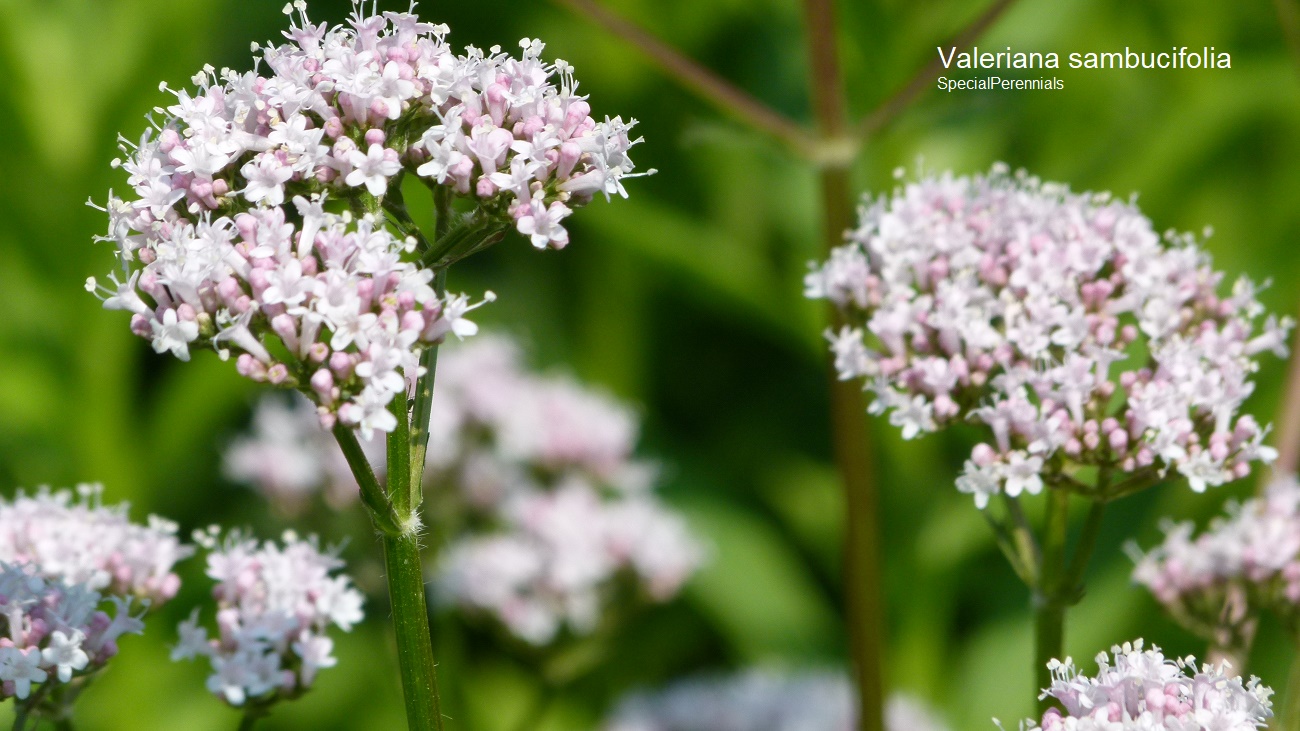 The tall, airy flower stems of this rare perennial are bursting forth with fragrant, white flowers from pink buds now. To the eye they are like a white form of verbena bonariensis although the plants aren't related.
Most books and websites have this plant down as a variety of Valeriana officinalis – the herbalists' valerian but it differs in a number of important ways: It's soundly perennial rather than biennial; it doesn't over seed – in fact it doesn't seem to seed at all; it is a more manageable 4-5ft / 120-150cm tall rather than 6ft / 180cm plus, and lastly, it runs by underground shoots rather than clumping.
So, give it some room to gently spread and partner it with Verbena bonariensis; blue spires like Veronica longifolia; or pale violets like Phlomis tuberosa and enjoy its airy grace run rivulets running through a border.
Oh, and just to confuse gardeners even more the plant we commonly call red valerian isn't a valerian at all but a misnaming of Centranthus that's stuck with the plant since Victorian days.
June 20: Sanguisorbas are the new rock 'n' roll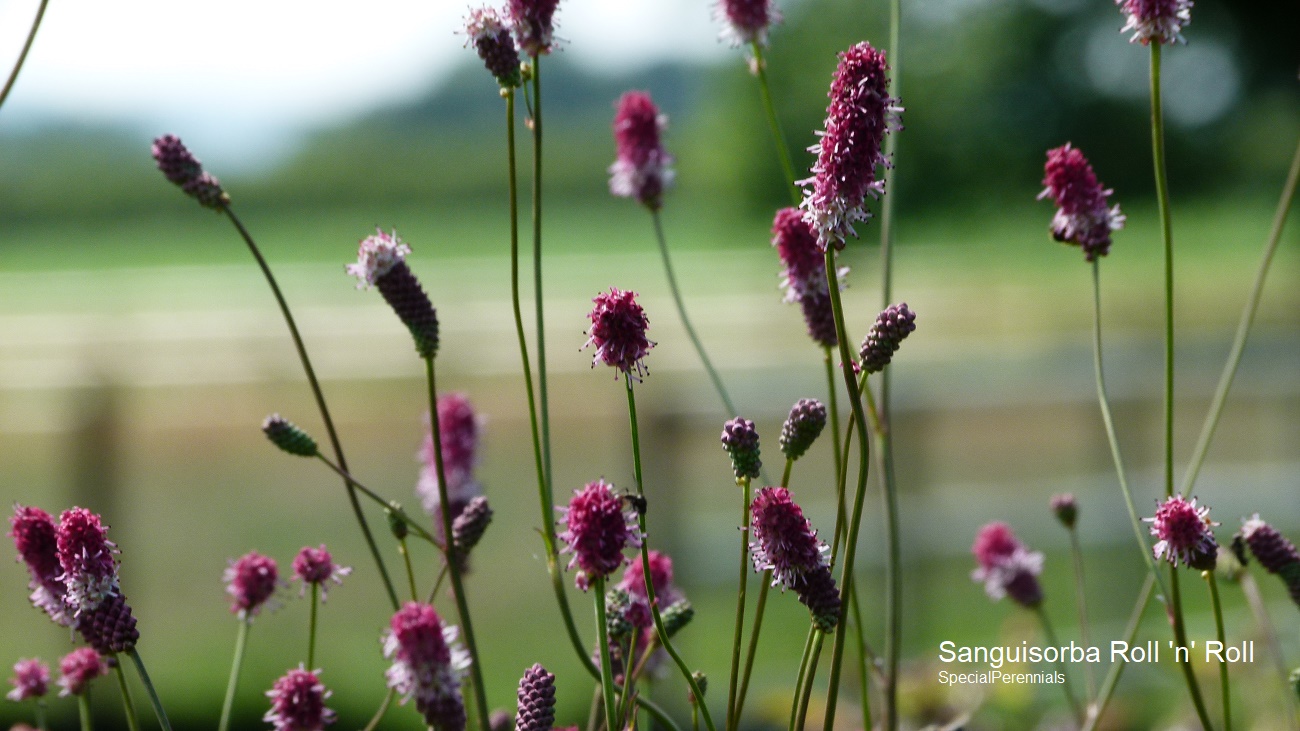 We love Sanguisorbas (Burnets) for their unusual flowers and tolerant, easy-to-grow natures. They are also loved by our bees and hover flies.
The earliest ones are just opening in our garden with more to come through July and August.
To my mind there are two types of Sanguisorba – spreaders and woody based clumpers. Rock 'n' Roll is the former and although not a thug he will take centre stage and readily make a good sized clump. He's a terrific performer in sun or light shade. He's short in stature (about 1-2ft / 30-60cm) but high on flower power.
Burr Blanc is a woody clumper, more slowly forming a formidable plant that takes some strength to divide when the time comes. He is a tall, stately addition to the border eventually reaching around 4-5ft / 120-150cm tall. In our experience he doesn't need staking but this can't be said for all tall varieties: the 6ft /180cm Arnhem is just starting to flower and he will need a corral of twine to support but not constrain him from his graceful movement in the breeze.
Ideally, they love a cool, moist soil with their heads in the sun, but they cope admirably with dry, hot, sandy soil in our garden.
In July, the obtusa types will be unfurling their feather boa-like flowers upstaging everyone.
June 18: Daylily Explosion
The recent muggy, warm nights have brought on our daylilies with lots of varieties starting to flower at once. The colour and size of the flowers is always best in these conditions.
Our daylilies are early this year, perhaps 2 weeks early, due to the warm, sunny spring. Daylily flowering is not dependent on day length but on the amount of sun and heat accumulated.
On the whole daylilies are easy to grow requiring nothing more than a feed in spring and division once in a while. Flowering time is the busiest period. It is good practice to remove dead flowers regularly as they become a soggy mess if left on the plant. Some studies say that the plants reabsorb nutrients and amino acids and deadheads should be left for 3 days. Each daylily flower only lasts a day, but a mature plant might have 20-30 flowering stems, each with 10-20 buds – the maths multiples up to large numbers of blooms spread across about 6 weeks.
The main reason to deadhead is to reduce the impact of the plants only major pest – gall midge. Gall midge is a micromoth that lays eggs on the developing buds which causes them to swell abnormally and sometimes rot. The buds swell to produce food for the tiny white maggots that hatch out in the buds. When deadheading, look out for buds swelling at the base or with prominent ridges and remove these before they develop or rot. Deadheads and bad buds should not be composted as the maggots can stay in the soil or compost for up to 2 years. Regular picking off will mean most of the buds will be clean and flower properly. Failure to pick off means most of the flowers will be lost. There are no sprays available to home gardeners.
There are literally tens of thousands of varieties registered with the US and UK societies and new ones are available all the time. Flower sizes range from tiny (2") to huge (6+ in). All colours except true black or blue are available, although to my eye the "white" ones are always tinged with yellow.
There are many flower shapes – rounded, star-shaped and the exotic looking spider forms with exceptionally long wavy petals and many colour patterns with prominent eye zones and even the throat of the flower can add colour.
Bees love the large open blooms although in the wild some species daylilies are pollenated by butterflies or hawkmoths.
Moisture soil and some sun gives bigger and more flowers, but daylilies are great survivors shrugging off neglect and poor soils.