Spetember 2020
If you want to join in the conversation or ask questions please join us on Facebook or Twitter
September 19: New England Asters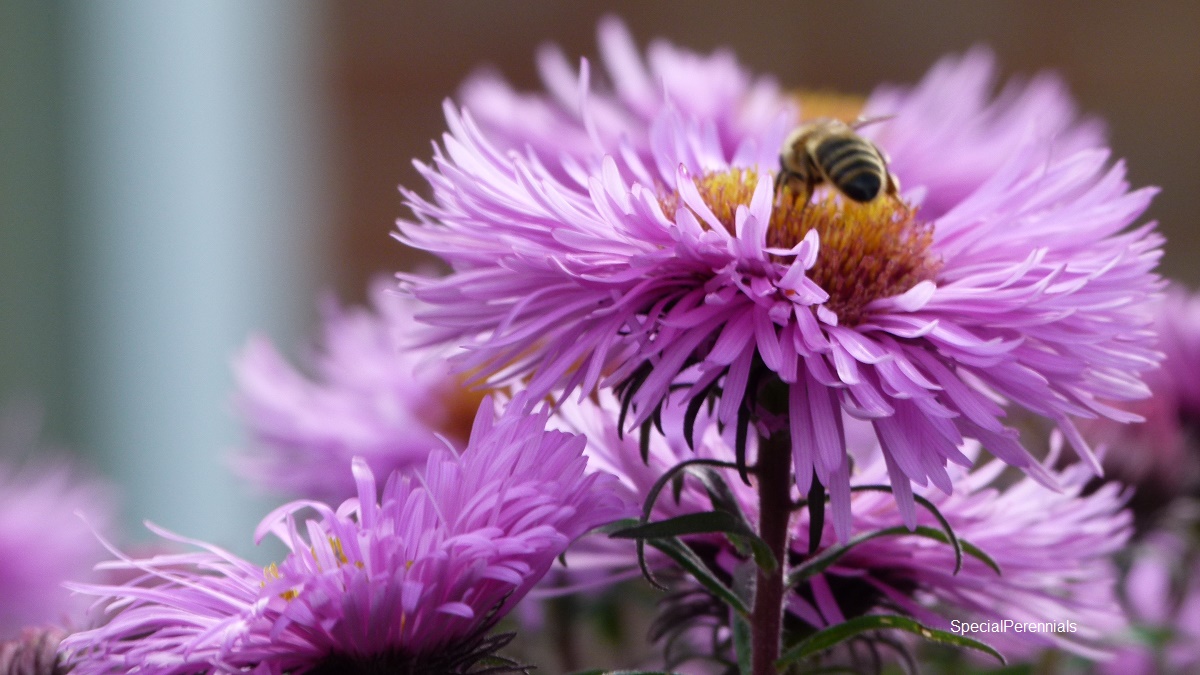 We've been enjoying our New England Asters (Aster novi anglae or Symphyotrichum novae-angliae as they are officially called now) and so have the bees and butterflies. This is the variety "Connie".
Mainly tall or very tall, they never seem to get mildew and bloom from early September through to the end of October.
Their one drawback is the flowers don't die gracefully, so dead heading is required to keep them looking at their best.
Propagation is by dividing clumps in early spring but it's a tough job cutting through the clumps if left for too many years.
September 19: Helianthus Lemon Queen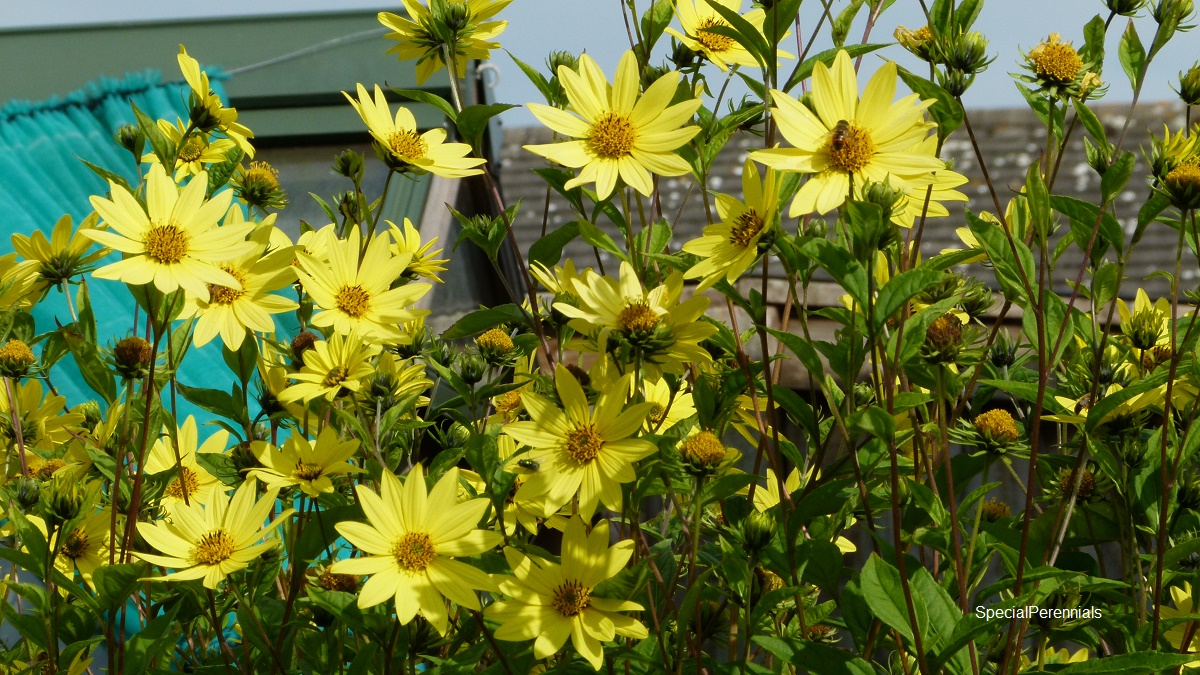 Of all the perennial sunflowers we grow Lemon Queen is one of the commonest and the simplest and also one of the loveliest and best performing.
She is very tall and does usually require staking with a ring of string tied around 3 or 4 canes; it's best not to tie her tight as she needs to move with the breeze. She can grow as high a 6ft / 180cm but will be far shorter in poor soils. She spreads by surface stems but is not as difficultly invasive as some types. She needs sun and soil that isn't waterlogged in winter. A light mulch of leaves in late winter might help in cold areas.
There's no need to deadhead as new flowers will keep coming through October and the spent blooms are not an eyesore.
Make sure you are buying the correct plant. All too often at flower shows and garden centres I see just any old single helianthus labeled as Lemon Queen; sometimes even really invasive species. This not helped by seed grown plants being sold as well - these are often of dubious parentage or have deeper golden yellow flowers.
September 18: Sanguisorba Pink Brushes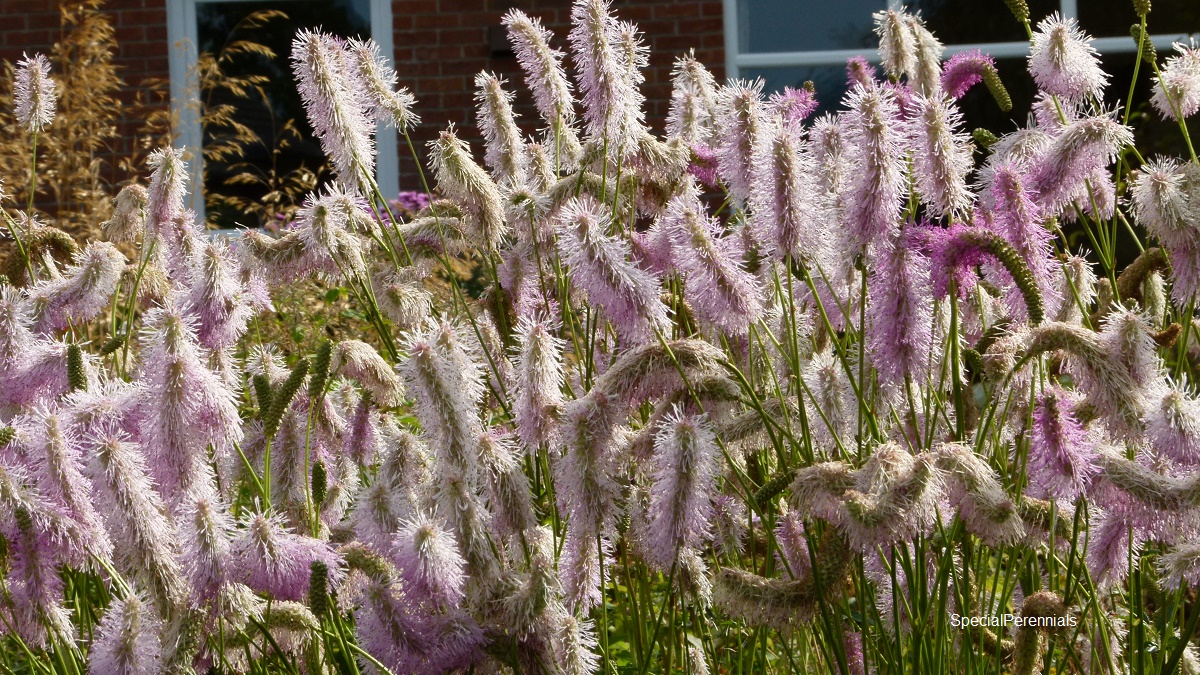 This lovely Burnet has been blooming since late August and is now a charming mixture of buds and fresh, mature and fading flowers.
She is a tall, graceful and self-supporting plant - 4-5ft / 120-150cm. This is a single plant that was planted about 5 years ago and should really be divided next spring. We grew her from seed and for the first couple of seasons she produced a few flowers only got to 2ft / 60cm tall. So we moved her to her current home and she literally blossomed and now is the highlight of a large bed in the centre of our garden.
We are leaving the spent flowers on this autumn so we can collect seed. Luckily we don't have any other Sanguisorbas growing near that flower at the same time so they should come true. Sanguisorbas germinate well as self seeds in the spring so we will sow in March in our greenhouse.