Aster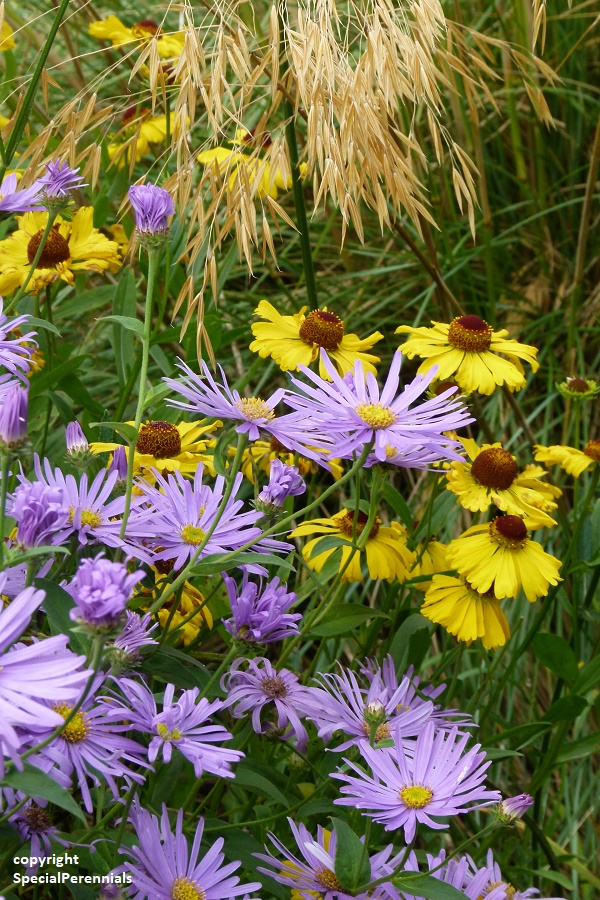 Basic Facts:
A huge and diverse group of plants and members of the Asteraceae family. The well known Michaelmas Daisies flower in Autumn. There are also spring-flowering types.
Now divided into a number of separate groups including: Eurybia - the Woodland Asters and Symphyotrichum - the American Asters. The European Asters have stayed put!
Garden Use:
Great flower power and the autumn types are unsurpassed. These look good with grasses such as Miscanthus and Molinia
Wildlife Interest:
Very valuable for late flying bees and butterflies.
Goldfinches will enjoy the seed heads in winter
Cut Flower Use:
Asters make good cut flowers.
Cultivation:
We mostly think of them as sun lovers and many need a fairly sunny spot but there are some for shade, even dry shade.
Autumn flowering types benefit from division every 1-3 years. They can be divided in autumn or spring, but expect losses if dividing in autumn.
Dead heading prolongs flowering.
Taller types may require staking in exposed positions.
Propagation
Many spread by ground level rooting stems which makes propagation easy. Others require more careful division of new plantlets from the parent. As with most late flowering plants, autumn Asters are best divided in early spring.
Pests and Diseases:
Some types of Aster can host powdery mildew. We grow varieties that are mildew-free or only slightly affected. Regular division and an airy, open aspect will help prevent problems.
Native to many parts of the world. Many of the garden types come from North America.