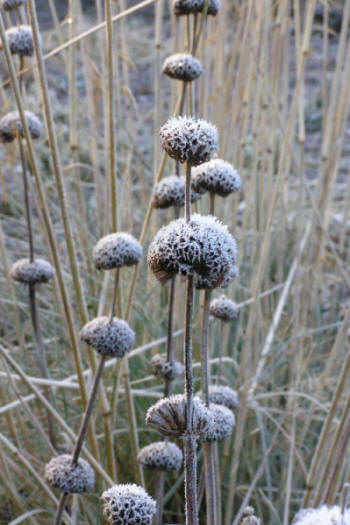 Winter Treats in the Perennial Garden
The depths of winter could be a dull and dreary time in the perennial garden with plants dormant and snuggled up below ground but there can still be plenty of interest for both gardeners and wildlife.
As the memory of summer fades in the garden the bones of flowering plants remain to add interest though the winter months. Many perennials retain stems, dry flowers and seed heads that catch the low sun and become dusted in frost, sparkling in the winter sunshine.
Seed heads and berries are natureís store cupboard hoarding food for hungry birds in times of hardship.
The lazy gardener has an immediate advantage over the tidy one who clears away everything in autumn but a little thought and planning can make all the difference.
I use three rules of thumb in deciding what should stay and what must be cut down early. Firstly, if itís diseased or likely to harbour disease then get rid of it; so Phlox stems go early to avoid any chance of harbouring eelworm. Secondly, stems that are hard and have a good shape can be left through the winter and those that go soft or mushy should be cleared away in autumn. Thirdly, if the plant is tender at all leave the stems and dry leaves to protect the crown.

Plants like Jerusalem Sage (Phlomis russeliana) are natural performers: the heart-shaped leaves are ground-hugging evergreens and the seed heads are like pepper pots along the length of the stiff stems and are eagerly sought out by finches. The stems attract frost on cold nights and become encrusted and bejewelled by morning.
Some perennials need a little work to bring out their winter best. Fennel (Foeniculum) has upright stems and seed heads like the spokes of an umbrella but the dead leaves hang like rags on the stem so itís best to strip these off to reveal its true majesty.
Other perennials with good winter shape include Verbena, Bridal Wreath (Francoa), Bergamot (Monarda), and Sea Holly (Eryngium).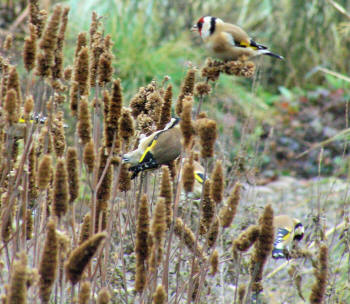 Bubblemint (Agastache) has stems like ears of wheat and the tweezer-like beaks of goldfinches are ideally suited to extracting their tiny seeds. [PICTURE 2 Ė Goldfinch].
Other good seed heads for finches are Centaurea, Verbena, Aster, Helianthus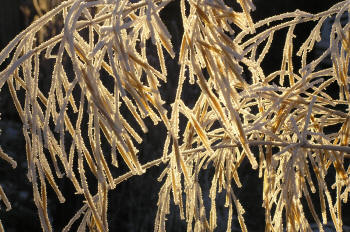 Ornamental grasses are the kings of winter structure adding drama and stature. The spent husks of the Giant Spanish Oats (Stipa gigantea) blow in the winter gales and shine with frost on crisp sunny mornings. These will remain on the plants until a tidy-up in early March.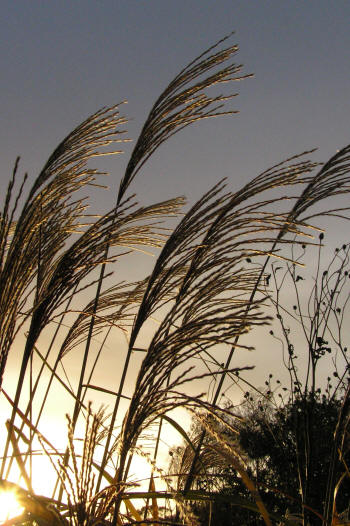 The Silver Grasses (Miscanthus) have bold outlines and large silky flowers throughout the winter. The leaves gradually turn from green to gold and the brown.
Other good winter grasses include Feather Grass (Pennisetum), Korean Grass (Calamagrostis) and Switch Grass (Panicum)

Eventually in late winter or early spring the stems will need to be cleared away. Donít forget the shelter these have been giving the dormant buds below and wait for a mild spell before cutting back to avoid a shock to the plant.
Winter doesnít have to be a barren season in the perennial garden and good things come to those that wait!