Helenium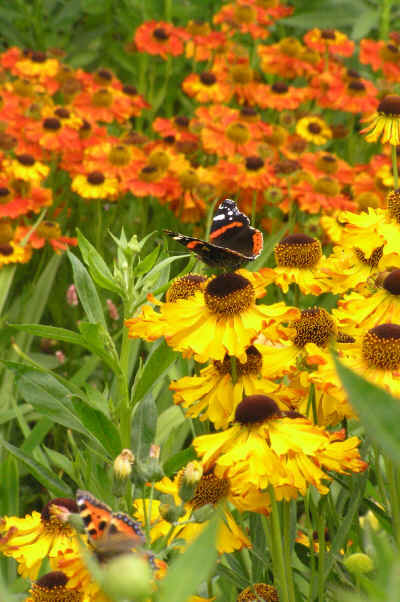 Heleniums come in a range of colours from deep red to pale yellow including blends, stripes and bands of colour. Heights vary from 1ft (30cm) to more than 7ft (210cm). it is possible to have Heleniums in full bloom from late June past the end of October by judicious choice of variety and deadheading.
Heleniums are great subjects to plant in drifts spacing them about 1ft - 2ft apart and are traditionally used this way. However they can be equally effective planted singly or in small numbers amongst plants of similar height especially grasses.
Some people ask which are best for bees and butterflies. The simple answer is that they all equally good with the exception of the variety "Double Trouble" which produces little pollen.
Planting:
Heleniums are toxic if ingested but are bitter in the extreme so unlikely to be eaten. All are toxic to ruminent animals.
Always add lots of compost when planting. Heleniums like plenty of moisture but not being waterlogged; compost helps sandy soils retain water and opens up clay soils to help them drain. Heleniums are best in a sunny spot but will grow well in sites that get sun for a fair part of the day. Keep new plants well watered. Water all plants in dry spells. If the flower petals are quilled and rolled it is sure sign that the plants are too dry (unless it's one of the varieties that naturally has rolled up petals!).
The taller varieties require staking - we find that a cats cradle of string is fine when growing in large drifts. Single plants can be staked. We find that stakes cut from trees like Hazel are preferable to canes or green supports as the brown colour blends well with the stems of Heleniums. Plants don't always achieve their full height in the first year after dividing - heights quoted below are for mature plants in our Cheshire garden - but they should all flower in their first year. The growing tips can be pinched out in May to get bushier plants.
Dead heading will promote further flowers. If you have the time and patience, cut off each spent bloom, taking the stem down to just above a new tiny flower bud. If you have large drifts of plants to cope with, shearing off the top 10-15cm (3-4") is just as effective. Some plant books suggest that only some varieties of Heleniums will rebloom if deadheaded, and go on to recommend H."Moerheim Beauty" on this basis. We have found have that nearly all cultivars in our collection respond to deadheading by reblooming however the late flowering ones will not produce so many new buds.
Propagation:
Heleniums flower best if dug up and split into individual plantlets discarding the old central stalk every 3 years or so. Only divide in spring - autumn division usually leads to failure!
Pests, Disease and Troubles:
Heleniums are largely trouble free. From our conversations with other gardeners the top 3 problems to deal with are:
Slugs and Snails: We have very little problem with these, but it seems others do and if so you will need to protect plants until around 6in / 15cm tall
Leaf loss and spotting: is normally a result of the plants drying out for an extended period of time and is often a form of fungal leaf spot. Add lots of compost when planting and keep well watered. A seep hose or leaky pipe attached to a water butt is a good idea if you can't improve soil water retention. Try to water the ground around the plants rather than the leaves.
The only other pest that troubles these plants rarely is Eel Worm. These are microscopic organisms that can infest plants and cause stunted, distorted and weak growth. If the plants you buy are healthy and growing well then you are unlikely to be bothered by this. If present in your plants its best to dig them up and burn them and plant Heleniums somewhere else in the garden.
Helenium Amber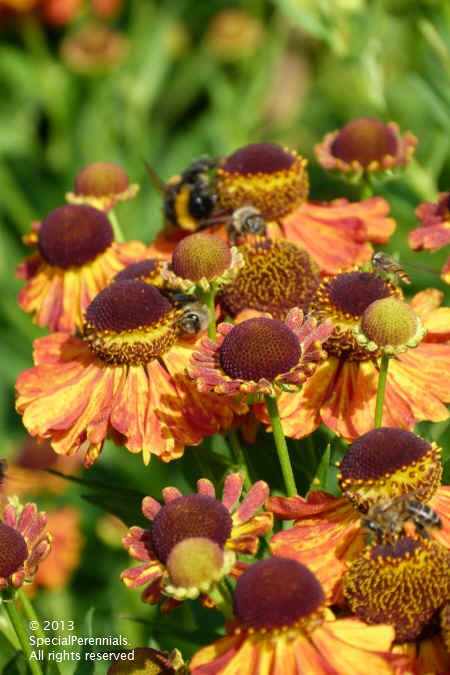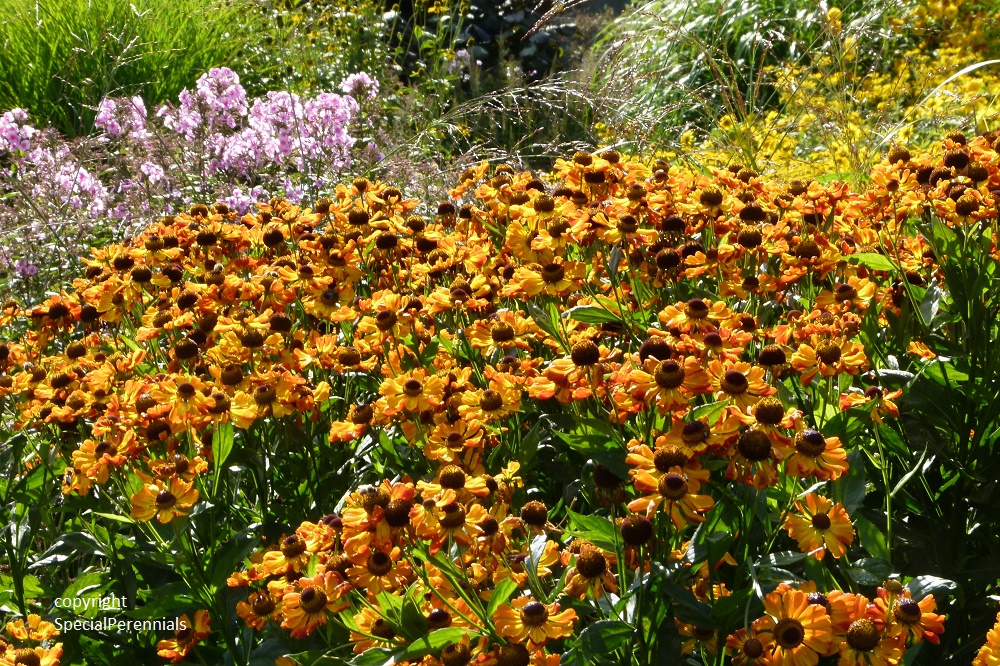 (Raised by Daniëlle Monbaliu)
Growing to 5ft tall on really well branched plants. Masses of amber flowers streaked with orange: the name is spot on. Flowers from late July through September.
Daniëlle tells us it is a cross between Indianersommer and Julisamt.
Price £6.00 (9cm pot)
Helenium Bressingham Gold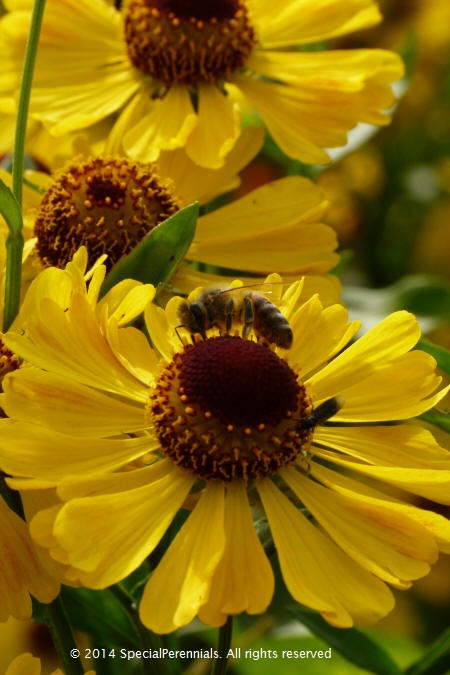 Tall variety (5ft / 150cm) flowering from late July / early August. Given to Bressingham Nursery by a customer. In my view it is the same as the old variety Riverton Beauty
Available soon
Helenium El Dorado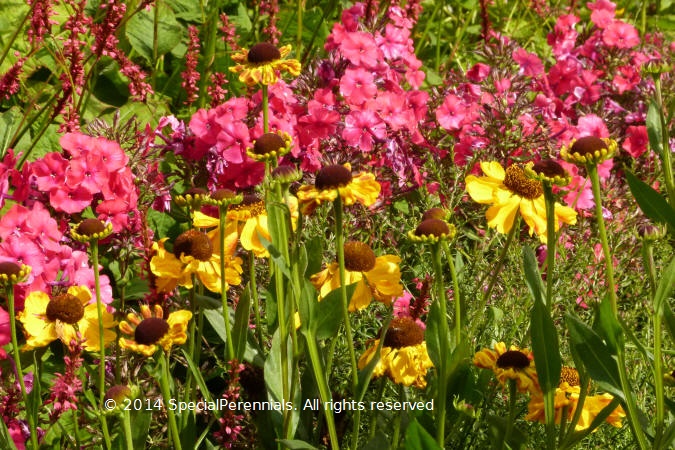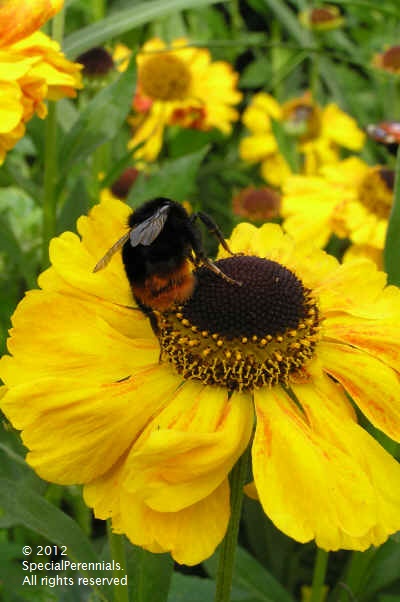 El Dorado is one of the best recent introductions that is very early flowering: from mid June here, making it one of the first. It grows to 3ft / 90cm eventually and keeps flowering into early November.
Price £6.00 (9cm pot)
Helenium Herbstgold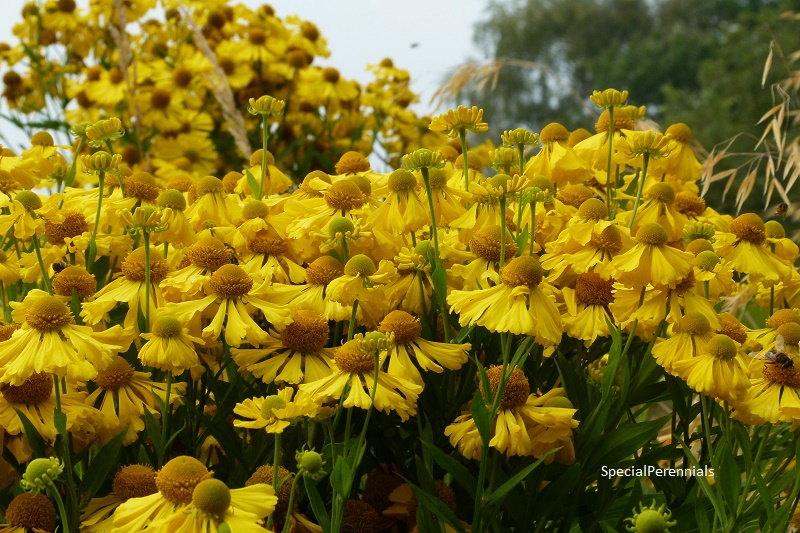 (Autumn Gold)
Tall with yellow centred, yellow flowers with swept back petals.
Price £6.00 (9cm pot)
Helenium Kanaria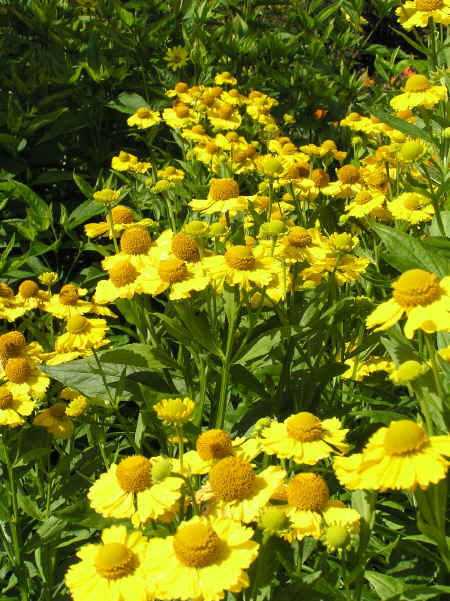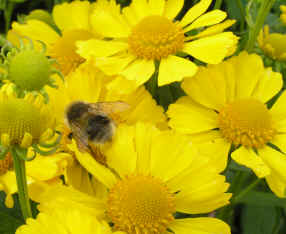 (Karl Foerster 1949)
Kanaria ("Canary") has good canary yellow with yellow cones. It is about 4ft / 120cm tall and starts flowering from late July. It has good thick stems that require no staking.
Price £6.00 (9cm pot)
Helenium Moerheim Beauty
(Ruys 1930)
This is the most well-known and popular Helenium and justly so. The flowers arise in a wide range of shades - some deep, jewel-like red; others flecked with gold and copper. All mature to russet tones. It flowers for a long period starting in early July; keeping on blooming until November. It does need some support when grown in good soil, reaching around 3.5 - 4ft /110-120cm, but more like 3ft / 90cm in our sandy soil.
RHS Award of Garden Merit
Price £6.00 (9cm pot)
Helenium Potter's Wheel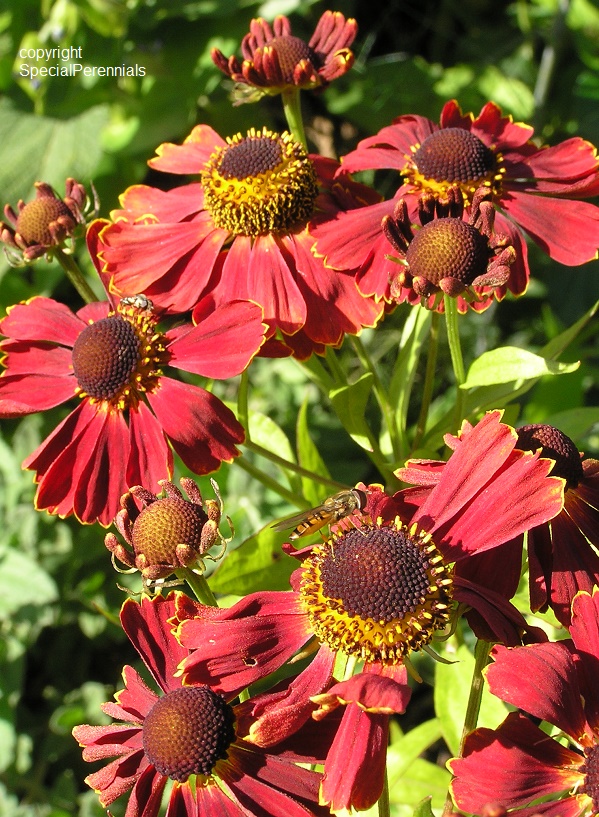 Luscious, deep red flowers with a narrow gold edge. About 4ft / 120cm tall and late season flowering.
Available soon
Helenium Rauchtopas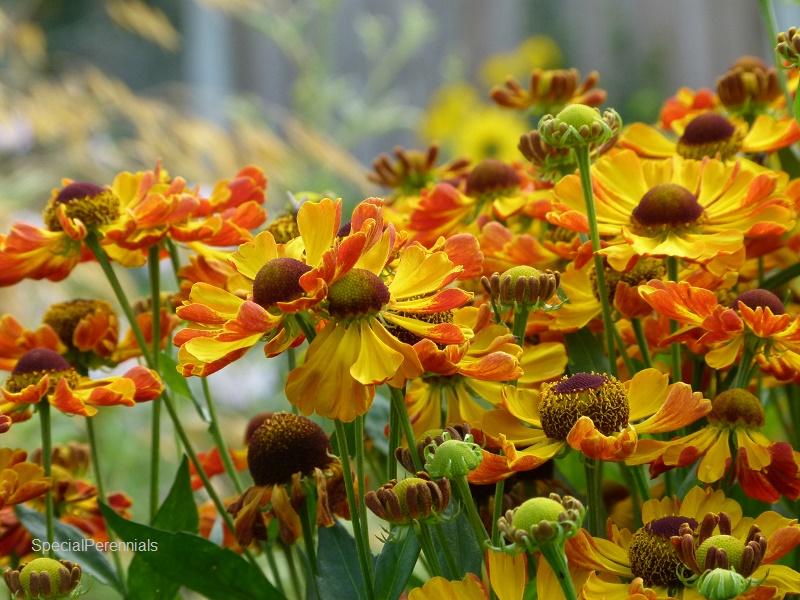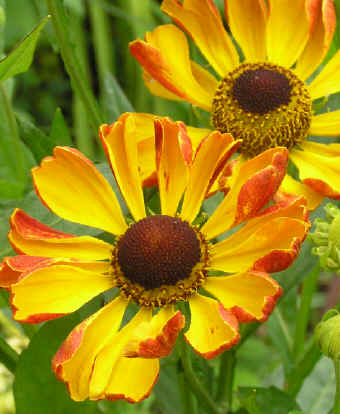 (Pegelow)
Rauchtopas has upswept petals that really show up the contrast between the apricot uppers and vermilion undersides. Its about 4ft / 120cm tall and flowers from early August into early October. One of our personal favourites.
The name Rauchtopas means "Smoky Topaz", a name for a particular form of the gemstone that I believe is called "Cairngorms" in the UK.
Price £6.00 (9cm pot)
Helenium Summer Luv
Our new variety for 2022. Bred here and a cross between Fancy Fan and Kanaria. About 3ft - 3ft 6in / 90-105cm tall. Flowering from early August.
Price £6.00 (9cm pot)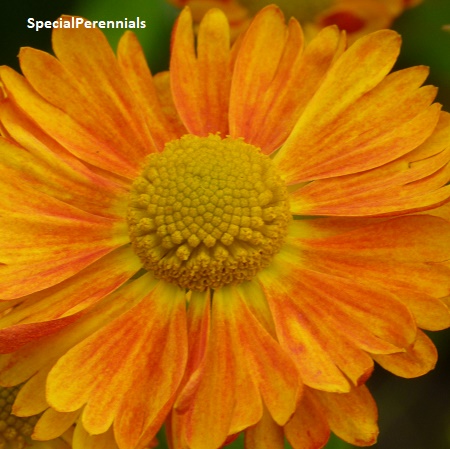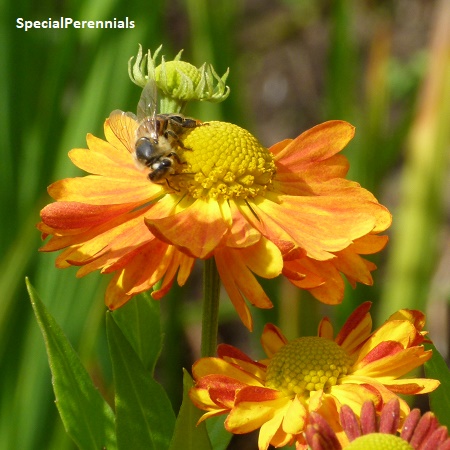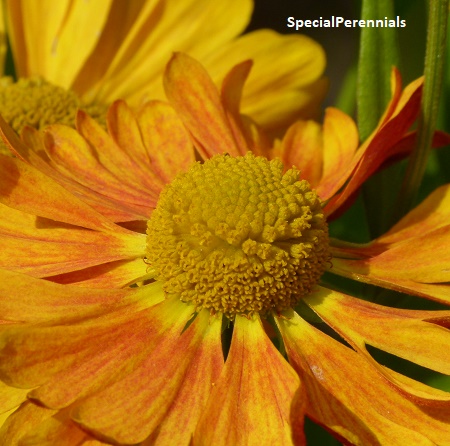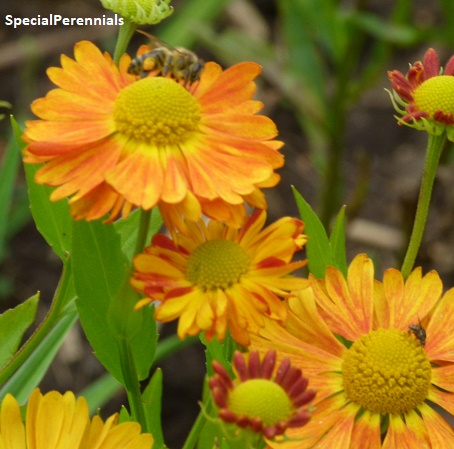 Helenium Vicky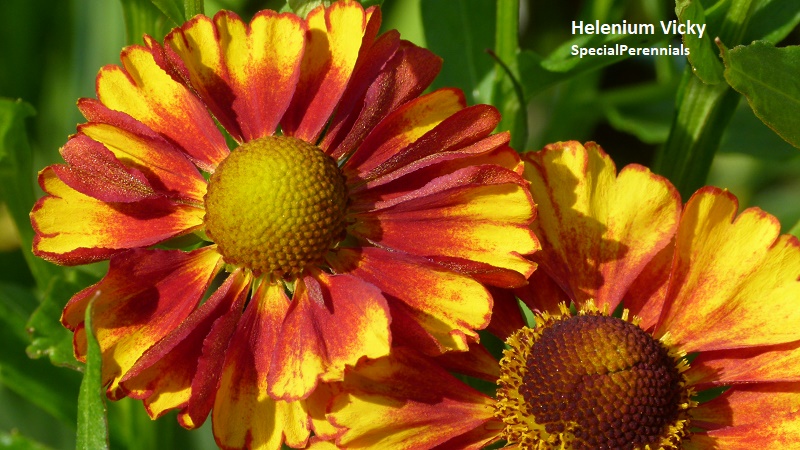 (Peter and Bärbel Zur Linden 1999)
Vicky is a real stunner and definitely no shrinking violet. She flowers from early August and grows to about 5ft / 150cm tall. She is a good doer, healthy and quick to bulk up. This is probably the first true picotee flower in a Helenium.
Price £6.00 (9cm pot) Available soon