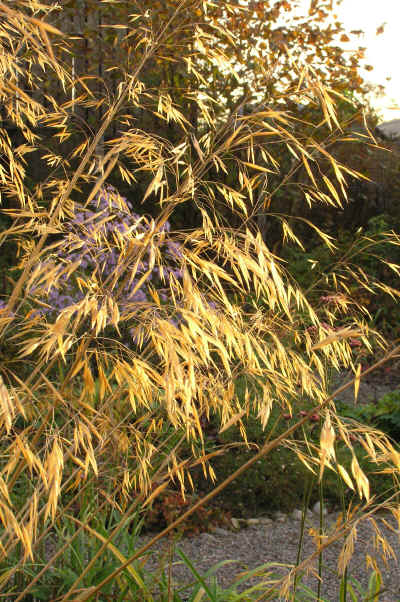 Stipa
Fashionable grasses grown for their leaves and dramatic flower heads that move in the breeze and catch the sunlight in the evening.
They all like sun, free-draining soils in winter and space to spread their skirts - don't place other tall plants hard up against them.
All are hardy. As cool season grasses they make their growth in spring and autumn and this is the time to divide them.
Seed heads will last through the winter and should be cut back to the base in February before new growth starts.
The flower stems can be dried for cut flower use.
A member of the Poaceae family.
Stipa gigantea in late October in our garden.
Find out about using Stipas for winter interest in our garden diary for December 2010
Common Names: Giant Spanish Oats, Giant Feather Grass.
Large clumps of stiff green leaves up to 3ft across and 2ft 6in high and masses of tall, elegant flower spikes with dancing oat flowers in summer, lasting through winter. Up to 6ft high in flower. Hardy and drought tolerant. An excellent back drop for many plants. Looks stunning when the evening sun catches the flower heads.
See more about the long season of interest of this plant in our garden diary for January 2010 and September 2011
Read about caring for this plant in our garden dairy for May 2012
RHS Award of Garden Merit.
Price £5.00 (9cm pot)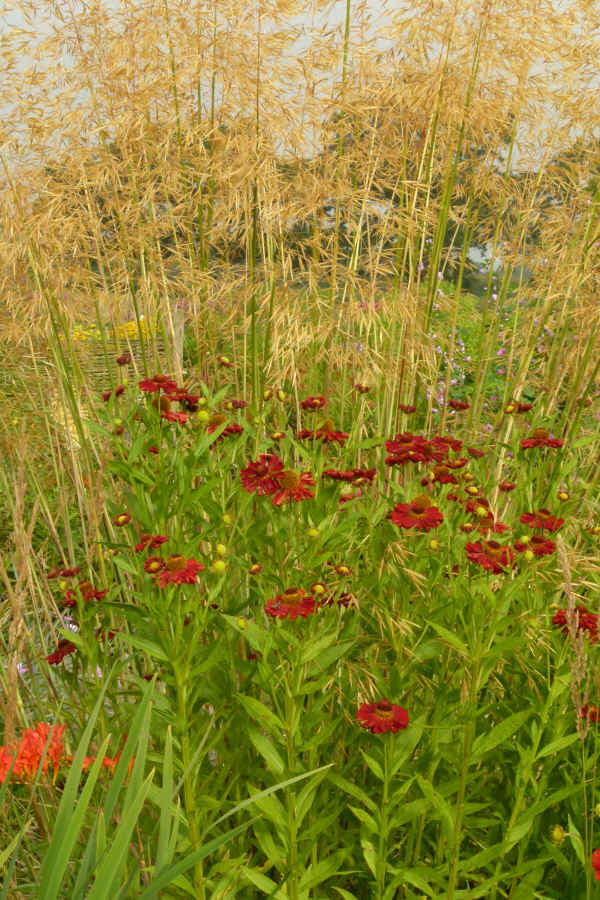 Perfect Partners: Stipa gigantea is a great mixer providing a elegant, vertical element to plantings. Here with the rich red of Helenium Mahagoni in our garden on August 9th. The Helenium would prefer a moister spot but has adapted well over the years to the dry soil liked by the Stipa.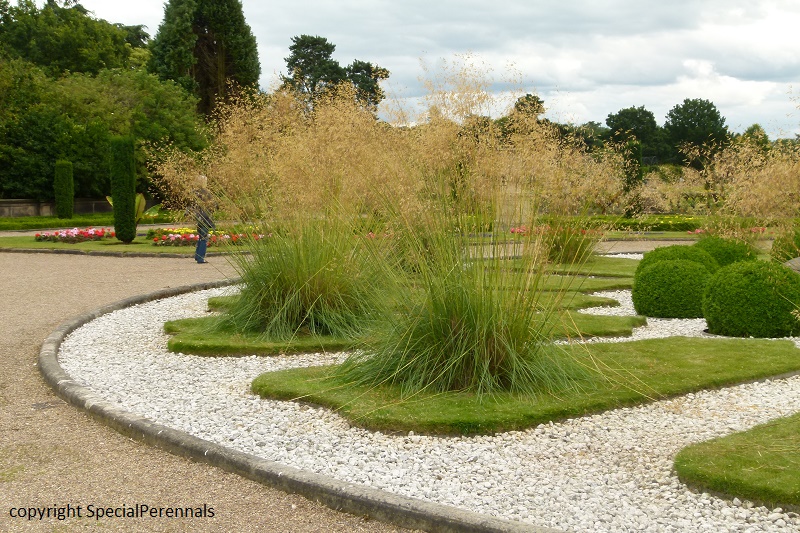 Stipa gigantea used as architectural feature at Trentham Gardens in Staffordshire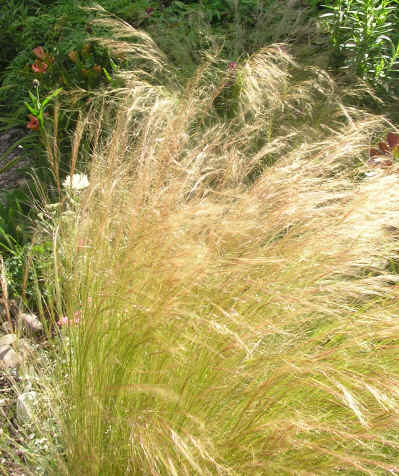 Common Name: Pony Tails.
Airy, waving grass that creates a shimmering effect in the garden. Only about 2ft tall but has great impact as well as providing a great foil for brighter flowering plants.
Clumps can be divided but its best to look out for seedlings near the parent plant if you want more plants. Can be given a good hair cut in early spring.
The epithet tenuissima means "finest" or "slenderest".
Price: £4.50 (9cm pot)