Agastache
Basic Facts:
Common names: Bubble Mint. Members of the Lamiaceae (Dead Nettle) family.
Garden Use:
Excellent garden plants with aromatic leaves that enjoy dry soils and sunny positions. All are short lived perennials but will self seed reliably. Crushed leaves smell strongly of polo mints or aniseed.
Wildlife Interest:
Star plants for bees who can't resist the flowers.
Cut Flower Use:
I've not tried them.
Cultivation:
Best in well-drained soil and will cope with dry, poor soils very well. They can be grown in full sun but will take some shade if dry. Some are short-lived - allow them to seed.
Some varieties are not reliably hardy but all those we sell are.
Propagation:
Our plants are grown from seed (except Blackadder which must be grown from cuttings if you want plants that are true to type: we have to buy in plug plants as it has plant varietal rights protection). Seed should be sown in late winter / early spring in warmth and germination is quite rapid. Seed can also be sown directly in the ground in spring.
For types other than the grey, non hardy types, stem cuttings are also possible in summer.
Pests and Diseases:
None really. Slugs may cause very minor damage in early spring.
History:
The name Agastache comes from "Aga" - meaning "Many" and "Stachys" - "Ear of Wheat" referring to the shape of the flower spikes.
Agastache Blackadder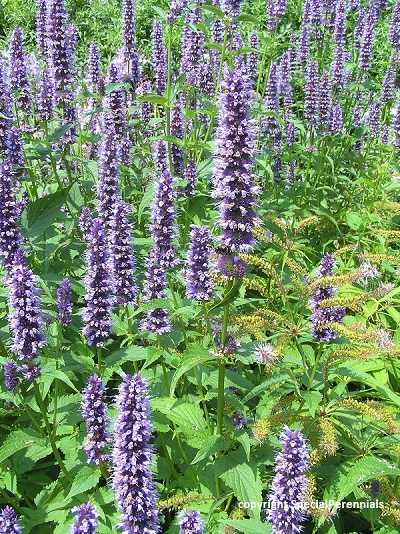 Good upright plants about 2ft 3in tall with masses of dark blue flower spikes throughout the summer.
Also grows well in dry, dappled shade
Price £4.50 (9cm pot)
Agastache rugosa Liquorice Blue
One of the best flowering plants for dry, difficult soils, even growing and flowering well right at the base of our laurel hedge. Typical bubblemint flowers and minty aniseed-scented leaves. About 2ft - 2ft 6in tall.
Will self seed but never enough!
Price £4.50 (9cm pot)