Anthemis
Basic Facts:
Drought tolerant plants with tough leaves and masses of yellow-centred daisy flowers over a long period.
Garden Use:
Good front of border or wildlife garden plant that flowers over a long period.
Wildlife Interest:
Great for hover flies and bees.
Cut Flower Use:
I've not tried them.
Cultivation:
Best in full sun and free-draining soil. Experts say that to be at their best they need to be cut back hard in October when they will still be in full flower - no gain without pain! We use an alternative approach and cut back to about 1ft / 30cm in early winter and then prune out old stems in March leaving a neat mound of new foliage about 3-4" / 7-10cm tall. This works well for us, but makes taking cuttings in January a bit more awkward.
Propagation:
Easy to strike from cuttings. If these are taken in January and given a little bottom heat you will have flowering plants by early summer. Stems can also be layered - pinned down and lightly covered with soil. Allow 3-6 months to root.
Will self seed abundantly if allowed - keep dead-headed and don't put dead heads in the compost heap unless your heap gets very hot - otherwise expect lots of seedlings after you spread the compost. Seedlings will be variable with the majority coming true to type and some reverting the species. Sow seed in warmth in late winter.
Pests and Diseases:
Sometimes gets rose aphid but normally trouble free.
History:
A member of the Asteraceae (Aster) family.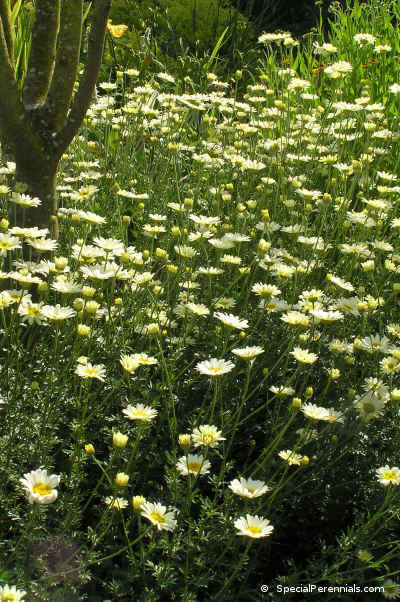 Anthemis tinctoria Sauce Hollandaise
Creamy yellow flowers. 2ft tall, spread 2 - 3ft depending on how often you give it a haircut. Excellent edging to a gravel path. Dead head regularly.
The epithet tinctoria of course relates to the plants (former?) use in dyeing fabric.