Bidens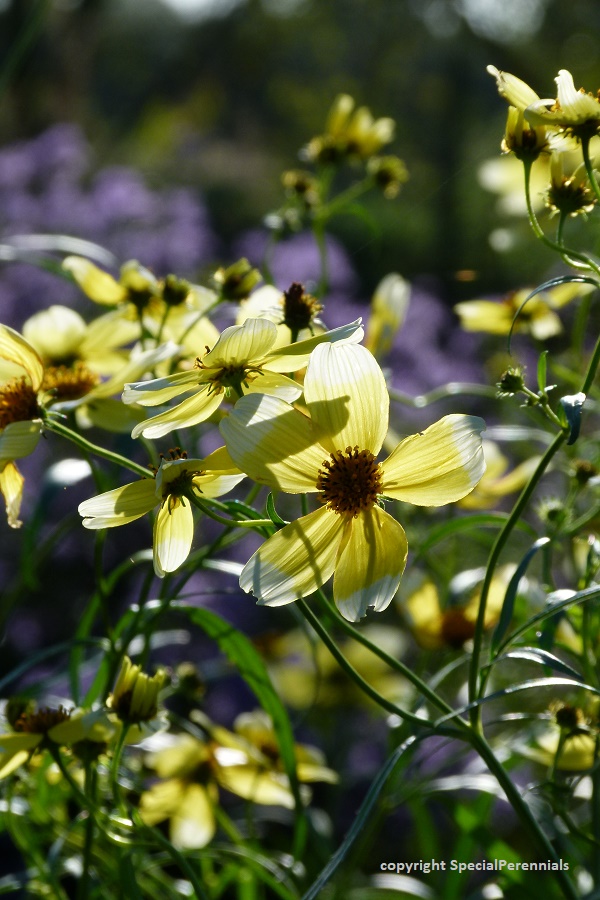 Basic Facts:
Relatives of Coreopsis and Cosmos. A member of the Asteraceae family.
Garden Use:
The perennial varieties we grow are tall, late season flowerers that do spread by surface roots as well as seeding if not deadheaded. They add height and elegance to the border in late summer and autumn.
Wildlife Interest:
Great for bees and hoverflies.
Cut Flower Use:
They last well in water and the vanilla scent is more noticeable indoors.
Cultivation:
They like sun and do well in our well-drained soil, although they could probably benefit from a little more summer moisture.
Propagation:
We propagate our by division of clumps in spring and it is probably necessary to do this every spring to keep them in check.
Cut stems will root in water very readily.
Plants can be raised from seed but colours may be variable and for this reason it is best to deadhead to prevent seeding within clumps.
Pests and Diseases:
No specific problems. Too vigorous to be troubled by slugs and snails in our garden.
History:
Bidens aurea was previously known as Bidens heterophyllus referring to the "differently leaved" referring I think to the variation in shape of leaves on a single plant; aurea of course means golden - wild plants can have golden flowers.
Native to the southern USA and Central America.