Centaurea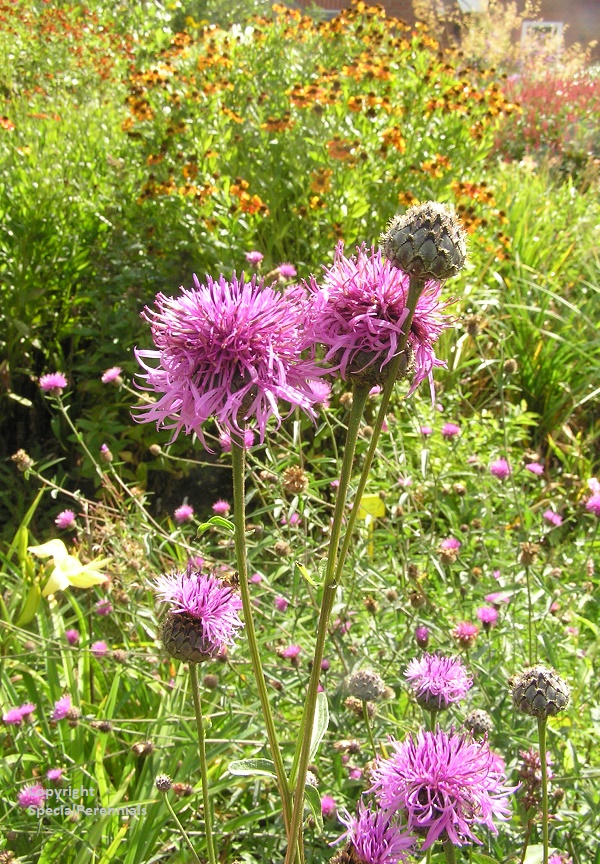 Planting:
Centaurea will generally thrive in any normal garden soil. If your soil is claggy and poorly drained then add plenty of grit to the soil when planting.
Most will benefit from the sunniest position you can find, but in our experience many (e.g. montana) will grow well in light shade.
Care and Maintenance:
Whilst they are drought tolerant they will benefit from a good soaking from time to time. Some will become dormant in hot dry spells - don't be alarmed they will resprout when the rain returns.
Cutting back the stems to new shoots after flowering promotes repeat blooming throughout the season in most types (not macrocephala and glastifolia)- don't be afraid to cut them back hard. This is also the treatment if mildew is a problem - the new leaves will be fresh and healthy provided you clear away all infected leaves.
Most have very attractive seed heads that last through the winter. The seeds are loved by birds. Cut back these stems in early spring.
Propagation:
Division is easy with most species - simply dig up and pull apart. Large numbers of plants can be grown from root cuttings taken in winter. Most species are easily raised from seed and do not seem to hybridise. Seed is best sown fresh, straight after harvesting. If seed heads are left on the plants over winter, seeds will often germinate inside the heads. These can be carefully teased out and pricked out into trays or modules.
Using Centaurea:
Centaurea are ideal plants with species suitable for the border, scree garden or rock garden.
Many Centaurea are meadow flowers (e.g. jacea, phrygia, nigra) and look great in a cottage garden setting.
Remember that the buds of Centaurea can provide interest and contrast as well as the flowers: glastifolia has silver buds, macrocephala bronze and montana types have jewel-like black and emerald buds.
Centaurea bella Coming Later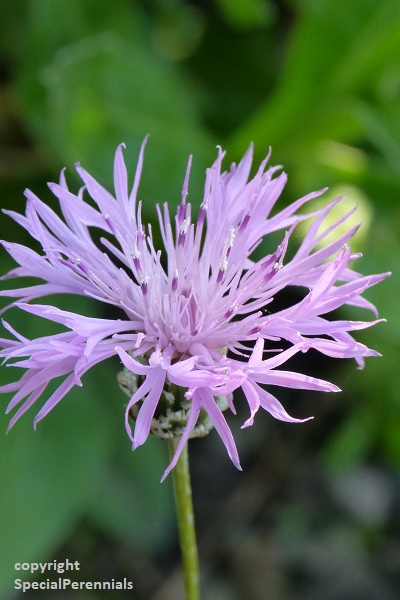 Bella is the big sister of C. simplicicaulis in every way: she has larger, more robustly lobed leaves and very similar, but larger feathery pink flowers. Her leaf mound is about 8in / 20cm tall. She flowers in bursts throughout the summer and performs best in a well-drained soil. She is native of the Caucasus. The epithet "bella" means "beautiful" and she certainly is.
Centaurea Caramia Coming Later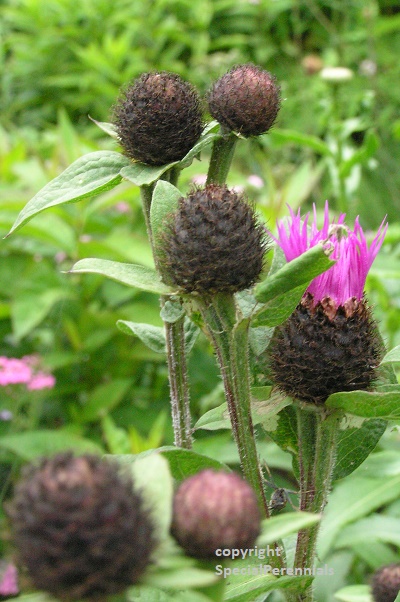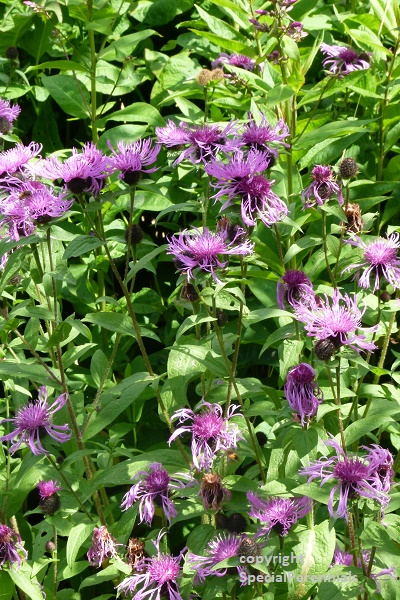 Caramia has showy pink flowers all summer that are favourites with bumblebees. The flower buds are very attractive as well. The stems are stiffly upright and get to about 2ft tall. This is a very worthy new addition to the flower border. Flowers May - September.
Centaurea cheiranthifolia Coming Later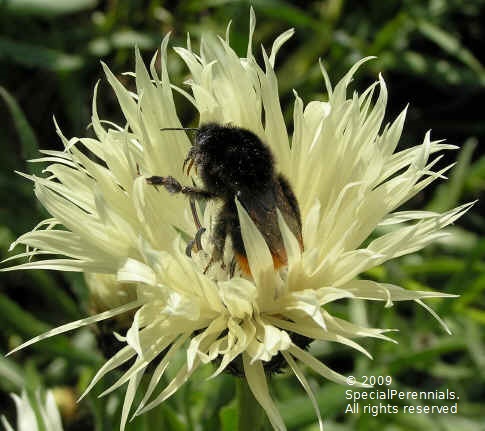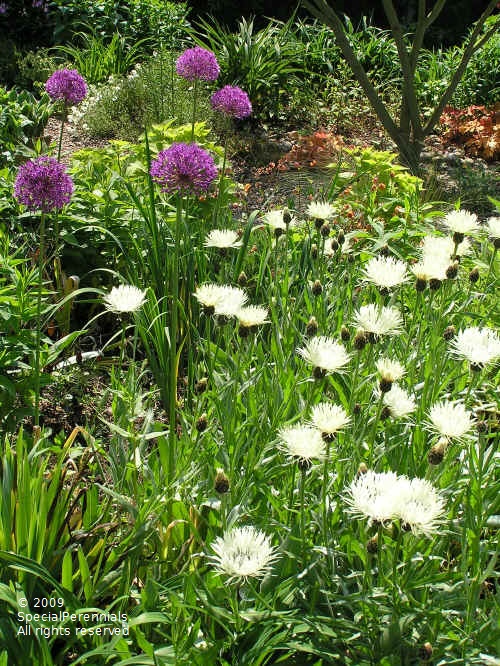 Fabulous, large, ivory-white flowers in early summer make this a head-turner at the front of border. A bit of a spreader so give it some room, but easy to dig up portions and replant elsewhere
Centaurea Jordy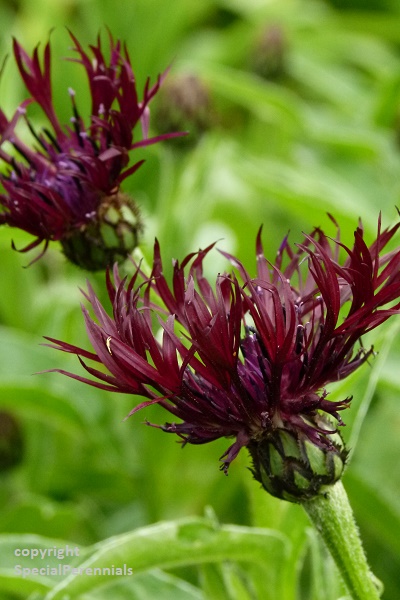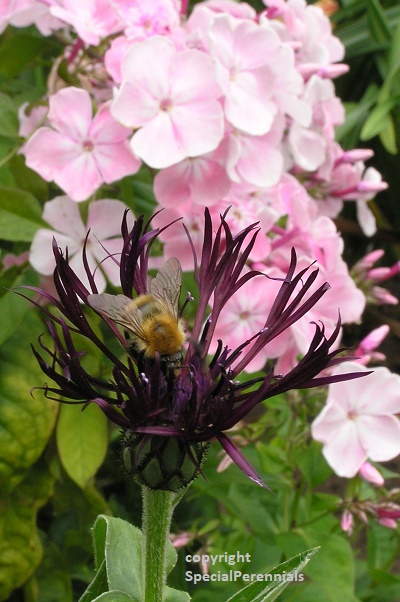 Unique deep maroon flowers on bushy plants about 2ft - 2ft 6in tall. The silver-green leaves are like those of Centaurea montana varieties but the plants are less spreading than most of these.
It is apparently a hybrid between C.montana and C.jacea.
Centaurea montana varieties and hybrids
Soft leaves with silver undersides. Spreading growth. Begin flowering in May and they will rebloom if cut back hard after flowering. Tolerant of drought but also good in damper soils. Sun or part shade. Lime soil if very acid.
Centaurea montana Alba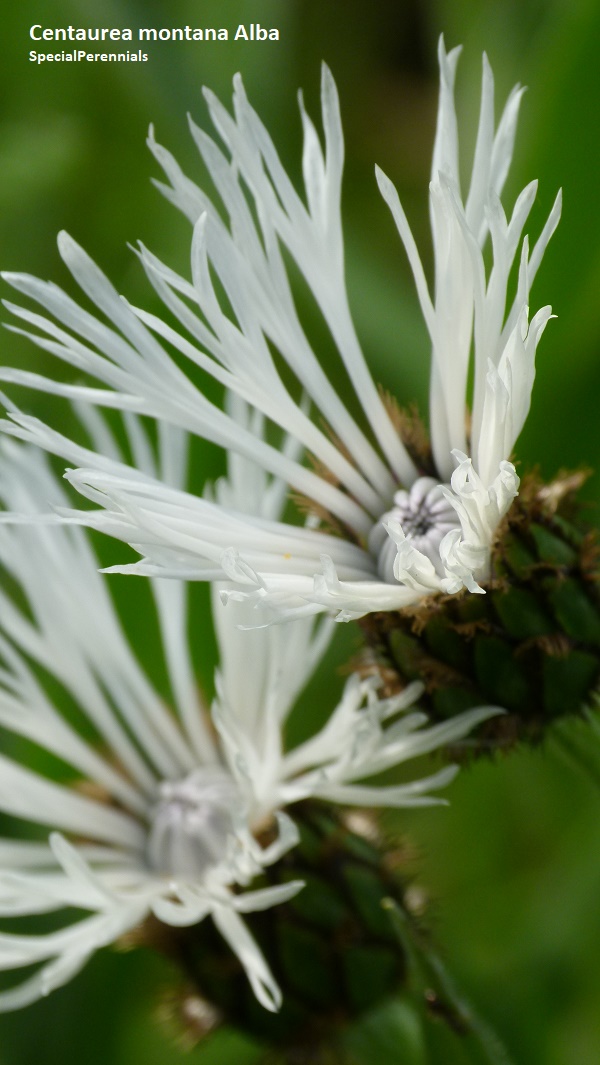 Pure white form. Slightly shorter and clumpier than the basic species (about 1ft / 30cm tall).
Centaurea montana Carnea Coming Later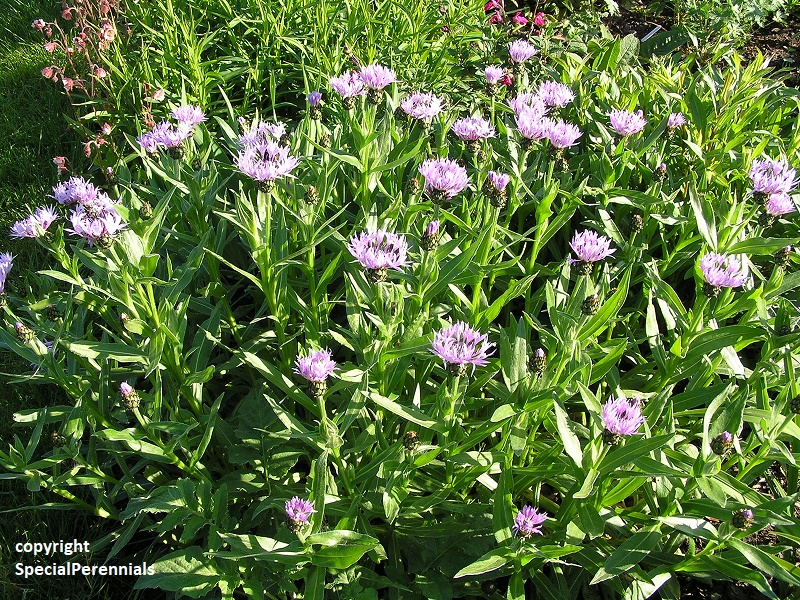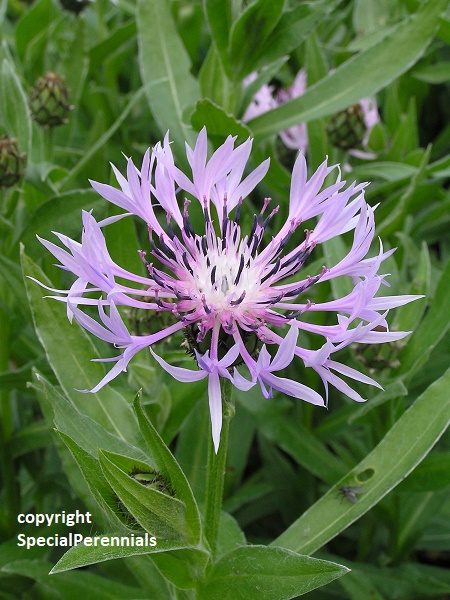 Lovely clear pink cornflowers with deeper pink centres. The flowers are very attractive to bees. Reaches about 1ft / 30cm tall and forms small clumps.
Centaurea montana Lady Flora Hastings Coming Later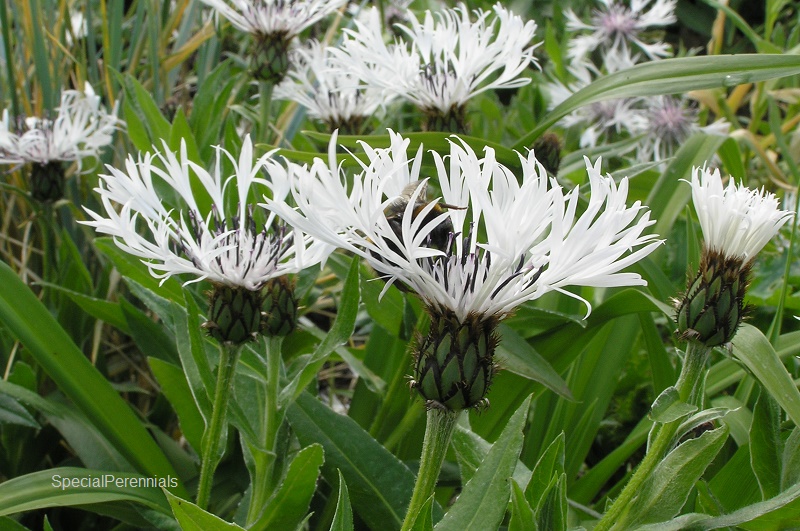 More pure white than Alba and with finer petals. Elegant and beautiful
Centaurea montana Purple Heart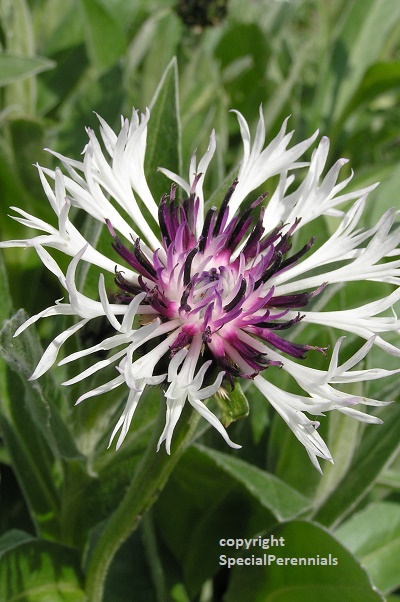 White cornflowers with eye-catching purple centres. The flowers are very attractive to bees. Very floriferous from May to October in flushes. Drought tolerant but not fussy about soil type. Best in sun or light shade.
Centaurea montana Violetta Coming Later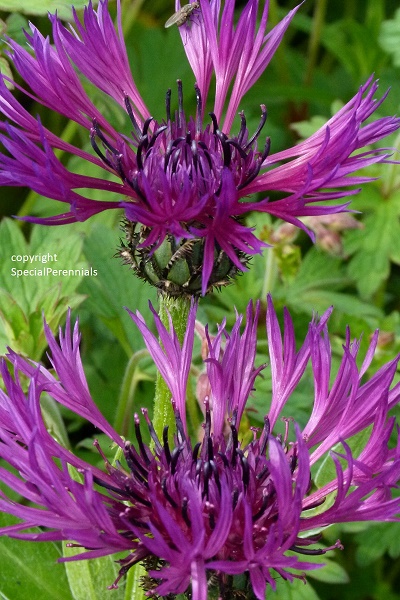 Bold, royal purple cornflowers. The flowers are very attractive to bees. The fresh leaves are attractively covered in silver hairs. Reaches about 1ft / 30cm.
Centaurea nigra Coming Later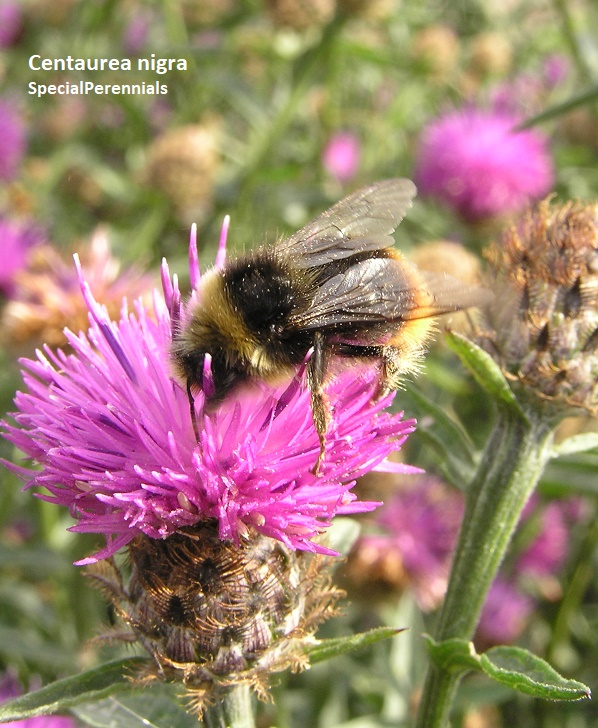 Native wildflower known as "lesser knapweed" and "hardheads". Tight purple flowers superficially resembling thistles. Tough leaves. Will grow over tall and floppy in good garden soil - treat it mean and don't feed and it will stay short, stocky and upstanding. It even survives mowing on our verge and flowers at a few inches tall!
Centaurea nigra Waterfall White Coming Later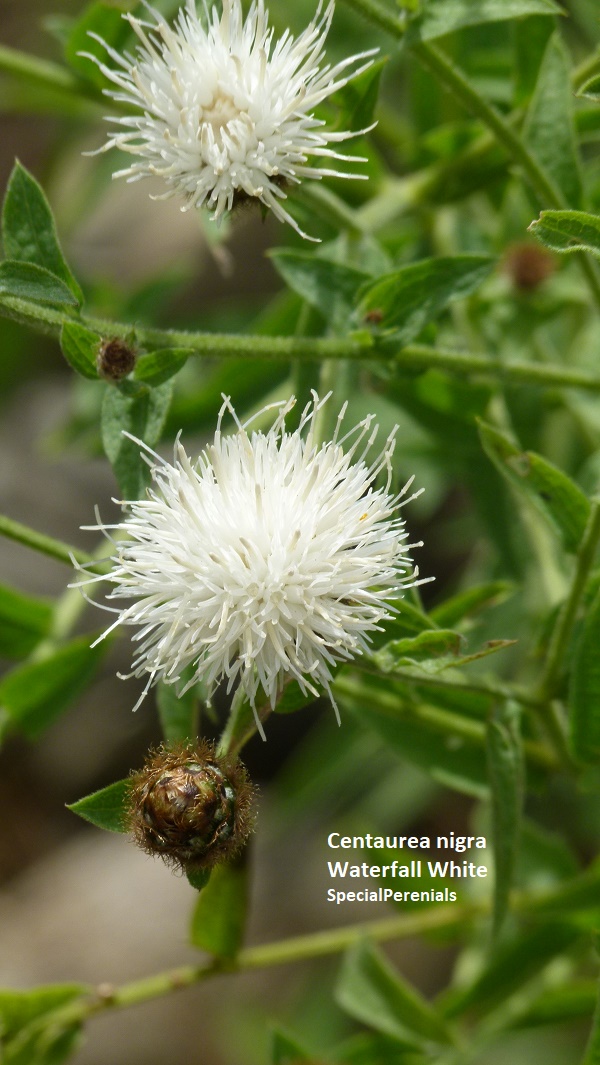 Pure white flowered form of the common wildflower found growing on Waterfall Farm in Staffordshire.
Centaurea orientalis SOLD OUT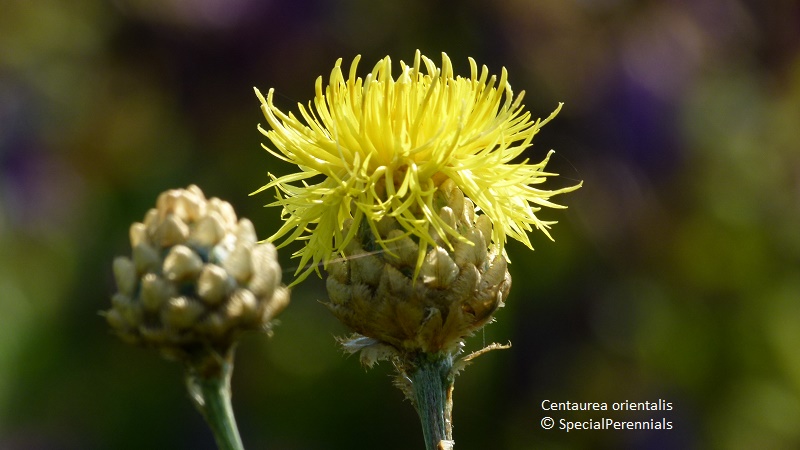 Yellow flowers from exquisite pale bronze buds. About 2ft 6in tall. Best in sun. Excellent bee and butterfly plant. Native to Southeast Europe.