Echinacea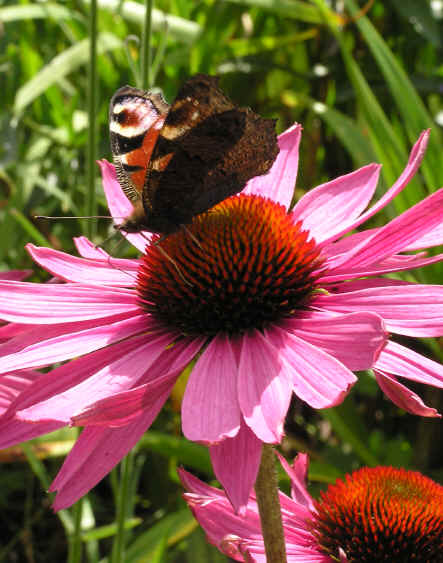 (Common Name: Coneflower).
With growth in popularity of prairie style and naturalistic planting coupled with the release of a new range of colour breaks Echinaceas have come to the fore.
They are neat plants forming clumps of tongue-shaped leaves and bearing rayed flowers with a large central cone on stiff, self supporting stems. The cones are filled with honey-scented nectar and attract every bee and butterfly in vicinity. They flower for a long period between July and October and go best in soil that has been enriched with compost.
Echinaceas sometimes need a year to become established and produce good quality flower. A good way to encourage plants to establish is to cut back flowering stems to the ground in September - you lose some flowers but the plants should bulk up more quickly.
All those we sell are very hardy unlike some of the new, coloured cultivars flooding the market.
Members of the Asteraceae family.
Echinacea purpurea Rubinstern ("Ruby Star")
Larger and more deeply coloured flowers than the species. Tends to grow a bit taller (2ft 6in to perhaps 3ft in very rich soils). Flowers July - September.
RHS Award of Garden Merit
Price: £5.00 (9cm pot)