Geranium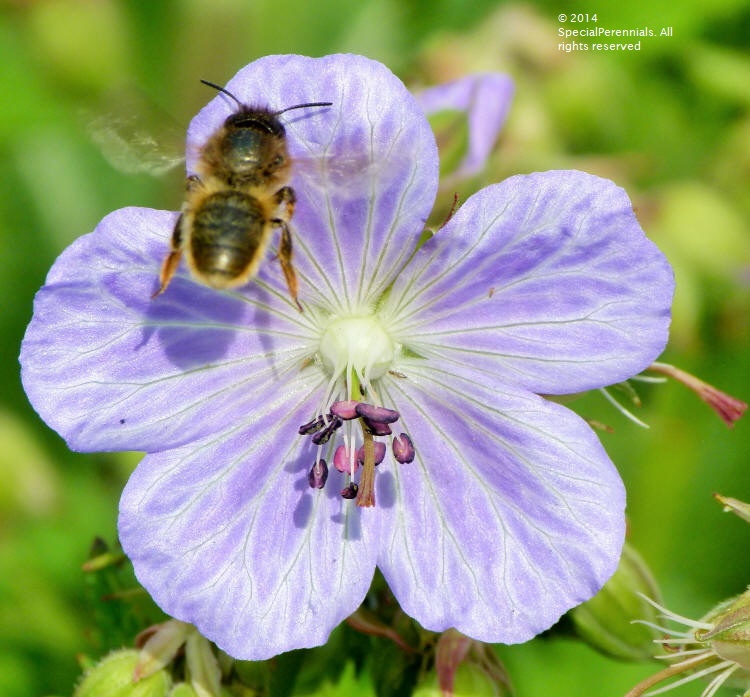 Basic Facts:
(Common Name: Cranesbill, Hardy Geranium).
Garden Use:
There are varieties suitable for a wide range of uses - ground cover, trailing, mid-border, sun, dense shade. In fact the only situation I've not come across a Geranium to fill is very boggy or in water - but I have a sneaking suspicion there's one out there somewhere.
Wildlife Interest:
Geraniums are great plants for bees.
Cut Flower Use:
Not tried.
Cultivation:
Different species require different conditions and there is a Geranium to suit most gardens.
There are quite invasive types among the goodies so read up about them first.
Not all "Hardy Geraniums" are hardy! - all of ours are though.
Propagation:
Propagation and care differs between species - see below for specific notes.
Pests and Diseases:
The only specific pest we've experienced is a saw fly caterpillar that makes holes in the leaves in late summer.
History:
The common name is a reference to the shape of the seed capsules. Hardy Geraniums should not be confused with their half-hardy distant cousins, the Pelagoniums, which are commonly called Geraniums just to confuse things!
A member of the Geraniaceae family.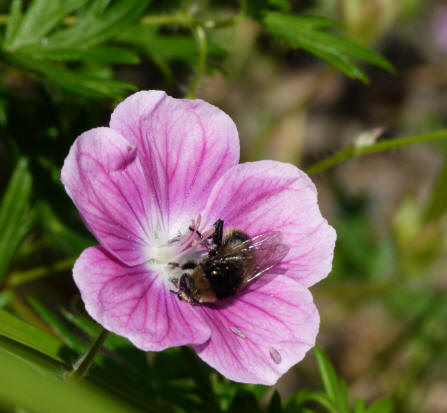 Sanguineum type but with large white-edged pink flowers for a long season. Low mat former and a great edger.
Price £5.00 (9cm pot)
Geranium himalayense Gravetye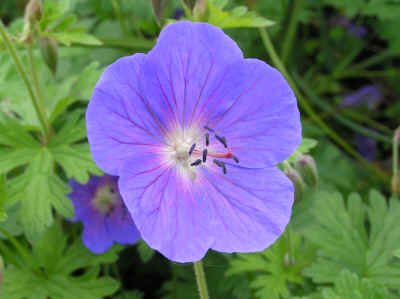 Low growing, repeat blooming and spreading
Price £5.00 (9cm pot)
Geranium himalayense Plenum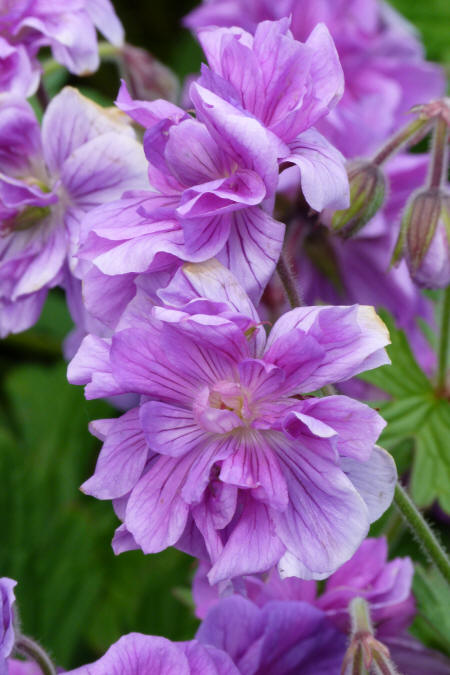 Double form, also known as Birch's Double
Price £5.00 (9cm pot)
Geranium macrorrhizum White-Ness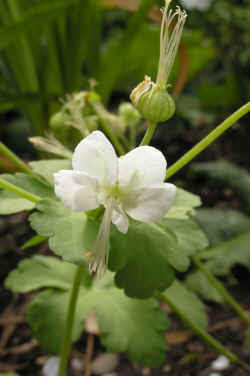 Discovered on an expedition by Ness Botanic Gardens, this form has pure white flowers over a very long period - even carrying some flower into the autumn. Unlike other varieties, the leaves are glossy and are not aromatic leading me to suspect it is cross with another species.
RHS Award of Garden Merit
SOLD OUT
Geranium Nesta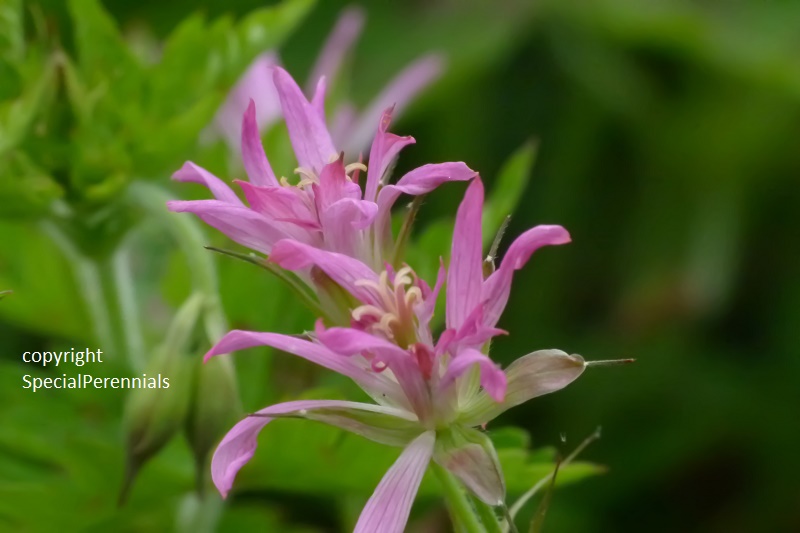 Tan patterning on the leaves and rose-pink semi double flowers. A good rebloomer from late May to late August 1 - 1/2ft / 30-45cm tall and wide.
Named after the lady who's garden it first came up in.
Price £5.00 (9cm pot)
Geranium x.oxonianum Lace Time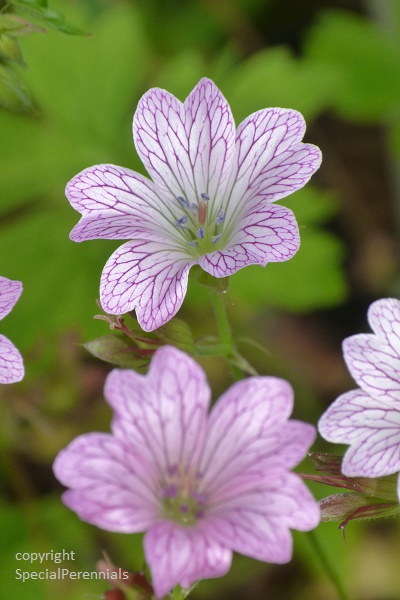 Delicately patterned flowers and clumping plants that are more compact than other of the type. Good repeat flowring. Height 1ft / 30cm.
Price 5.00 (9cm)
Geranium x.oxonianum Sherwood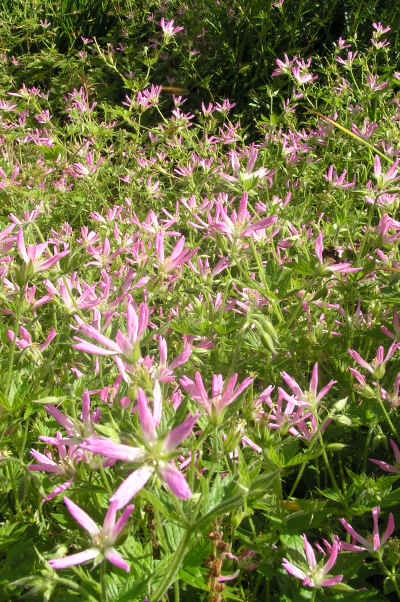 The star-shaped pink flowers appear from May onwards on plants reaching 1 1/2ft / 45cm. Good repeat flowring.
Price £5.00 (9cm pot)
Geranium phaeum
Great for dry shade these plants from neat clumps of large, often patterned leaves and have flowers on top of 2ft stems in late spring into summer and often continue in the late summer, albeit reduced in number.
These will self seed, but not excessively but we propagate by division to ensure purity of type. I only divide plants in spring as they don't do well in pots in winter but for planting in the garden they can be divided in autumn.
Geranium phaeum Album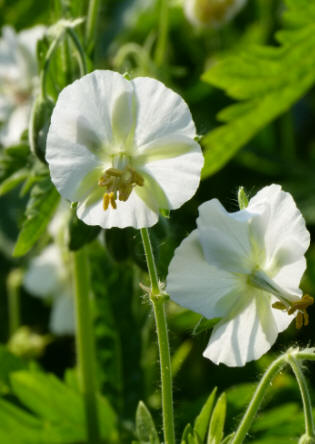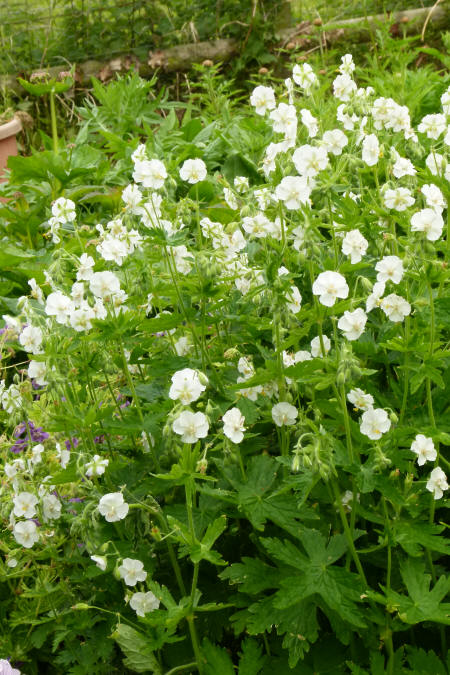 Pure white form with plain green leaves.
Rather lovely especially with the sun shining through the petals revealing the star-shape calyx in silhouette.
RHS Award of Garden Merit
SOLD OUT
Geranium phaeum Joan Baker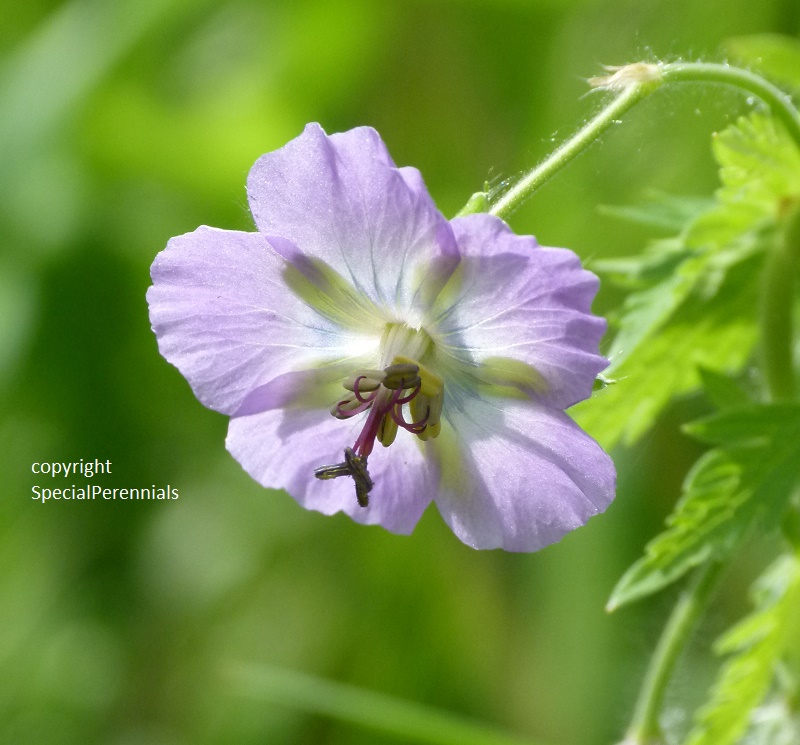 Beautiful soft blue-pink flowers on neat plants
About 1ft 6in / 45cm tall in flower
Price £5.00 (9cm pot)
Geranium phaeum Rachel's Rhapsody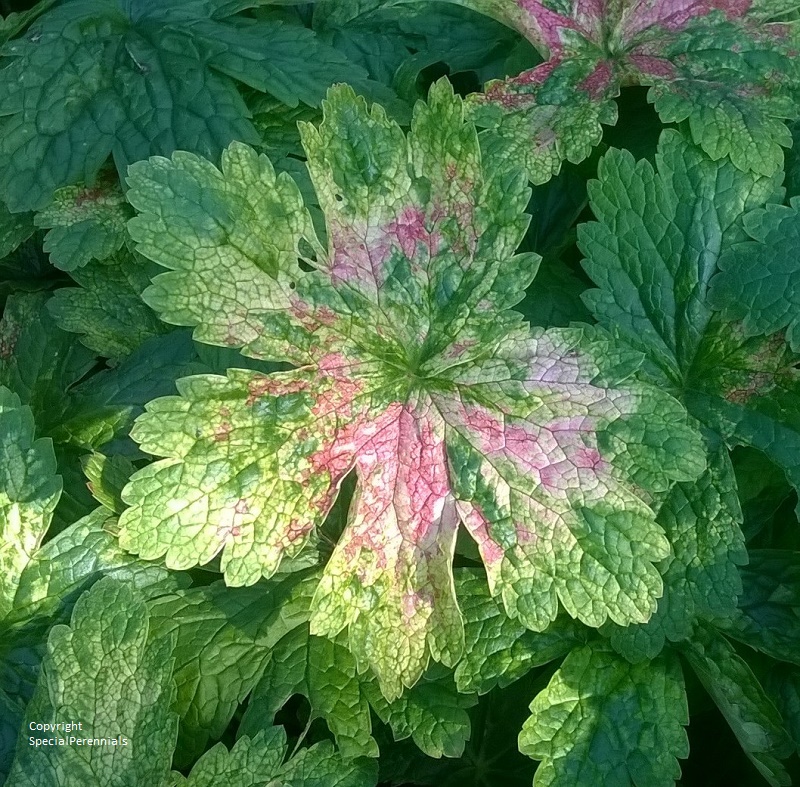 Mosaic-like variegation to the large leaves in yellow and green with dots of red. Rather weird. Flowers are typical maroon phaeum type.
Makes a large leaf mound about 2ft tall.
Price £5.00 (9cm pot)
Geranium phaeum Variegatum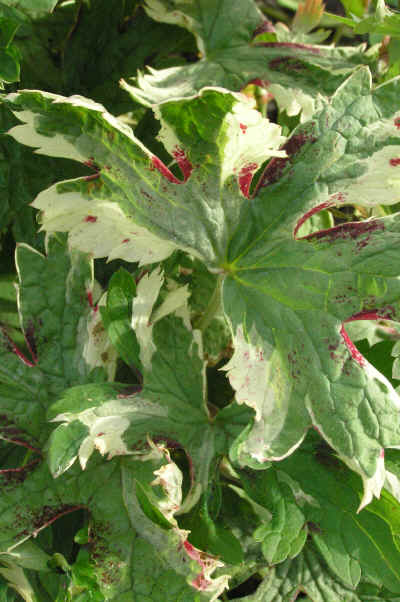 Leaves boldly splashed with white, red and silver. Flowers are the typical phaeum maroon colour.
Price £5.00 (9cm pot)
Geranium pratense Mrs. Kendall Clark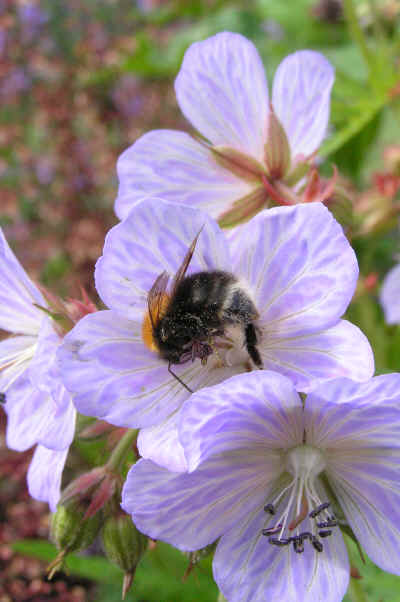 Blue and silver flowers like Mother of Pearl on 2ft 6in (75cm) stems. Mounds of divided leaves. Blooms May - July and sometimes again September - October.
RHS Award of Garden Merit
Price: £5.00 (9cm pot)
Mrs Kendall Clark with Tree Bumblebee
Geranium Rozanne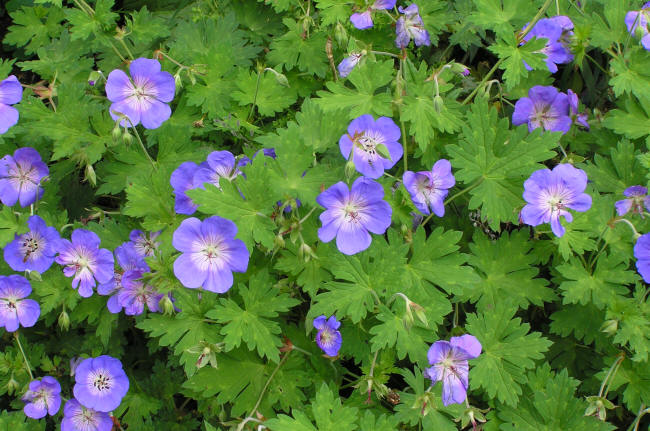 Such a long flowering period: from June to October and beyond. Trailing stems that provide ground cover or cascade over edges or from pots.
No wonder she was voted "Plant of the Centenary" at RHS Chelsea in 2013.
Around 9-12in. tall and spreading to 1-2ft. Planting distance 18in.
Flowers keep their best colour when growing in light shade.
RHS Award of Garden Merit
Price £5.00 (9cm pot)
Geranium Stephanie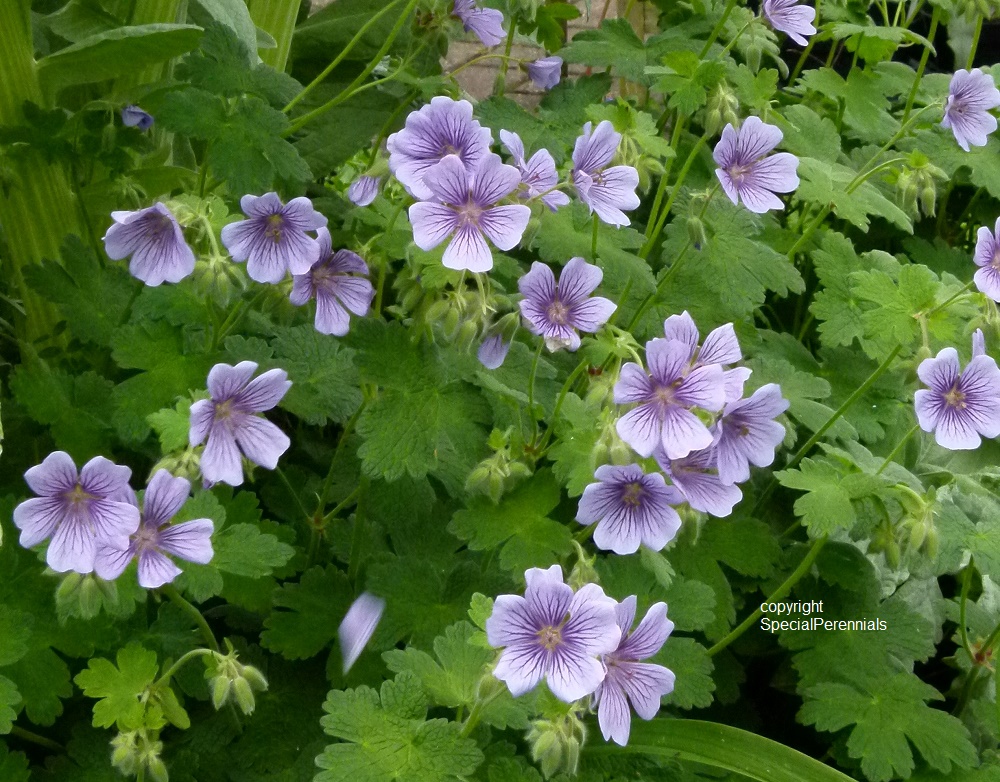 Leaves like Geranium renardii and pearly pale violet flowers from April - June. Low growing and great in dry and poor soils but give her some TLC and you won't regret it! Needs a sunny spot.
Propagate by division in spring.
Price £5.00 (9cm pot)
Geranium Tiny Monster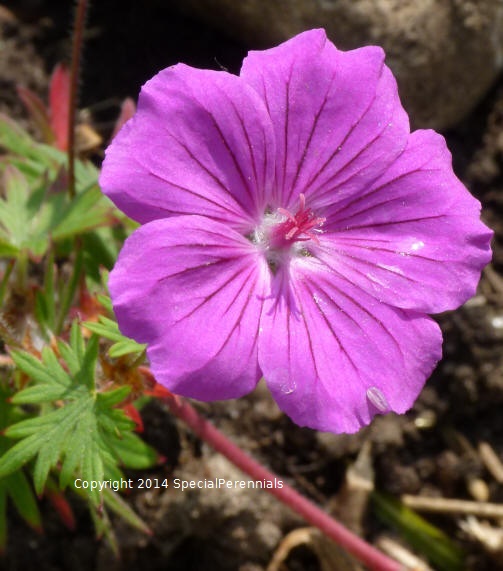 This is a cross between Geraniums sanguineum and psilostemon producing a low-growing plants (like a sanguineum) with large, magenta flowers like psilostemon (albeit lacking the black eye). They do well in dry, sunny spots and flower from May through to the autumn with a little rest in high summer.
Propagate by division in spring or by root cuttings.
Price £5.00 (9cm pot)