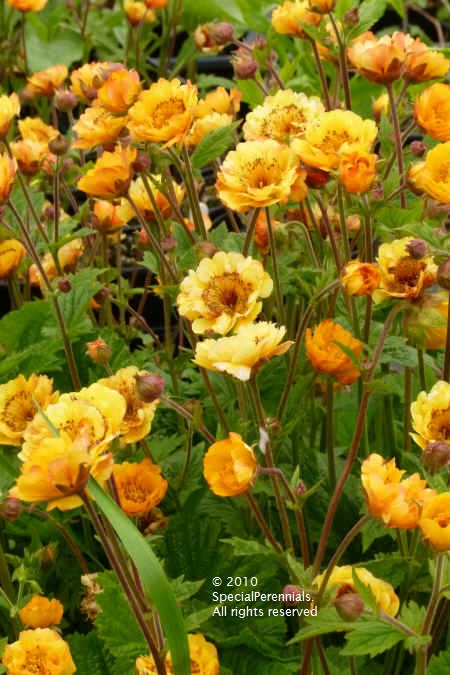 The name means "Evening Sun" and this is a compact variety has upward facing sunny orange and yellow blended flowers. It flowers at height of about 1ft tall.
Price £5.00 (9cm pot)
A new variety with ruffled orange and yellow flowers in late spring and early summer. About 1ft tall in flower.
Price £5.00 (9cm pot)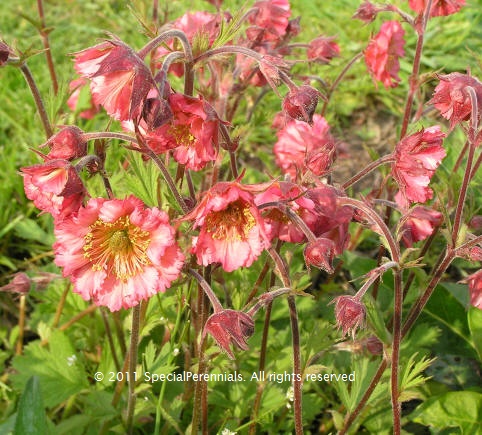 Bell Bank has large, frilly rosy-coloured flowers on pink stems. It grows to 1ft / 30cm and flowers from late spring into mid summer and often again in autumn.
Introduced by Geoffrey Smith from Harlow Carr gardens and was lost to the nursery trade for a while before being "rediscovered" growing in a Yorkshire garden.
Price £5.00 (9cm pot)
Geum Bremner's Nectarine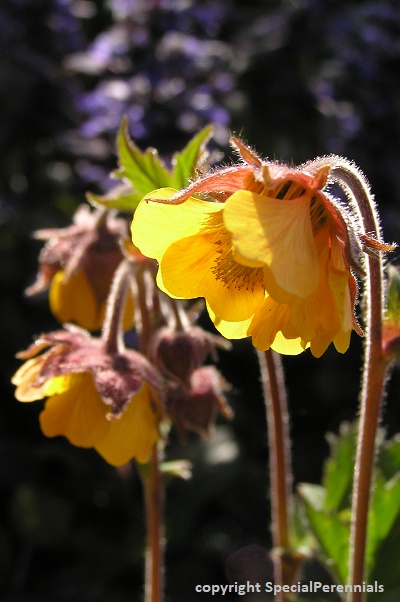 Luscious nectarine-coloured nodding bells. A tough doer in the garden
Price £5.00 (9cm pot)
Silky pink, semi double flowers held on 1ft stems and outward facing. A very good new introduction
Price £5.00 (9cm pot)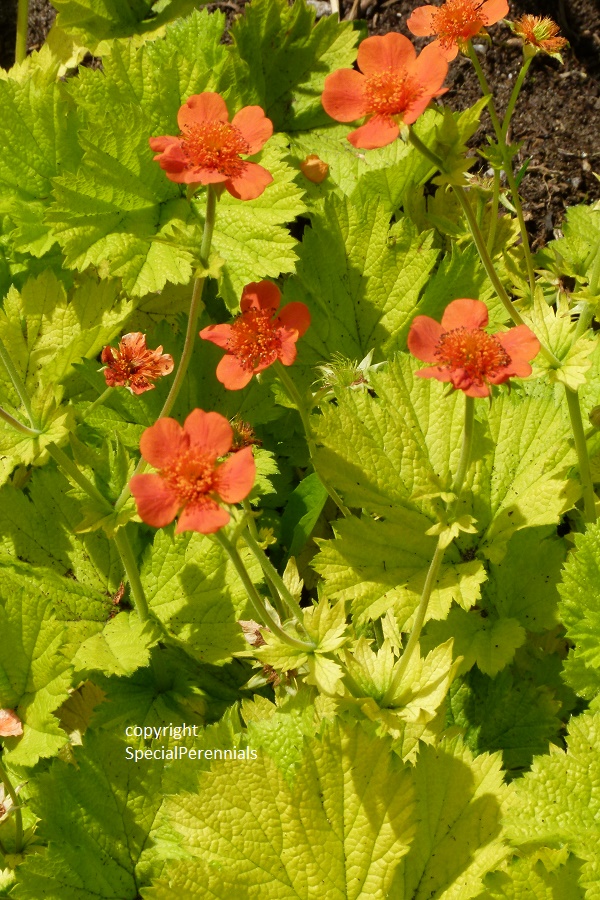 Single, bright orange flowers, and golden leaves in spring make a stunning contrast.
It is very similar to the variety Ann which also has golden leaves.
£5.00 (9cm pot)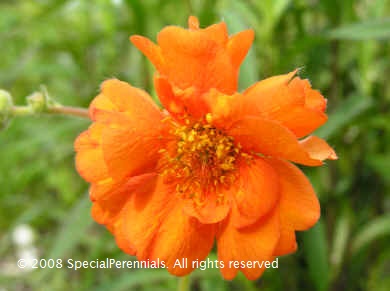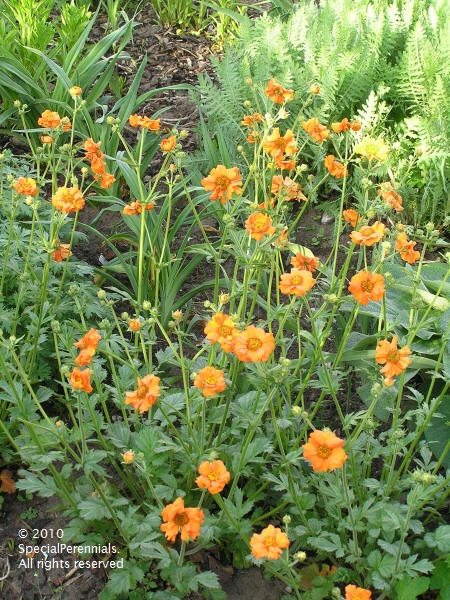 Geum Dolly North
Border geum with lovely dobule orange flower in summer. We are really please to be able to offer this favourite of ours again
1ft / 30cm mounds with flowers on longer stems
Price £5.00 (9cm pot)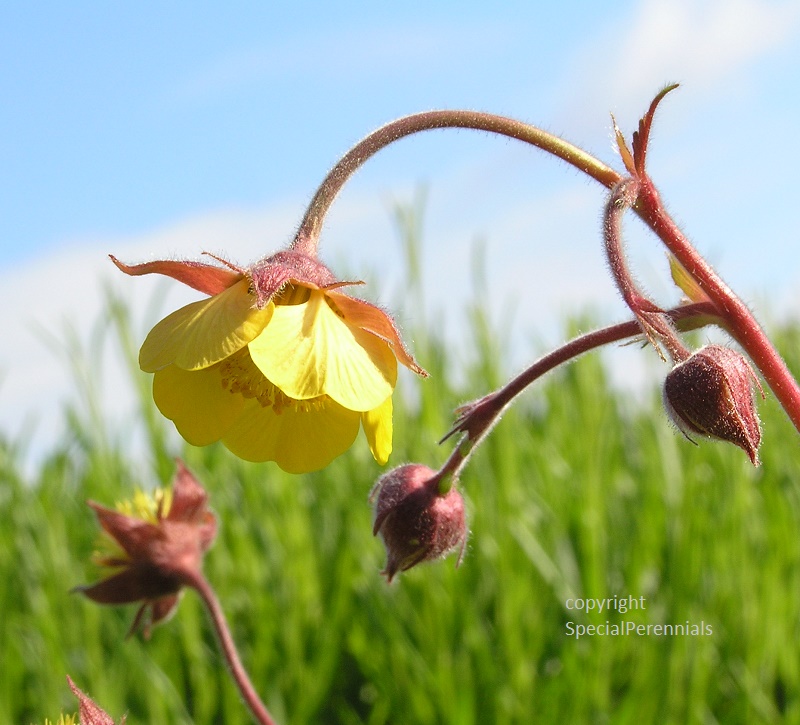 Geum Farmer John Cross
Low growing geum with nodding yellow flowers.
The difference between this and Herterton Primrose is apparent to geum geeks only - I can't see any!
SOLD OUT
This is a brilliant Geum with large, shimmering, outward facing, soft orange flowers on 1ft / 30cm stems in early summer and repeating in September.
She forms neat mounds of leaves and performs very well in dry soils.
Price £5.00 (9cm pot)
GeumHerterton Primrose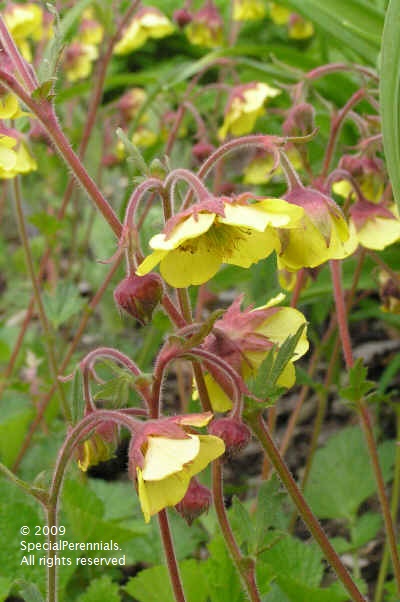 This variety from Herterton House Garden in Northumberland has nodding primrose yellow flowers on 1ft stems. It flowers in late spring and early summer repeating in August and September.
Price: £5.00 (9cm pot)
Geum Mai Tai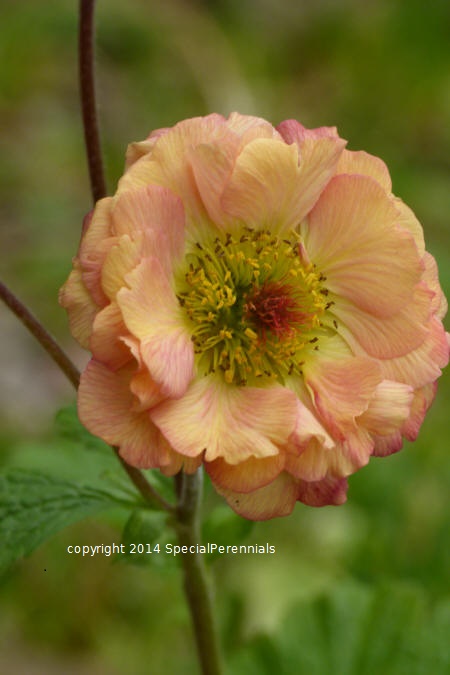 Mai Tai is new variety with lovely ruffled, semi double flowers in a gorgeous peachy pink. She grows to about 1ft tall.
Price £5.00 (9cm pot)
Geum Marmalade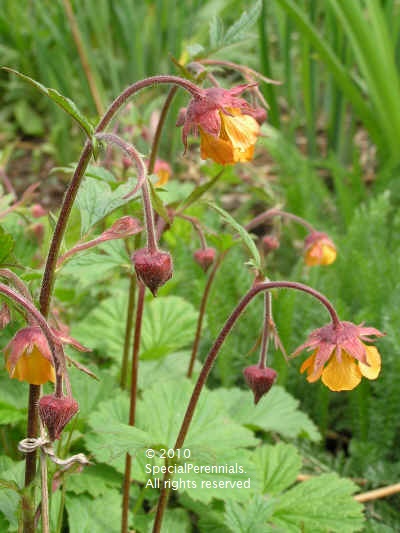 This is truly the colour of the great British preserve! It has nodding bells on 9-12in / 22-30cm stems in late spring and on and off through the summer and autumn.
Price £4.50 (9cm pot)
Geum Mrs. J Bradshaw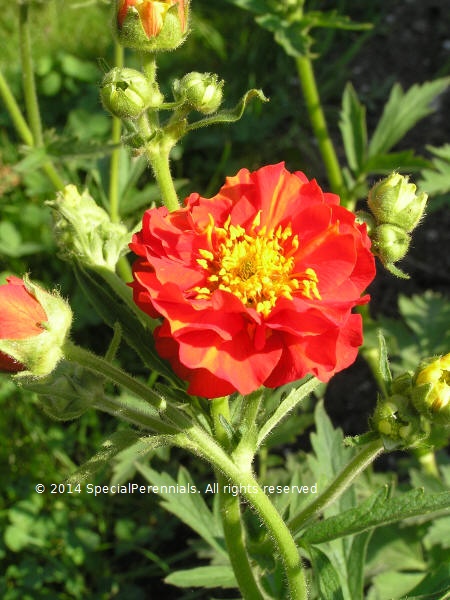 (Amos Perry c1906)
Another dear old lady who has graced our gardens for over a century. Although the plants do come true from seed, there are a lot of inferior seed strains around - the true plant is semi-double and bright scarlet with a large yellow boss of stamens. She reaches 2ft / 6ocm tall in flower (1ft / 30cm tall leaf mound). She flowers on and off from May through to October.
RHS Award of Garden Merit (H4)
Price £4.50 (9cm pot) order now for spring delivery
Francis Perry tells the story of Mrs Bradshaw. Amos Perry received a box of Geum seedlings from an amateur gardener John Bradshaw of the Grove, Southgate (now part of Enfield, Middlesex) raised by his gardener Mr. G. Whitelegg. From these Mrs J. Bradshaw was selected and introduced from Perry's famous Winchmore Hill Nursery.
Geum Old Luv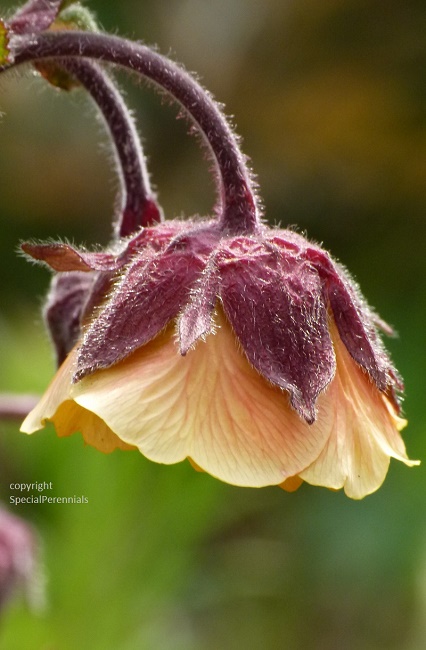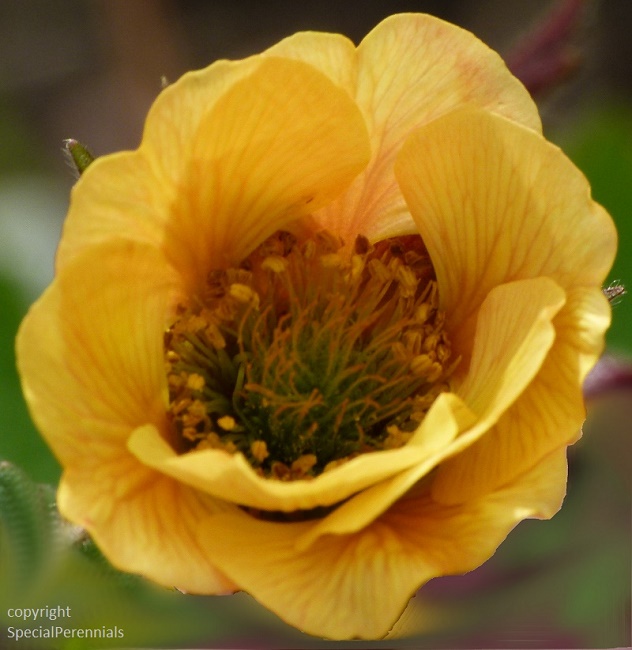 Our introduction - a daughter of Geum Lissane. Named for Janet's favourite Eric Clapton song.
Large amber flowers, nodding at first and then outward facing. 1ft / 30cm tall.
Price £5.00 (9cm pot)
Geum Poco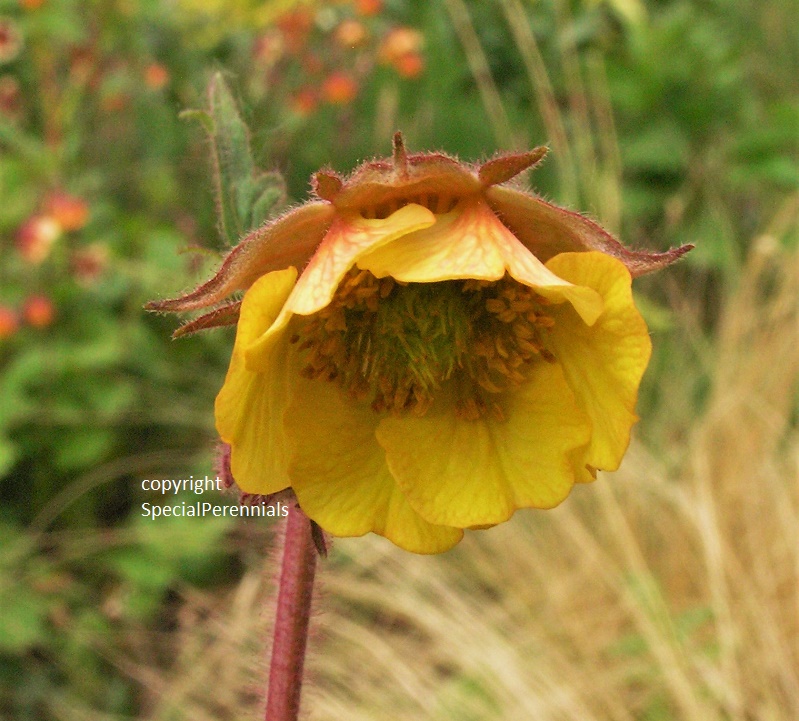 Large mounds of leaves and good sized flowers. About 1ft 6in / 45cm tall
Price £5.00 (9cm pot)
Geum Snowflake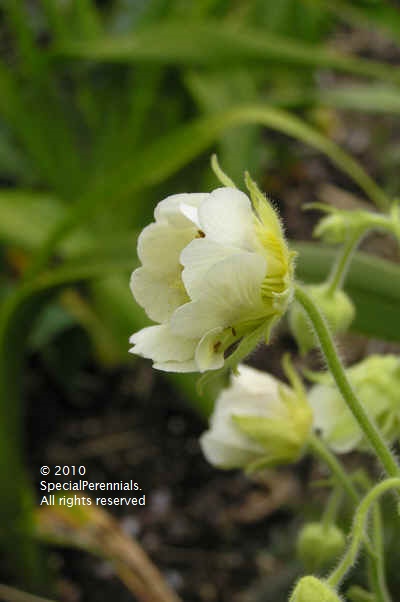 This is the only pure white Geum we know. It has outward facing flowers and grows to about 9in / 22cm tall. It is quite a rare variety.
Like all rivale types this one prefers a moist soil but will make do with drier conditions.
Price £5.00 (9cm pot) order now for spring delivery