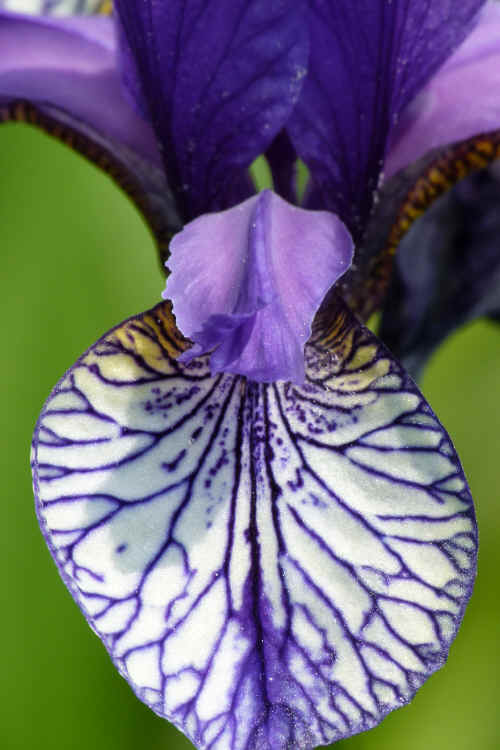 Iris
Basic Facts:
Iris flowers have their own structure and terminology. The upper petals that normally stick up are called standards, the lower petals falls. Some have a row of coloured hairs on the falls called beards. Some have a thickened section of petal along the middle of the falls called guides as they guide bees to the nectar and pollen.
Members of the Iridaceae family
Garden Use:
Iris are beautiful and rewarding plants. Their flowering period is short but this is more compensated by the sheer exuberance of their blooms. Also, don't forget that the blue-green, sword shaped leaves add long-lasting appeal to the border in their own right.
Cut Flower Use:
Excellent cut flowers. Iris are toxic.
Cultivation:
You need to know which type of Iris you are growing as conditions vary greatly - there are water Iris, species that grow in the desert and everything in between. See cultivation information under each type below.
Propagation:
Our Irises are propagated by division. The rhizomes are best divided shortly after flowering although Sibirica irises can also be divided in spring. Cut back the leaves to about 1/3 of their length after division and replant.
Pests and Diseases:
Leaves eaten along the edges in May / June (especially water irises): look out for the small black-headed grey caterpillars of Iris Sawfly on water Iris. Easy to squash by hand (go on don't be squeamish - its them or your Irises!). Look every few days as new caterpillars hatch out over time.
Iris ensata Waka Murasaki Uyeki
We've been growing this lovely Japanese iris as a pond marginal for over 17 years now and it's always been totally reliable and trouble free. Can also be grown in soil that doesn't get too dry. About 2ft / 60cm tall. Flowering from mid June to mid July