Kalimeris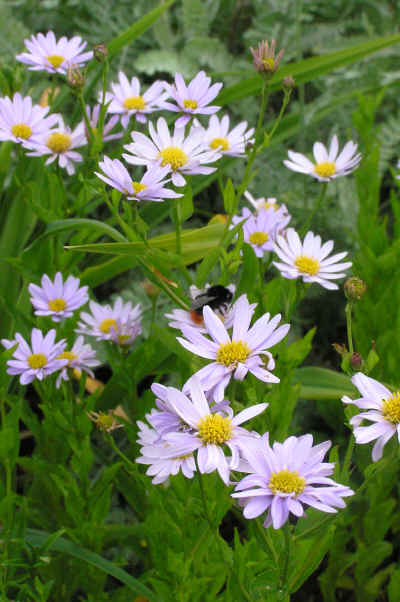 Basic Facts:
Common name: Korean Aster
Little grown plants related to Asters and Boltonia without any problems or pests to bother it - an unassuming plant that keeps on flowering from June to October.
Garden Use:
A long flowering foil to other brighter coloured flowers. Excellent contrasted with flat or cup shaped flowers.
Upright and self-supporting.
Wildlife Interest:
Very good for bees and hoverflies.
Cut Flower Use:
Not tried, but should be very good.
Cultivation:
Not at all fussy. Likes some sun and a reasonably fertile soil. Copes well with dry conditions.
Dead head occasionally.
Propagation:
Division in spring.
Pests and Diseases:
None to speak off. They don't seem to get mildew.
History:
A member of the Asteraceae family. Now considered to part of the Aster genus by some authorities.
Kalimeris mongolica
Taller plants, up to 4ft / 120cm in good soil. Pale lilac flowers from July through September. Does require staking in good soils.