Leucanthemum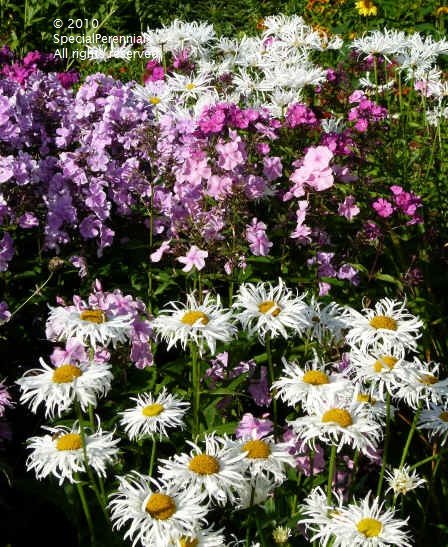 Leucanthemum x.superbum (Common Name: Shasta Daisy) were previously known as Chrysanthemum maximum.
Introduced from the USA at the turn the 20th Century these familiar white (or pale yellow) daisies come in a range of heights, as single or fully double flowers, and with simple petals or frilly, feather-like structures. All can be relied on to flower from late June through to September - most will re-bloom happily if cut back after flowering.
The varieties we sell grow to 2 - 3ft in height. All prefer a sunny spot and some moisture in summer. Feed well in spring. In a wet summer like 2012 they will grow a little taller.
Propagate by division in spring.
There are no major problems to avoid - slugs can be nuisance on small plants, blackfly may appear in mid summer and if black spots appear on the leaves either ignore or use a systemic fungicide.
A member of the Asteraceae family.
Leucanthemum Bad Hair Day
New in 2018. This daughter of Phyllis Smith was named by a garden visitor a few years ago. Slightly harsh we think!
SOLD OUT FOR NOW
Leucanthemum Becky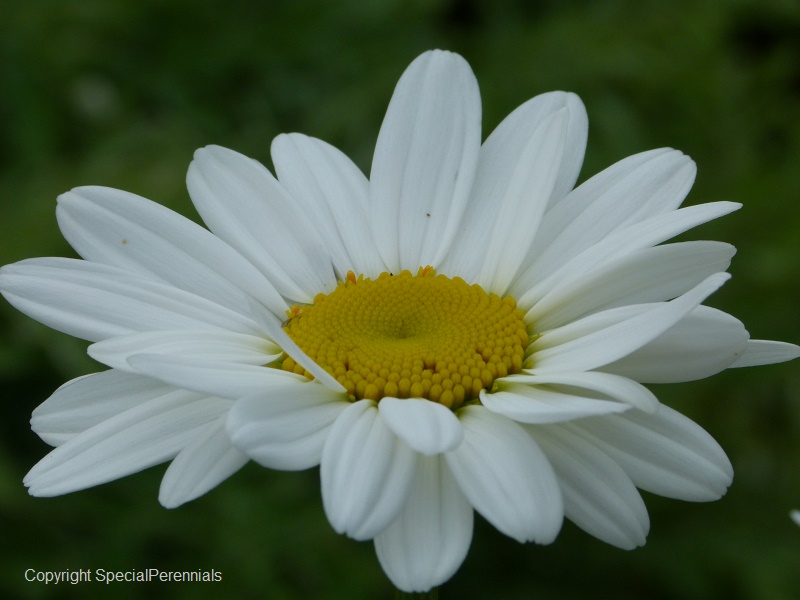 Very full, chalky white flowers and about 3ft / 90cm tall
Price £5.00 (9cm pot)
Leucanthemum Bishopstone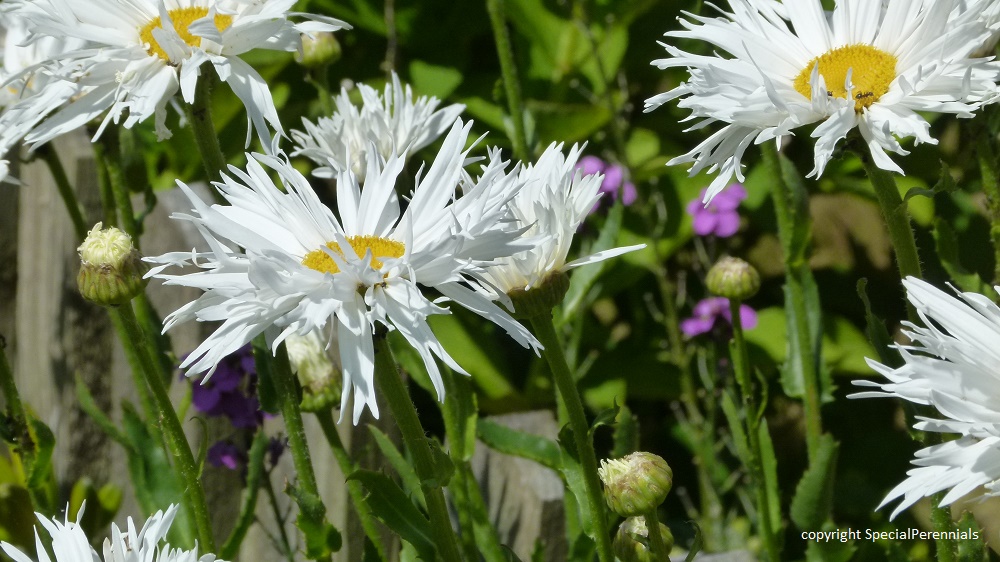 Broad petals that are frilled (or pinked?) at the ends. About 2ft 6in / 75cm tall. Flowers for a long time.
COMING SOON
Leucanthemum Fiona Coghill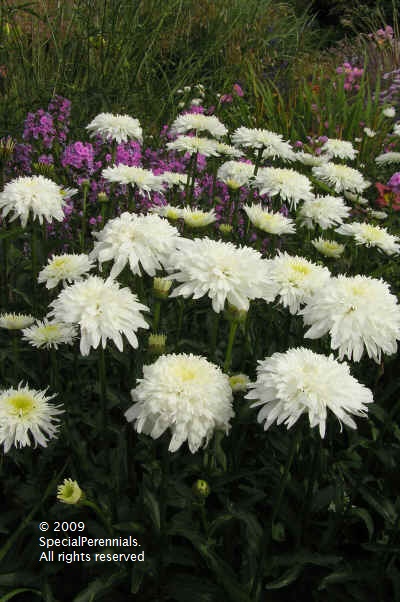 Double that starts off flat and then forms a ball-shaped flower - lovely. About 2ft 6in /75cm tall.
SOLD OUT FOR NOW
Leucanthemum Marion Bilsland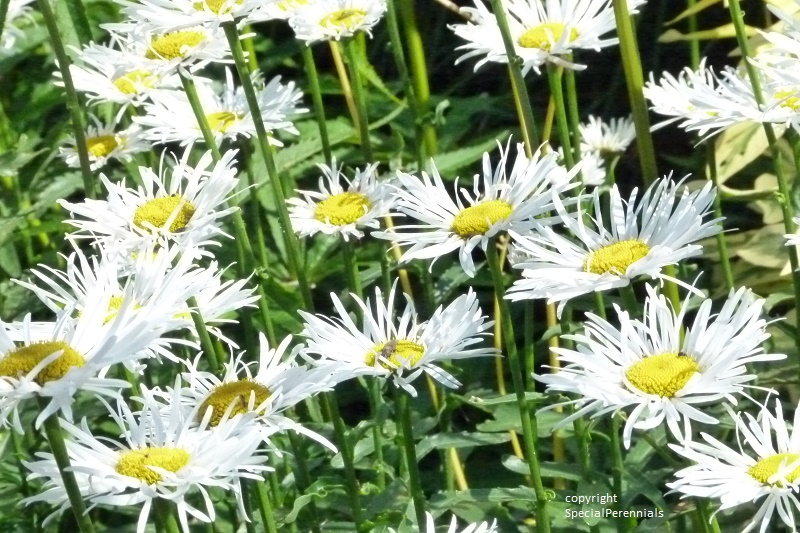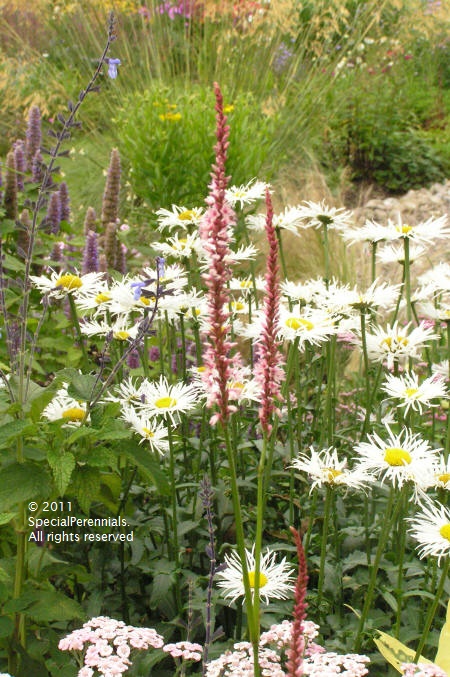 Long flowering period. Single flowers with fairly narrow petals. A great border plant and one of our favourites. About 2ft 9in / 85cm tall.
Raised by George Murray who was head gardener at the Duntreath Estate and named for his Granddaughter - thanks to Marion Donnachie (nee Bilsland) herself for this information. George Murray also introduced several Aster novi-belgii varieties.
Price £5.00 (9cm pot). Limited stock.
Leucanthemum Phyllis Smith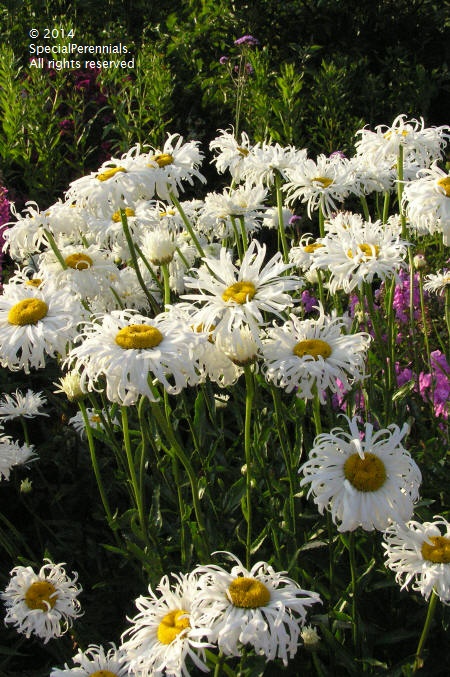 Very frilly flowers - on 2ft 9in-3ft 3in / 85-100cm plants. We love this one!
Price £5.00 (9cm pot).
Leucanthemum Sonnenshein ("Sunshine")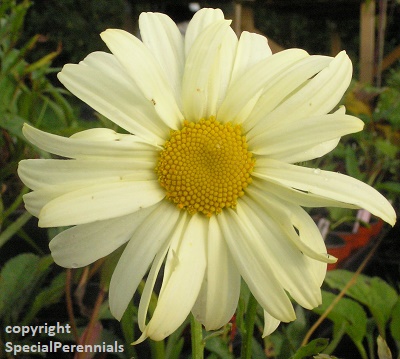 Very pale yellow flowers on 2ft 6in / 75cm stems. A winner!
SOLD OUT