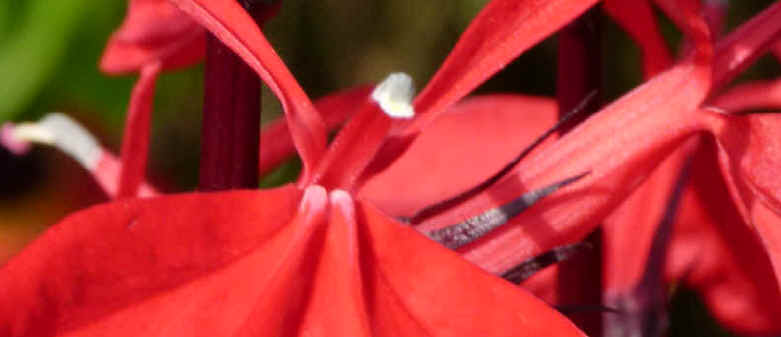 Lobelia
Basic Facts:
Lobelia are well known as tender, trailing plants for hanging baskets and edging lawns. Less well-known are the hardy perennial types that produce straight stems clothed in bright tubular flowers in late summer. Note: All Lobelias are poisonous.
Garden Use:
Lobelias are great for late season impact in the garden with their tall stems and brightly coloured flowers.
Cut Flower Use:
Stems are long lasting in water. Remember they are toxic.
Cultivation:
Generally Lobelias require moist soil in summer but good drainage in winter. This is achieved by adding lots of grit and compost to the soil.
NB: our plants contain a treatment against vine weevil and should not be planted in water courses, ponds or bogs connected to ponds without first washing all the compost off of the roots.
They all prefer good sun but will grow well in light shade.
The tall x.speciosa types may require staking in windy sites.
A few species are not fully hardy (e.g. laxifolia) in cold winters so pot some up in autumn and keep protected.
Propagation:
Division of rooted plantlets of the cardinalis and speciosa types is easy in late spring. Cuttings and seed (for species Lobelia) are also successful.
Pests and Diseases:
The x.speciosa types may rot in winter. To avoid this remove the dead flower stems as soon as good sized plantlets have formed around its base. Apart from this, Lobelias are generally trouble free but if you have a problem with slugs and snails you will definitely have to protect your Lobelias.
History:
The name is after Matthew de L'Obel who was physician to James I of England.
A member of the Campanulaceae family and so related to Campanulas.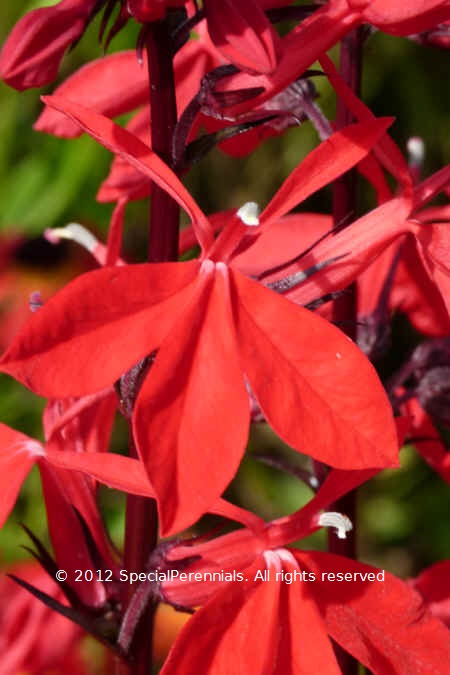 Lobelia cardinalis Bees' Flame
Far better and tougher than the similar "Queen Victoria". Flame red flowers and bronze foliage. Being a cardinalis variety it is very hardy. 2ft 6in tall in flower.
SOLD OUT. If you have ordered this plant we have reserved stock for you.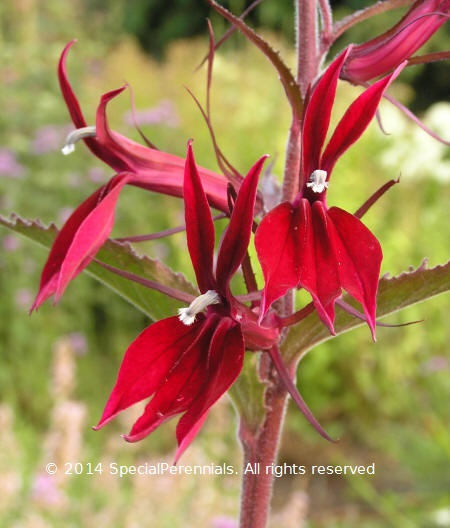 Lobelia x.speciosa Dark Crusader
Dark, dark wine-red flowers. Reaches about 2ft tall. Flowers from July to September.
Price £4.50 (9cm pot)