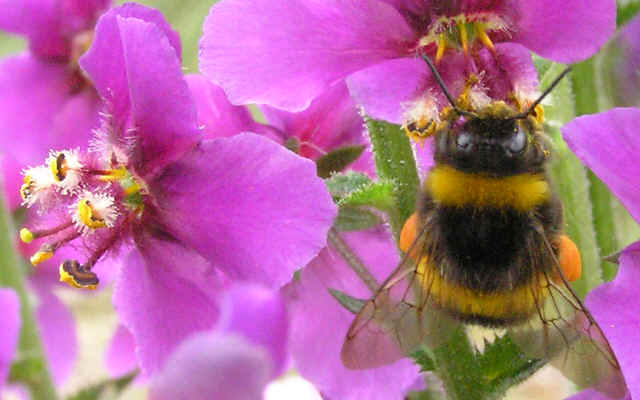 Verbascum
Common Name : Mullein
Cottage garden plants that have been grown in gardens for ages. Flowers are bourn along upright shoots forming spires of colour from early summer and often re-blooming throughout the season if cut back after the flowers fade. Most grow long tap roots so a reasonably deep soil is best for them. Many will self seed if not deadheaded. Although they are drought tolerant they can get powdery mildew if grown in really dry conditions. The best treatment for this is to cut all the leaves off and clear them away. Fresh leaves will grow quickly to replace them. The only other likely problem is Mullein Moth caterpillars which may be seen on the leaves and stems in late May. If not picked off these can rapidly skeletonise a plant and devour all the flowers. There is only one brood a year.
A member of the Scrophulariaceae family.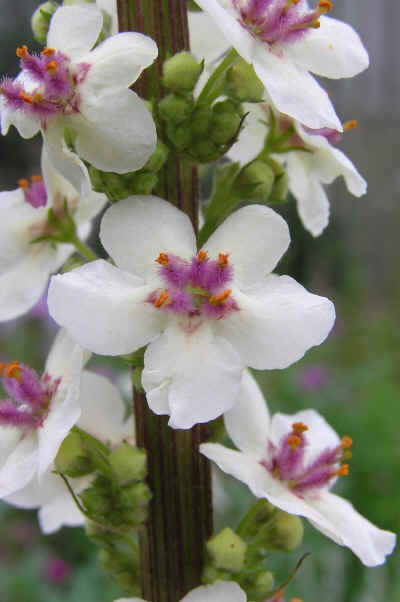 Verbascum chaixii Album
Elegant plant with massed spires of purple-centred white flowers in flushes throughout the summer. About 2ft 6in tall (sometimes a tad taller). Cut back hard after flowering to promote reblooming. If left un-deadheaded it will self seed fairly abundantly - seems to come true and not revert to the yellow flowers of the wild species.
RHS Award of Garden Merit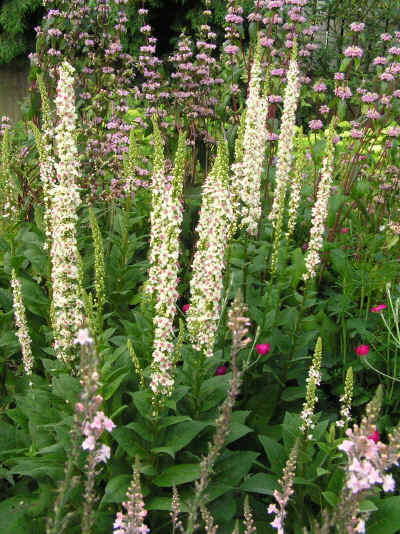 Perfect Partners: Verbascum chaixii Album in our garden with Linaria Canon Went and Phlomis tuberosa.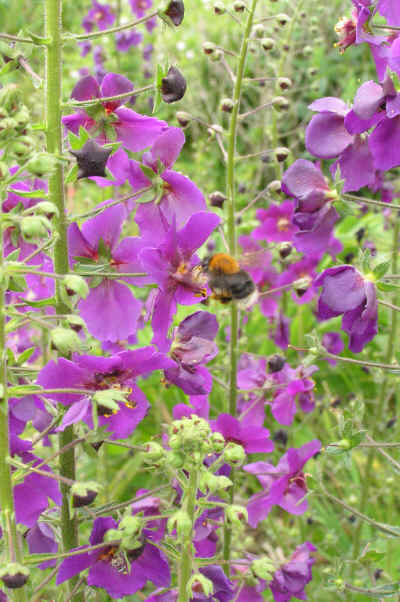 Verbascum phoeniceum Violetta
More dainty than the other types we grow with fine spires dotted with royal purple flowers. Quickly back into flower after being cut back giving flowers the whole summer (and autumn). About 2ft - 2ft 6in tall.