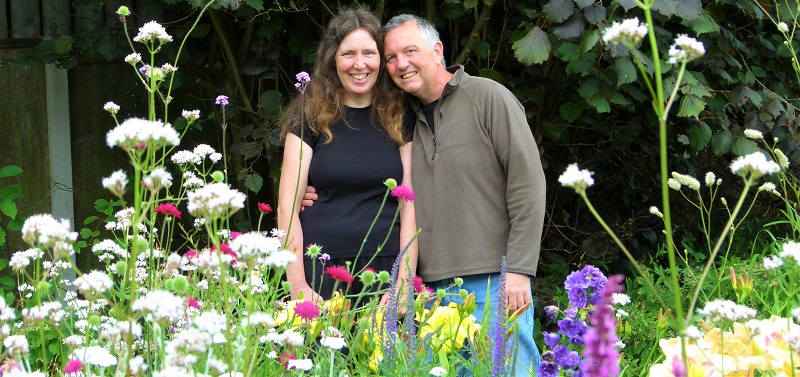 Contact Us
We are Martin & Janet Blow and we have been growing and selling plants since 2006. Obviously everything is very small scale and very hands-on: our plants are grown with love and care rather than machinery and production line techniques.
We don't have lots of tunnels and greenhouses: propagation is done in a 14x8ft glasshouse, our garage is our potting shed and then plants are grown on outdoors. We do cover plants with cloches in winter to stop them getting excessively wet in the Cheshire climate. We like our plants to be hard-grown and we hope this means they'll do us proud in your garden as well.
Please don't call in at the nursery as we are not able to open for visitors. Sorry! But you can meet Martin at lots of plant fairs during the season.
Mail order is currently closed. Follow us on Facebook or Twitter to receive updates.
Martin also writes garden articles for lots of local magazines. If your local mag doesn't include our articles please suggest they contact us to discuss.
If phoning please allow plenty of time for us to answer the phone before ringing off, we may have to run the length of the garden to pick it up!
Please only phone during OFFICE HOURS on 0771 699 0695 (Please send us a text or email outside of office hours)
You can also contact us via Facebook Messenger to https://www.facebook.com/specialperennial/
By writing to us:
Janet and Martin Blow
SpecialPerennials
Yew Tree House, Hall Lane
Hankelow,
Crewe
Cheshire, CW3 0JB
By email: plants@specialperennials.com
You can also follow us on Twitter @helenium_uk and like us on Facebook