Sisyrinchium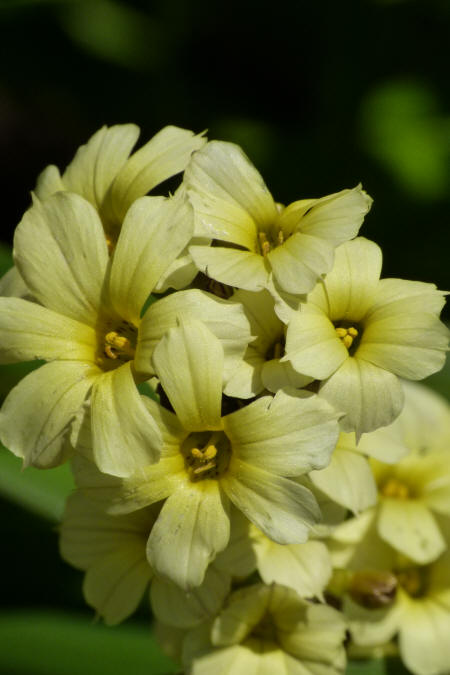 Basic Facts:
Common names include Satin Flower and Pig Root. Relatives of Iris with similarly shaped leaves but all tending to be relatively small in comparison to their cousins.
Garden Use:
Add form and interest to plantings even when no in flower with their fans of sword-shaped leaves. They are great fillers-in between other plants.
There are some smaller species suitable for the rock garden
Wildlife Interest:
The flowers attract bees.
Cut Flower Use:
I've never tried, but beware they are toxic.
Cultivation:
Easily grown in most soil types but not boggy or very cold. Most Sisyrinchium are hardy but dislike cold winds.
They prefer some sun and a some moisture but frankly they'll anywhere that isn't exposed to blasting winds.
Divide, refresh the soil and replant regularly to keep them vigourous.
Propagation:
New plants are easily produced by digging up a clump and putting apart into separate fans. Take the opportunity to remove dead or damaged leaves and replant.
Stems that have flowered won't grow again so discard these.
Species will self-seed.
Pests and Diseases:
Tough plants that throw off problems.
History:
Members of the Iridacae family. The name Sisyrinchium comes from the Greek sis "pig" and rynchos "snout".