Helenium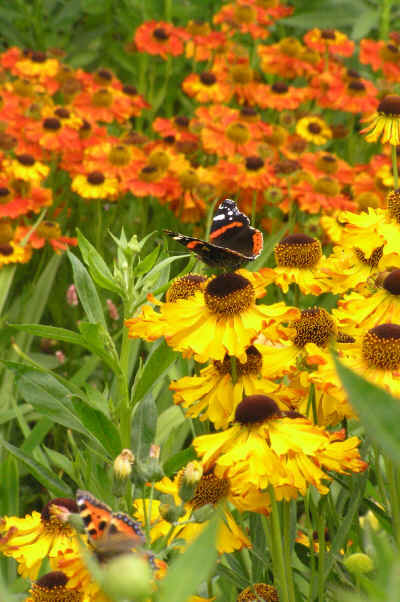 Heleniums come in a range of colours from deep red to pale yellow including blends, stripes and bands of colour. Heights vary from 1ft (30cm) to more than 7ft (210cm). it is possible to have Heleniums in full bloom from late June past the end of October by judicious choice of variety and deadheading.
Heleniums are great subjects to plant in drifts spacing them about 1ft - 2ft apart and are traditionally used this way. However they can be equally effective planted singly or in small numbers amongst plants of similar height especially grasses.
Some people ask which are best for bees and butterflies. The simple answer is that they all equally good with the exception of the variety "Double Trouble" which produces little pollen.
Planting:
Heleniums are toxic if ingested but are bitter in the extreme so unlikely to be eaten. All are toxic to ruminent animals.
Always add lots of compost when planting. Heleniums like plenty of moisture but not being waterlogged; compost helps sandy soils retain water and opens up clay soils to help them drain. Heleniums are best in a sunny spot but will grow well in sites that get sun for a fair part of the day. Keep new plants well watered. Water all plants in dry spells. If the flower petals are quilled and rolled it is sure sign that the plants are too dry (unless it's one of the varieties that naturally has rolled up petals!).
The taller varieties require staking - we find that a cats cradle of string is fine when growing in large drifts. Single plants can be staked. We find that stakes cut from trees like Hazel are preferable to canes or green supports as the brown colour blends well with the stems of Heleniums. Plants don't always achieve their full height in the first year after dividing - heights quoted below are for mature plants in our Cheshire garden - but they should all flower in their first year. The growing tips can be pinched out in May to get bushier plants.
Dead heading will promote further flowers. If you have the time and patience, cut off each spent bloom, taking the stem down to just above a new tiny flower bud. If you have large drifts of plants to cope with, shearing off the top 10-15cm (3-4") is just as effective. Some plant books suggest that only some varieties of Heleniums will rebloom if deadheaded, and go on to recommend H."Moerheim Beauty" on this basis. We have found have that nearly all cultivars in our collection respond to deadheading by reblooming however the late flowering ones will not produce so many new buds.
Propagation:
Heleniums flower best if dug up and split into individual plantlets discarding the old central stalk every 3 years or so. Only divide in spring - autumn division usually leads to failure!
Pests, Disease and Troubles:
Heleniums are largely trouble free. From our conversations with other gardeners the top 3 problems to deal with are:
Slugs and Snails: We have very little problem with these, but it seems others do and if so you will need to protect plants until around 6in / 15cm tall
Leaf loss and spotting: is normally a result of the plants drying out for an extended period of time and is often a form of fungal leaf spot. Add lots of compost when planting and keep well watered. A seep hose or leaky pipe attached to a water butt is a good idea if you can't improve soil water retention. Try to water the ground around the plants rather than the leaves.
The only other pest that troubles these plants rarely is Eel Worm. These are microscopic organisms that can infest plants and cause stunted, distorted and weak growth. If the plants you buy are healthy and growing well then you are unlikely to be bothered by this. If present in your plants its best to dig them up and burn them and plant Heleniums somewhere else in the garden.
Helenium Amber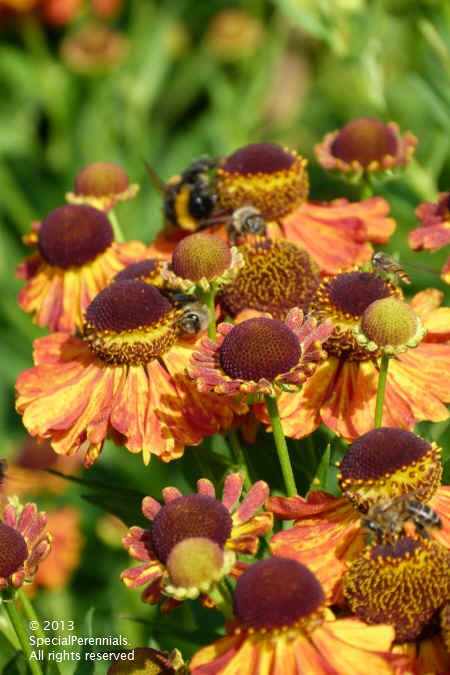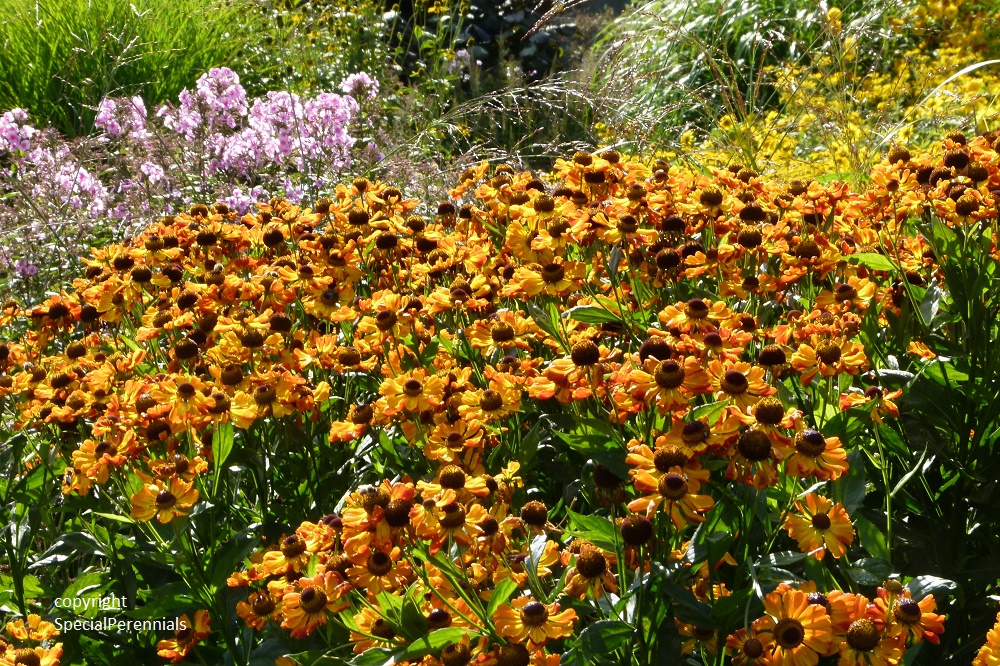 (Raised by Daniëlle Monbaliu)
Growing to 5ft tall on really well branched plants. Masses of amber flowers streaked with orange: the name is spot on. Flowers from late July through September.
Daniëlle tells us it is a cross between Indianersommer and Julisamt.
Price £5.00 (9cm pot)
Helenium Betty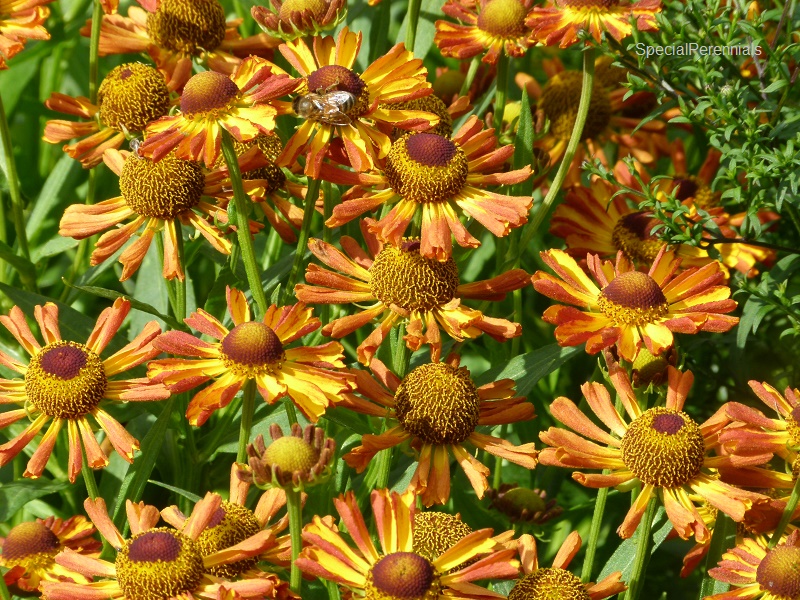 Fairly new variety with slightly rolled or twisted petals attractively colour dark on the underside and brighter on top. The plants are about 2ft 6in / 75cm tall and flowering is from July to September
Price £5.00 (9cm pot)
Helenium Biedermeier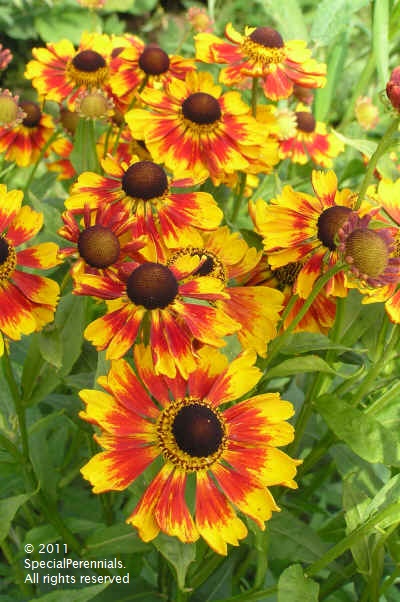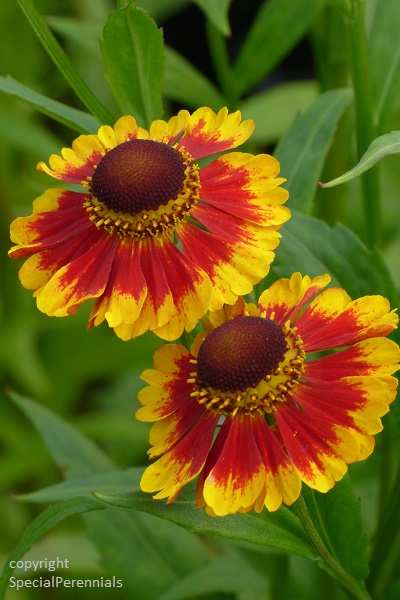 This is a good red - yellow bicolor, more or less identical in colour and flowering time to the variety Margot.
Biedermeier flowers form late July / early August and is about 4ft / 120cm tall.
Price £5.00 (9cm pot)
Helenium Bressingham Gold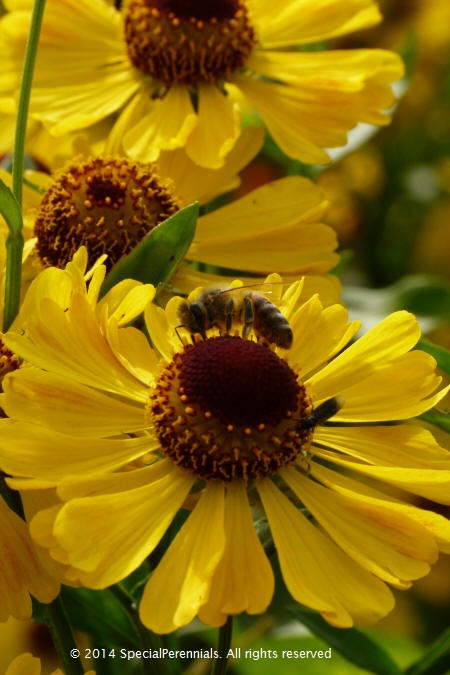 Tall variety (5ft / 150cm) flowering from late July / early August. Given to Bressingham Nursery by a customer. In my view it is the same as the old variety Riverton Beauty
Price £5.00 (9cm pot)
Helenium Carmen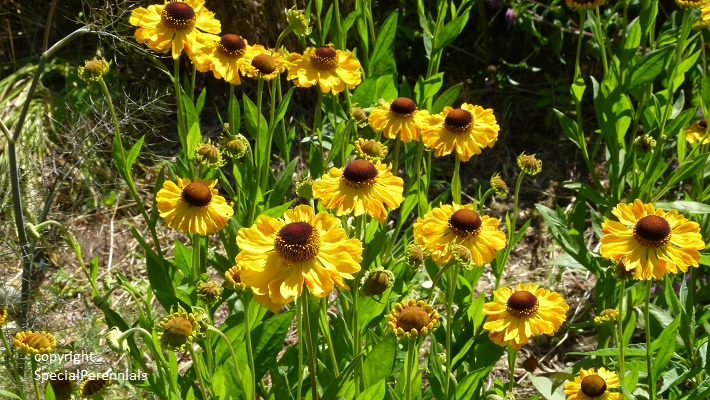 New introduction 2016
Short (2ft / 60cm) and early to flower, going on into October usually. Nice vigorous plants: an improvement on the similar old variety Wyndley
Price £5.00 (9cm pot)
Helenium Chelsey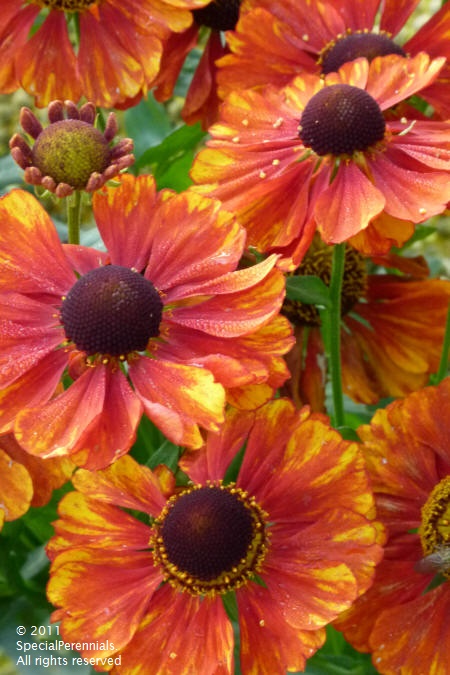 (Geerlings 2005)
Like a lot of modern varieties Chelsey has been bred to be compact (around 2ft 9in / 80cm) and suitable for containers. The flowers are large and have upswept petals. The bright vermilion with apricot edges is very fetching. It starts flowering in late July.
Chelsey is named after the raiser's granddaughter.
Price £5.00 (9cm pot)
Helenium Dark Beauty (Dunkle Pracht)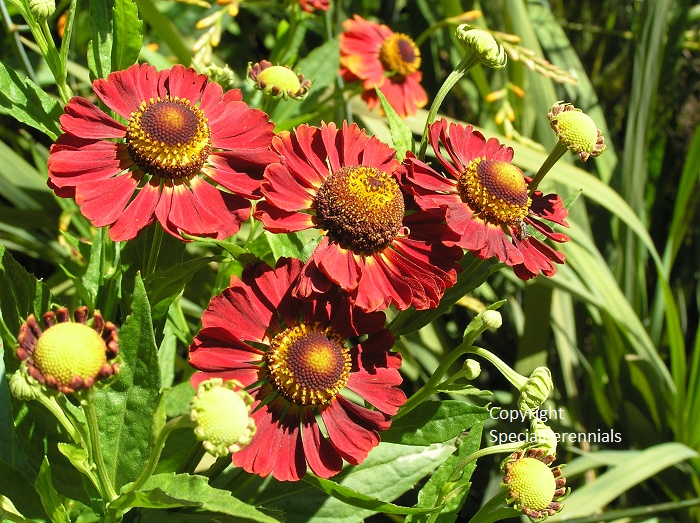 Dark red flowers and about 3ft 6in tall
Give him a warm spot with good drainage in winter for best results in the UK.
The name translates as Dark Beauty, Glory or Splendor and is often misspelt as DunkEL Pract. Our late friend Hartmut Rieger put us right on the spelling!
The variety Red Glory is identical to this.
RHS Award of Garden Merit
Price £5.00 (9cm pot)
Helenium El Dorado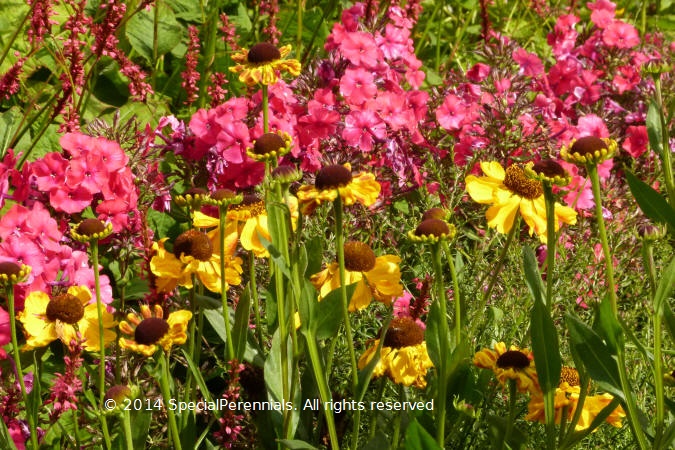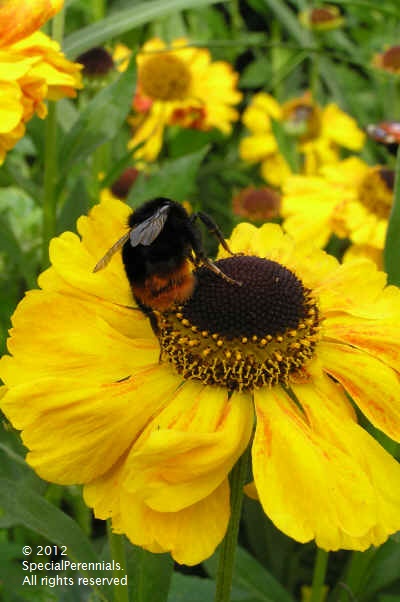 El Dorado is one of the best recent introductions that is very early flowering: from mid June here, making it one of the first. It grows to 3ft / 90cm eventually and keeps flowering into early November.
Price £5.00 (9cm pot)
Helenium Fancy Fan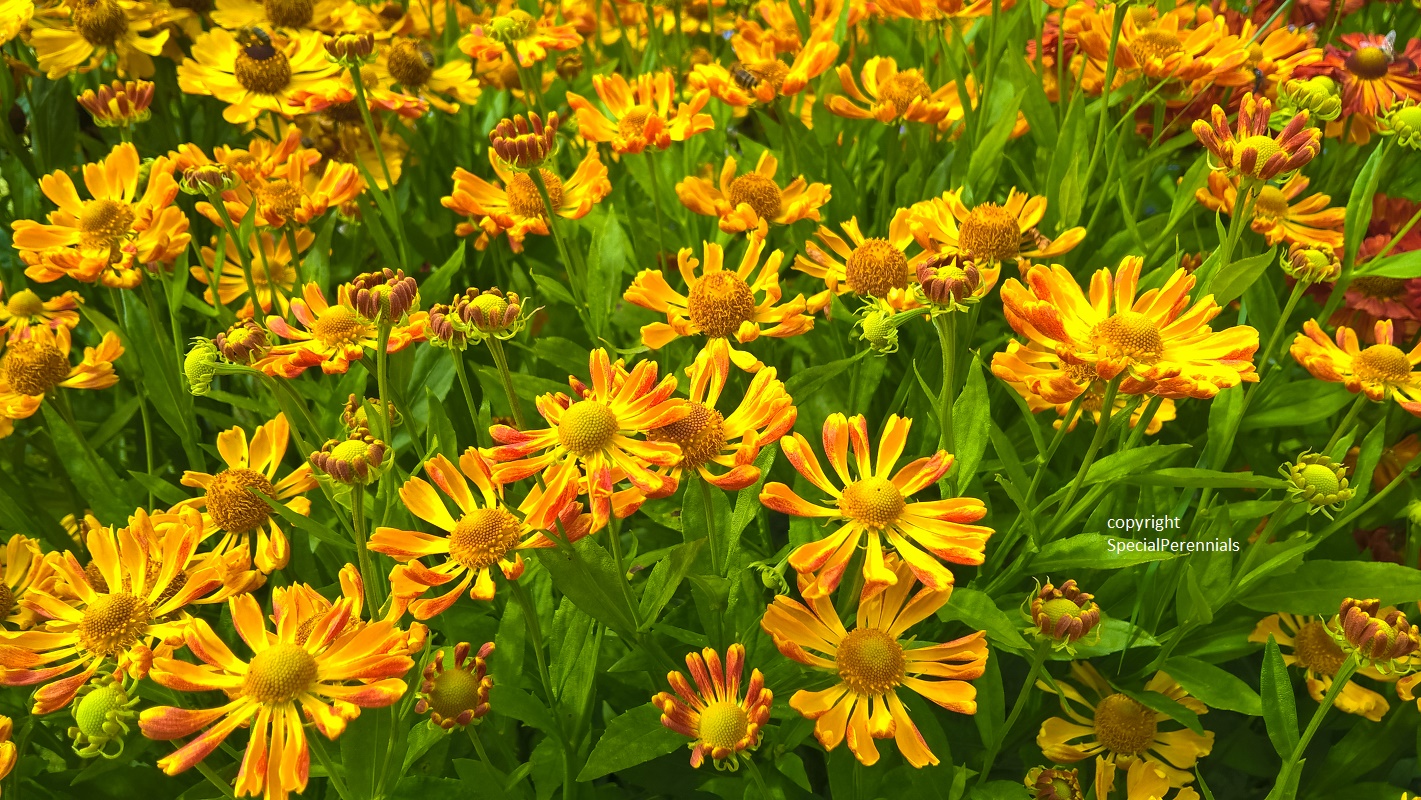 Masses of flower on bushy plants. About 2ft 6in / 75cm tall and flowering from July through September
Price £5.00 (9cm pot)
Helenium Fata Morgana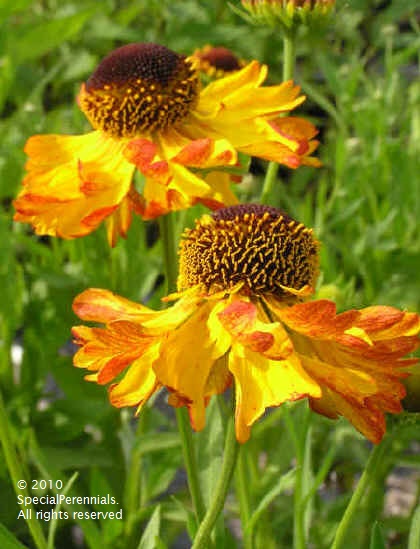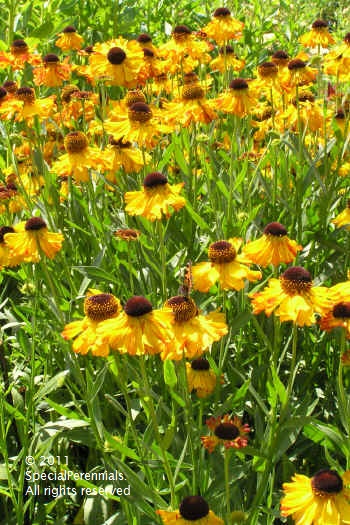 This is a lovely variety with upswept petals in apricot with orange undersides making a beautiful two-toned effect in the garden. It is early flowering: from late June and still flowering in late October. The name is a form of mirage and is derived from the Italian name for the Arthurian sorceress Morgan le Fay.
Price £5.00 (9cm pot)
Helenium Goldriese (Golden Giant)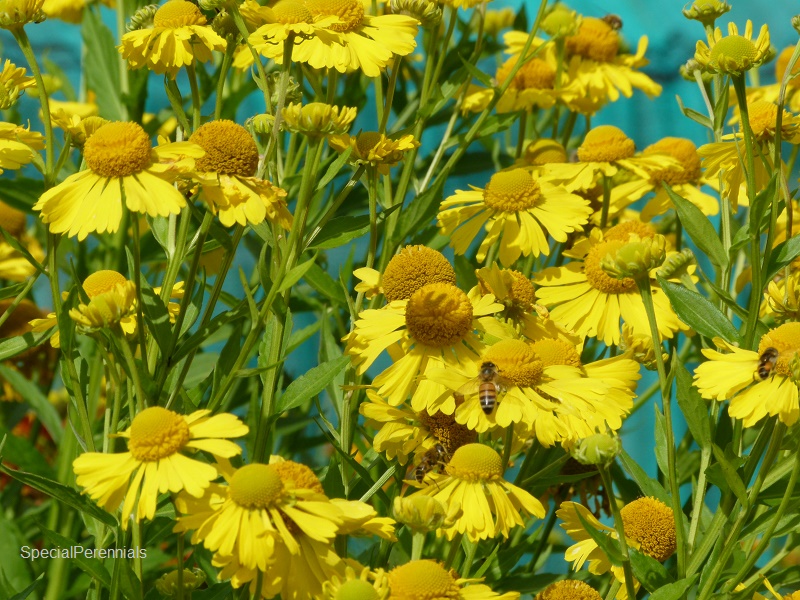 As the name suggests, a giant among giants. Up to 7ft / 210cm tall (more usually 6ft / 180cm)
Price £5.00 (9cm pot)
Helenium Kanaria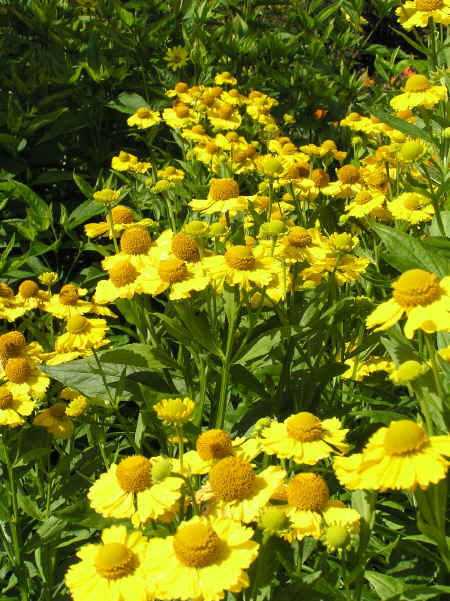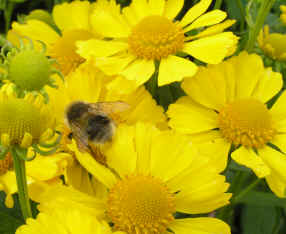 (Karl Foerster 1949)
Kanaria ("Canary") has good canary yellow with yellow cones. It is about 4ft 3in - 5ft / 125 - 150cm tall and starts flowering from late July. It has good thick stems that require no staking.
Price £5.00 (9cm pot)
Helenium Mardi Gras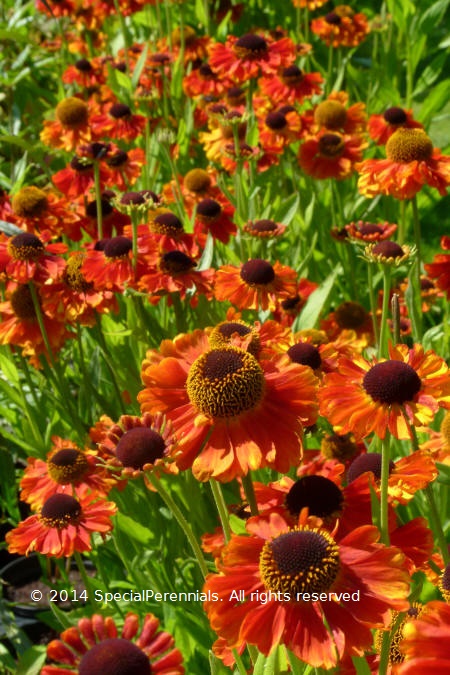 This new variety patented in the US by Bob Brown (not Bob brown of Cotswold Garden Flowers fame), has obvious similarities to Sahin's Early Flowerer, but it is far shorter – only 2ft 3in tall and stiff-stemmed so it is self supporting.
The flowers are are numerous and are in shades of deep and bright orange, more yellowy in shade.
In flower from late June right into October.
Price £5.00 (9cm pot)
Helenium Meranti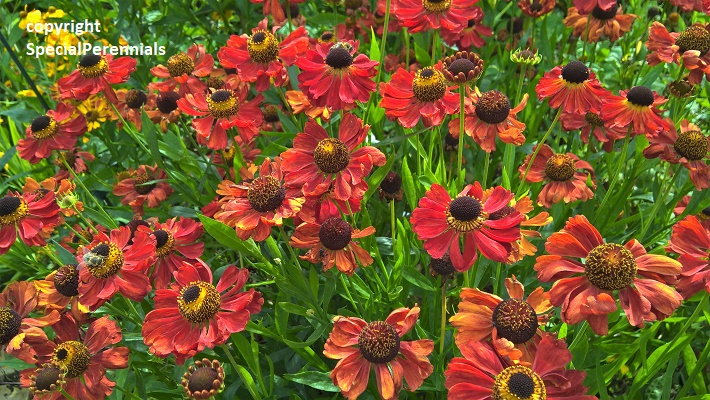 Short and bushy with masses of maghogany red flowers from July to Ocober. About 1ft 6in - 2ft / 45-60cm tall. Don't overfeed! Very similar to the varieties Red Army, Vivace and Kupferzwerg
Price: £5.00 (9cm pot)
Helenium Monique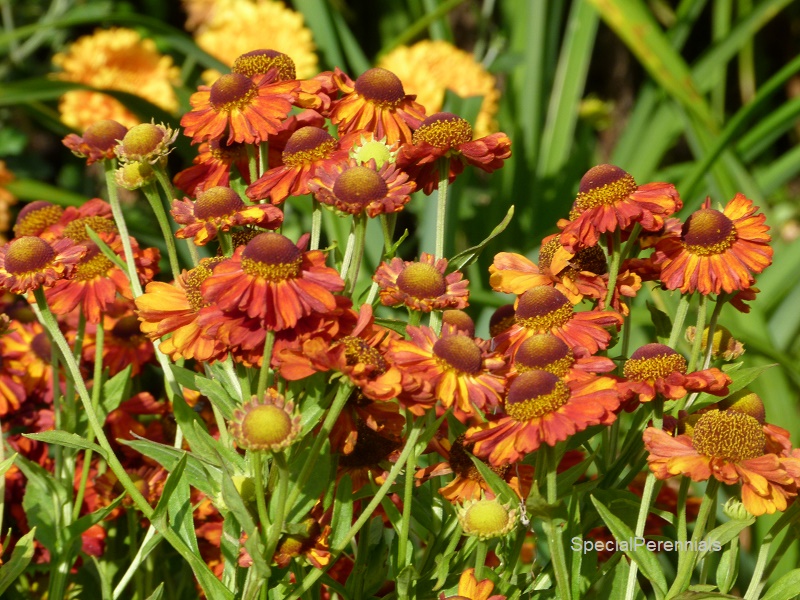 Short variety about 2ft tall in the ground and shorter in a large pot
Price £5.00 (9cm pot)
Helenium Potter's Wheel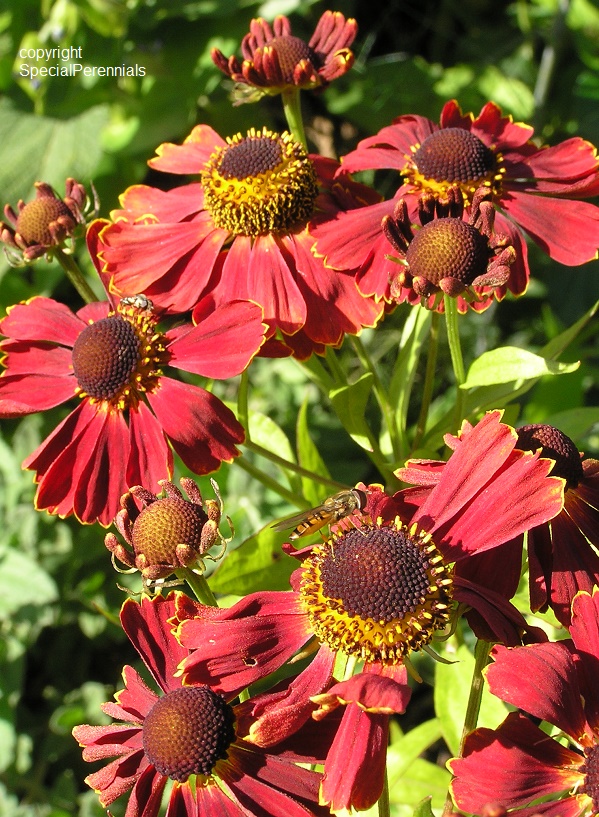 Luscious, deep red flowers with a narrow gold edge. About 4ft / 120cm tall and late season flowering.
Price £5.00 (9cm pot)
Helenium Pumilum Magnificum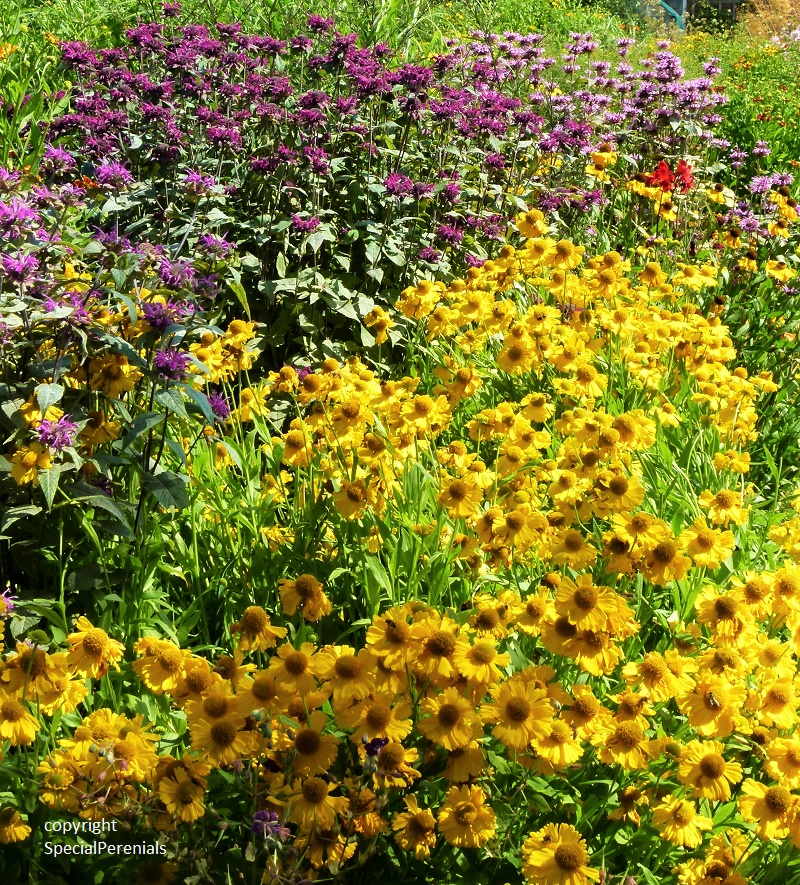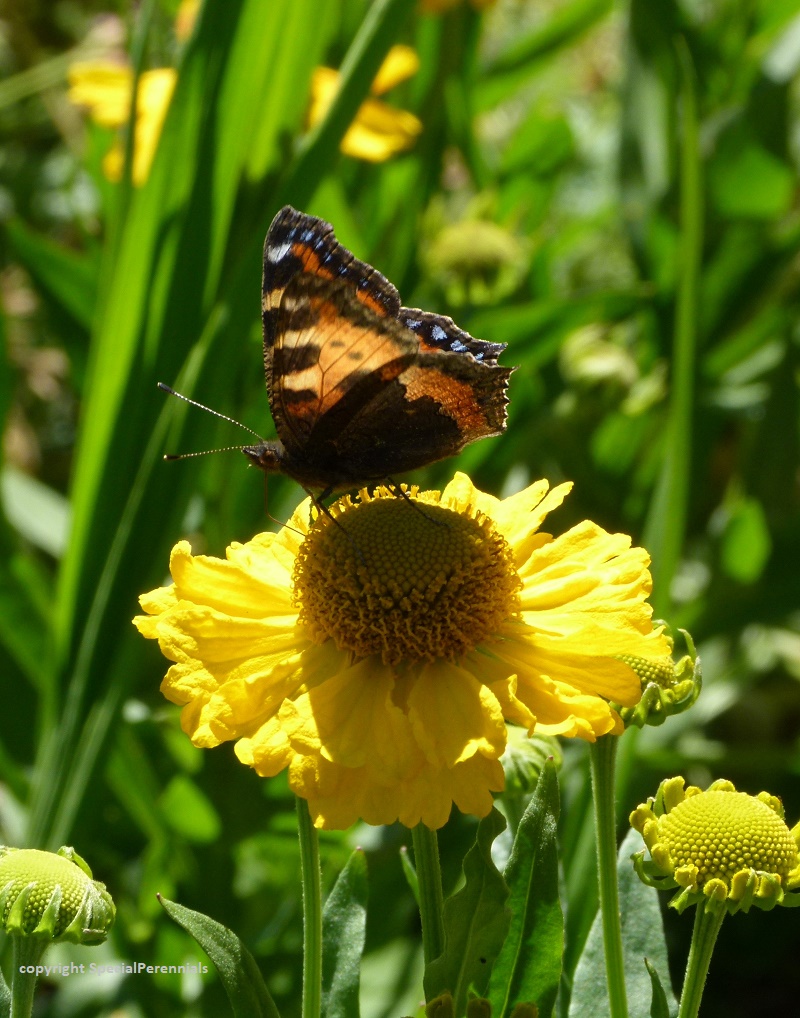 (Amos Perry c1895)
Grown in gardens since the late 1890's when it was introduced by Amos Perry Senior from his famous nursery at Winchmore Hill, Enfield, Middlesex this deep yellow variety flowers from late June, and grows to 2ft 6in / 75cm tall. The plant was already popular by 1900 when Sir Trevor Lawrence exhibited a vase of cut flowers at an RHS show. In 1905 Bunyard's exhibited it at the RHS Summer Show at Chelsea along side Centaurea ruthenica, a pale blue Scabiosa caucasica and Monarda didyma
The name "Pumilum" means "dwarf".
Price £5.00 (9cm pot)
Helenium Rauchtopas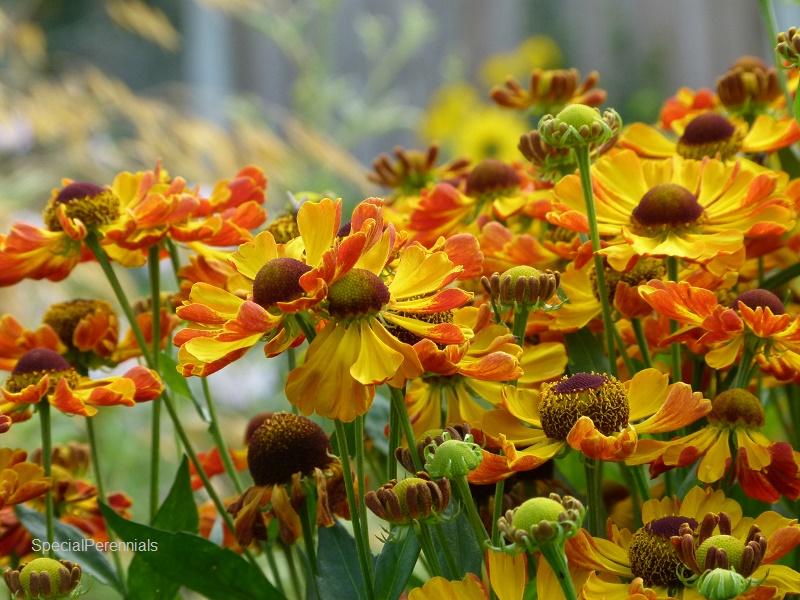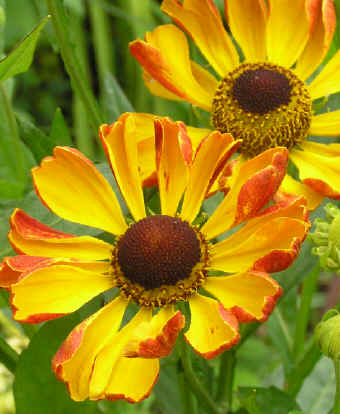 (Pegelow)
Rauchtopas has upswept petals that really show up the contrast between the apricot uppers and vermilion undersides. Its about 4ft / 120cm tall and flowers from early August into early October. One of our personal favourites.
The name Rauchtopas means "Smoky Topaz", a name for a particular form of the gemstone that I believe is called "Cairngorms" in the UK.
Price £5.00 (9cm pot)
Helenium Red Army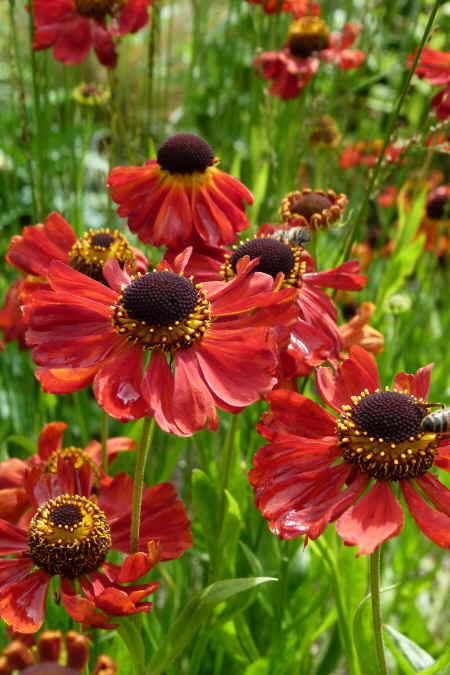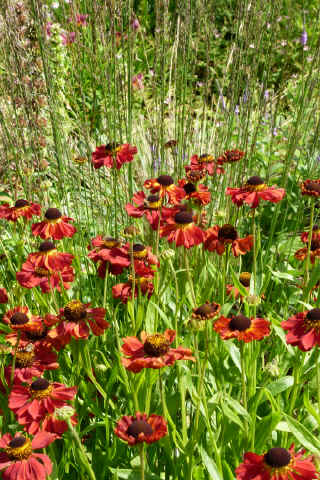 This is a compact variety growing to only 2ft 3in / 65cm tall. It flowers from early July. The flowers are a deep red deep with almost black cones. The plants are well branched and self supporting. It appears to be identical to "Vivace".
Price £5.00 (9cm pot)
Helenium Rubinzwerg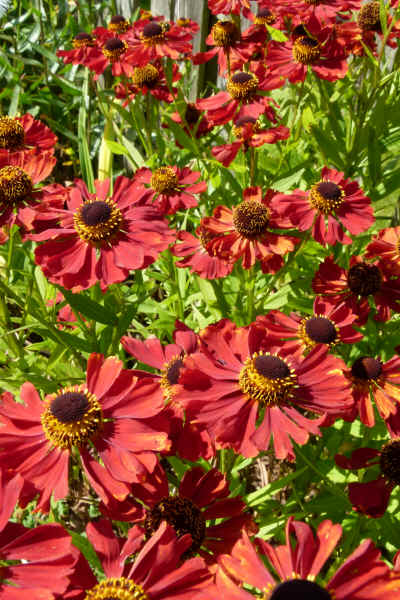 (Peter and Bärbel Zur Linden 1989)
This is a very popular cultivar that produces good bushy plants. The colour is a ruby red in tune with its name ("Ruby Dwarf"). There is some yellow at the cone end of the petals. It flowers from late July until late September and grows to a height about 2ft 3in / 65cm cm. We have also seen this plant for sale as "Rosy Gem".
RHS Award of Garden Merit
Price £5.00 (9cm pot)
Helenium Sahin's Early Flowerer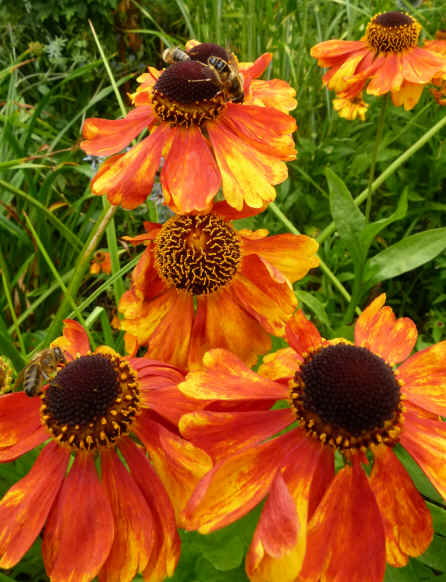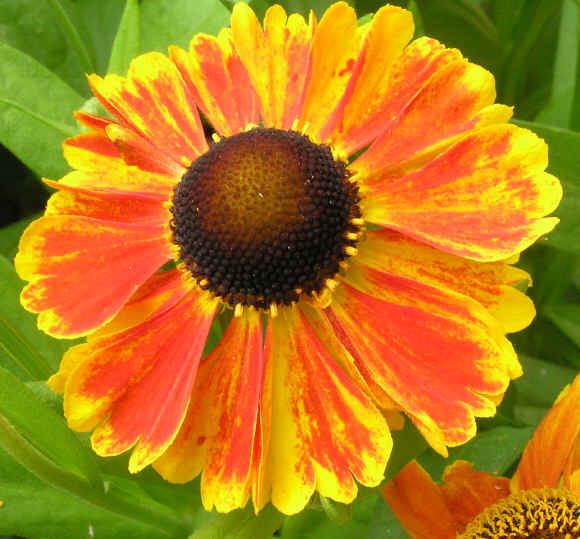 Today this is one of the most popular varieties that gets lots of mentions in the media, thus perpetuating its position. Despite its name, it is not the earliest, starting to flower in early July. It is one of the longest flowering though and is still producing blooms in November in our garden. Although it is only about 3ft / 90cm tall it may need some staking. The flower colour is variable from reddish-orange in hot weather through to egg-yolk yellow in cool weather.
RHS Award of Garden Merit
Price £5.00 (9cm pot)
Price £5.00 (9cm pot)